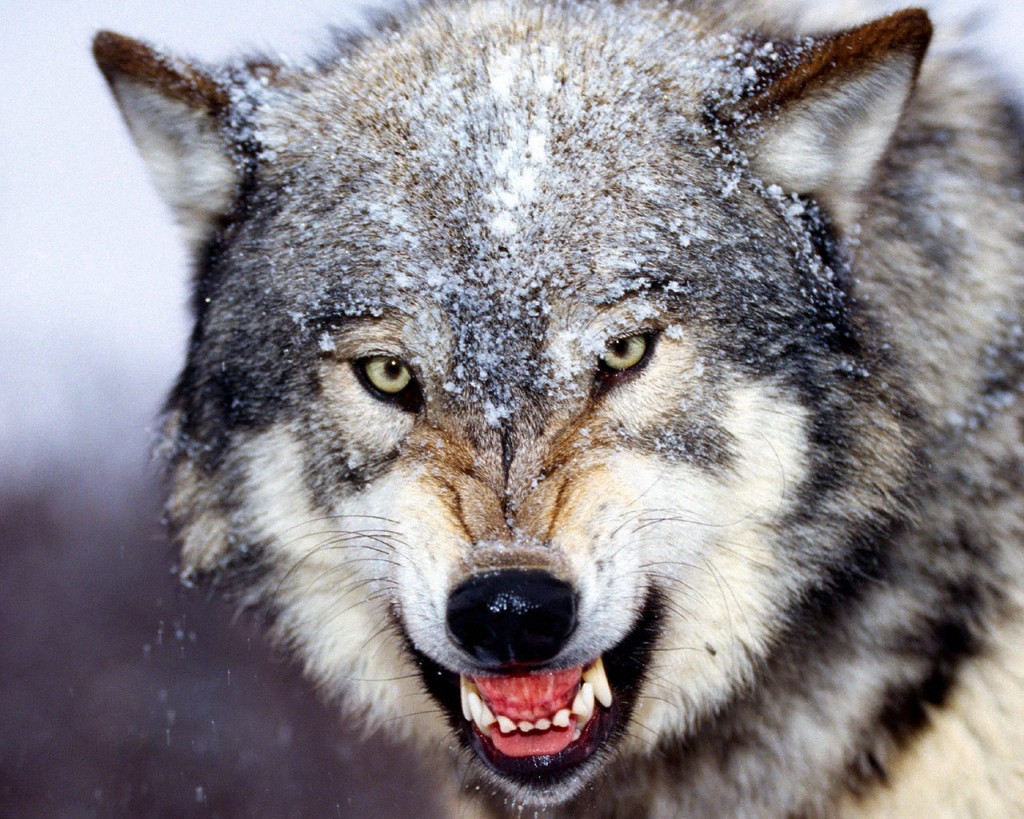 It has now been nearly four weeks since the ravenous wolf known as Amoris Laetitia was introduced into the sheepfold, the gate having been thrown open wide by the Argentinian Jesuit in white, and as of this moment not even one of the Successors to the Apostles has come forth in defense of the flock.
Cardinal Burke, in whom many unwisely placed great hope, knows very well the danger that is posed by this poisonous text, and yet, he has decided to play a round of Passive-Aggressive-Roman-Style by suggesting that Amoris Laetitia merits no more consideration than a blurb in the parish bulletin.
Cardinal Gerhard Müller likewise understands what is at stake, but has relinquished his unique duty to safeguard the faithful from error in favor of engaging in some gamesmanship of his own. For those with ears to hear it is rather obvious that he is slyly accusing the humble pope of deception by saying:
If Amoris Laetitia intended to rescind such a deeply rooted and such a weighty discipline [as expressed in Familiaris Consortio], it would have expressed itself in a clear manner and it would have given the reasons for it. However, such a statement with such a meaning is not to be found in [Amoris Laetitia]. Nowhere does the pope put into question the arguments of his predecessors.
Bishop Athanasius Schneider has thus far been the boldest of the episcopal lot (the full communion variety that is), but limited himself to calling for an "authentic interpretation" of the odious text while saying:
It must be admitted that certain statements in AL could be used to justify an abusive practice [Communion for those who persist mortal sin] that has already been going on for some time in various places and circumstances in the life of the Church.
Then there are those who also see the document for what it is – not only a pathway, but more properly an expressway to Holy Communion for practically everyone, regardless of their situation – and they celebrate it as such.
In this camp are hirelings like Archbishop Blaise Cupich, who said of Amoris Laetitia, "This is not about a reform of rules. This is about a reform of Church."
When asked in what specific situations he would allow a divorced and remarried person to receive Holy Communion, Cupich said, "I wouldn't exclude anyone."
The greater number of bishops who have spoken publicly, however, appear to be mired in some form of denial or disorientation or both. It is difficult to say whether, and to what extent, self-preservation and careerism is driving their actions, but in any case the bottom line is the same.
Archbishop Joseph Kurtz, President of the United States Conference of Catholic Bishops, gushed like a school girl after her first kiss, "It is a love letter to families!"
The Secretary of the Congregation for Divine Worship and the Discipline of the Sacraments, Archbishop Arthur Roche, told Vatican Radio that Amoris Laetitia is one of the "best documents I have read" and "a light in a very obscure world…"
So much for discipline of the sacraments.
According to the Catholic Register of Canada, Cardinal Thomas Collins of Toronto (who as one of the signatories of the infamous letter of thirteen that was sent to Pope Francis during the Synod may have fooled some into believing that he actually possesses a Catholic backbone) claims to have had his misgivings allayed by Amoris Laetitia.
Most of all, Collins praises the Pope for bringing prudence into the discussion about marriage and pastoral accompaniment of all kinds of families.

"We are a people who seek to include and not to cast away. Jesus wants us to help people, whatever the situation or weakness, to be integrated as much as possible in the life of the Church," he said. "This is what is traditionally called the virtue of prudence — wisely applying the principles that guide us in our life to particular situations rather than simply, mechanically imposing rules."
Speaking with the Press Democrat of Santa Rosa, Bishop Robert Vasa, a longtime "conservative" favorite in his own right, called Amoris Laetitia an intriguing, engaging, and delightfully challenging expression of hope for married love.
"It does not change any doctrine," Vasa said; rather it's really more about the need "to accompany everyone to see their own innate goodness and at the same time acknowledge that sometimes our behaviors are not consistent with the moral law."
Asked by NPR how he interprets Amoris Laetitia with respect to Holy Communion for the divorced and civilly remarried, Bishop Robert Barron said:
Those who are in the state of mortal sin and have not received absolution, or have failed to exhibit either remorse or purpose of amendment, should not present themselves for Holy Communion. That has been, and remains, the teaching of the Church.
Indeed, but what Barron and others are ignoring, perhaps even deliberately, is the way in which Francis boldly set about undermining this "teaching of the Church."
Precisely how did he do so in Amoris Laetitia?
The answer is twofold.
At first blush, it would appear that the much written about footnote (the same that His Humbleness doesn't quite recall) is the point upon which the entire matter turns; at least, this is where most commentators have focused their attention.
The real epicenter of Francis' attack is far more fundamental, and that is his treatment of mortal sin:
"Hence it can no longer simply be said that all those in any 'irregular' situation are living in a state of mortal sin and are deprived of sanctifying grace." (AL 301)
It is as if he is saying to "those who prefer a more rigorous pastoral care which leaves no room for confusion" (AL 308):
So, you want to cling to the traditional understanding concerning access to the sacraments for those who persist in a state of mortal sin? No problem, we'll just have to rethink what mortal sin truly is.
If those who persist in adultery and fornication can no longer be considered as living in a state of mortal sin, then there is no need for such persons to demonstrate a firm purpose of amendment. If this is the case, then no basis whatsoever exists for denying them access to the sacraments.
We must admit; this particular attack is so simple that it's flat out brilliant. It's also entirely diabolical. In fact, it's reminiscent of Satan's deception in Eden wherein he convinced our first parents that man himself can determine what is good and what is evil apart from God.
Bishop Barron seems to recognize the centrality of AL 301, but he attempts to defend Francis by saying:
The Pope is insisting that one cannot move, without further ado, from the fact of objective disorder to the declaration of mortal sin. The determination of that state of affairs can take place only through a careful discernment with one's confessor or spiritual director, with special emphasis placed on circumstances that might mitigate one's personal responsibility.
Nonsense. Adultery is intrinsically evil; it is always mortal sin, period. Likewise, fornication. That's Catholicism 101.
As for an examination of the "state of affairs" and "circumstances that might mitigate one's personal responsibility," that's not the purview of anyone but God. In other words, no individual sinner, no priest, not even the Bishop of Rome has the power to declare that a particular person isn't culpable for their persistence in such sins.
Satan, of course, would insist otherwise.
So too does Francis in AL 301; a text that provides precisely what Cardinal Müller claimed to be missing from Amoris Laetitia.
The inconvenient fact of the matter is that Francis has most certainly expressed himself in a clear manner. And in so doing, he has put forth heresy, plain and simple; not because I say so, but because the Council of Trent says so.
If just one of the bishops had the faith of a mustard seed, and a modicum of zeal for the salvation of souls, he would say so as well.
Let's face it folks; it is time for us to make the cry of Jeremiah in the aftermath of Jerusalem's destruction our very own:
We are become orphans without a father…  (Lamentations 5:3)