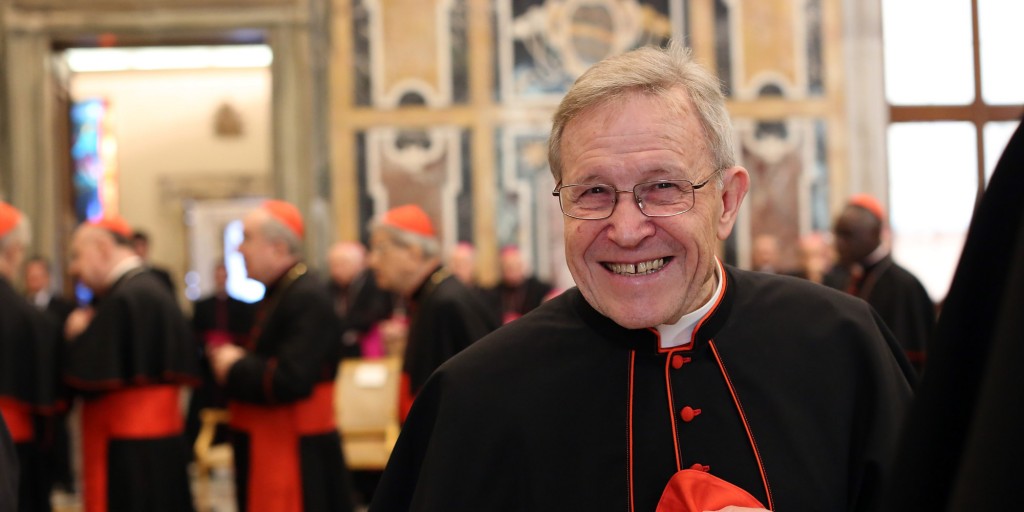 There is much about Amoris Laetita that deserves criticism, but let me begin by complimenting its creators, chief among them the man whose name it bears; not for their faithfulness, but for their craftiness.
A hasty reading of the document might leave one to believe that it fails to meet the "revolutionary" standard as predicted by Cardinal Kasper.
Ah, but the Devil's in the details; more specifically, his hand is clearly present in the footnotes.
For the most part, everything you need to know is in paragraph 305. I provide it here in its entirety with emphasis on the key portion of the text:
For this reason, a pastor cannot feel that it is enough simply to apply moral laws to those living in "irregular" situations, as if they were stones to throw at people's lives. This would bespeak the closed heart of one used to hiding behind the Church's teachings, "sitting on the chair of Moses and judging at times with superiority and superficiality difficult cases and wounded families".349 Along these same lines, the International Theological Commission has noted that "natural law could not be presented as an already established set of rules that impose themselves a priori on the moral subject; rather, it is a source of objective inspiration for the deeply personal process of making decisions".350

Because of forms of conditioning and mitigating factors, it is possible that in an objective situation of sin – which may not be subjectively culpable, or fully such – a person can be living in God's grace, can love and can also grow in the life of grace and charity, while receiving the Church's help to this end.351 

Discernment must help to find possible ways of responding to God and growing in the midst of limits.  By thinking that everything is black and white, we sometimes close off the way of grace and of growth, and discourage paths of sanctification which give glory to God.

  Let us remember that "a small step, in the midst of great human limitations, can be more pleasing to God than a life which appears outwardly in order, but moves through the day without confronting great difficulties".352  The practical pastoral care of ministers and of communities must not fail to embrace this reality.
Footnote 351 is indeed revolutionary! It reads:
In certain cases, this can include the help of the sacraments. Hence, "I want to remind priests that the confessional must not be a torture chamber, but rather an encounter with the Lord's mercy" (Apostolic Exhortation Evangelii Gaudium [24 November 2013], 44: AAS 105 [2013], 1038).  I would also point out that the Eucharist "is not a prize for the perfect, but a powerful medicine and nourishment for the weak" (ibid., 47: 1039).
Make no mistake, when placed in context with the entire document (which I will do in more detail later), it is clear that "certain cases" includes practically all cases.
There you have it folks. Stealthily planted in the footnotes amid some 58,000 words, the majority of which sound more like relationship advice from Dr. Phil than anything else, is Walter Kasper's dream come true.
Thus have the doors been thrown open wide for priests to admit to the Sacraments of Confession and Holy Communion, those who are living in mortal sin.
To be very clear, we must now turn our attention toward paragraph 311 and its impact on the confessional, which reads in part:
At times we find it hard to make room for God's unconditional love in our pastoral activity.364
And what does footnote 364 say?
Perhaps out of a certain scrupulosity, concealed beneath a zeal for fidelity to the truth, some priests demand of penitents a purpose of amendment so lacking in nuance that it causes mercy to be obscured by the pursuit of a supposedly pure justice.  For this reason, it is helpful to recall the teaching of Saint John Paul II, who stated that the possibility of a new fall "should not prejudice the authenticity of the resolution" (Letter to Cardinal William W. Baum on the occasion of the Course on the Internal Forum organized by the Apostolic Penitentiary [22 March 1996], 5: Insegnamenti XIX/1 [1996], 589).
In this, Francis is making it clear that he wants priests to overlook the "firm purpose of amendment" that is required for absolution, and to consider persistence in mortal sin as the equivalent of a potential "new fall."
We would be fooling ourselves if we believed for even a moment that this treatment of both Confession and Communion is ordered exclusively toward the divorced and civilly "remarried" and the cohabitating.
There can be no doubt that those pastors who are inclined to apply this same "standard" (or lack thereof, to be more precise) to those in homosexual relationships now know that they may do so with impunity and without fear of reprimand from their bishop or anyone else; certain that Pope Francis has their back.
In the end, the document contains few if any surprises.
On February 21, 2014, Pope Francis let the world know precisely what he thinks of Cardinal Kasper's theology, including his vision for inviting those in adultery to the Sacraments.
The only question that has remained since is just how the "God of Surprises" (aka Jorge Bergoglio) would bring that vision to fruition. Now we know.
I will follow up later with a more detailed report on the various ways in which April 8, 2016 will go down in history as one of the most tragic in the history of the Catholic Church.
For now, let us pray and make reparations for the terrible offense against Our Lord that Amoris Laetita represents.