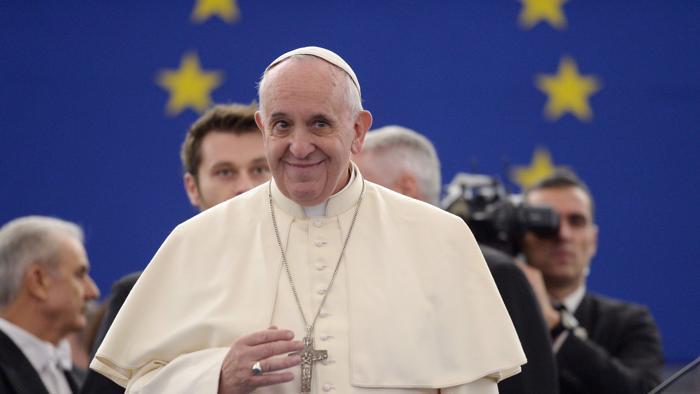 On December 23, 2015,  Vatican Radio reported that Pope Francis had been announced as recipient of the 2016 International Charlemagne Prize of Aachen, "the oldest and best-known prize awarded for work done in the service of European unification."
A communiqué issued by the Prize Committee, as reported by Catholic News Service states:
In a time when the European Union is facing the greatest challenge of the 21st century, it is the pope 'from the end of the world' who orients millions of Europeans to what the European Union brings together at its core: a valid system of values, respect for human dignity and civil liberties, the uniqueness of human beings whatever their ethnic, religious or cultural background and respect for our natural resources."
The communiqué went on to commend Francis for his message of "peace and understanding" as well as his commitment to "compassion, tolerance, solidarity and the integrity of creation throughout his pontificate."
To be sure, those who actually resemble the Apostles in proclaiming eternal truths, in season and out, in the name of Jesus Christ, the solitary Source of authentic peace and unity, are not qualified for the Charlemagne Prize; rather, it is given to men with far more worldly aspirations.
As such, there can be no doubt that the awards committee has chosen well; i.e., the current Bishop of Rome is precisely the sort of environmentalist / humanist / one-world-religionist that richly deserves just such recognition.
Vatican Radio is reporting that Francis formally took possession of the award earlier today in a ceremony that featured an address delivered by the man that he is succeeding; Martin Schultz, recipient of the 2015 Charlemagne Prize.
Francis has some big shoes to fill, to be sure.
You see, Schultz also happens to be the President of the European Parliament and the former chairman of the Progressive Alliance of Socialists and Democrats (otherwise known as the S&D).
According to a position paper issued by the S&D:
We will fight against the regressive campaigns of conservative and right – wing forces in Europe, who want to erase the progress made in our societies, most prominently on the rights of women, minorities or LGBT people … We will fight against any kind of discrimination, racism and homophobia.
According to yet another S&D statement:
We, the undersigned, committed to the EU values of human dignity, freedom, democracy, equality, the rule of law and the respect for human rights declare that: ALL OF US believe that women can only be truly equal to men if they are given control over their sexuality, bodies and health … [We] are concerned about the recent developments and initiatives aimed at introducing regressive policies restricting women's access to safe and legal abortions.
Under the leadership of Martin Schultz, the European Parliament adopted a report echoing much the same language calling for "ready access to contraception and abortion."
As I wrote back in December, this is the company Francis keeps; not in an effort to seek their conversion to Christ, but as one among friends united in a common, earthbound cause cause.
If organizers of the Charlemagne Prize had any doubts as to their selection, Pope Francis, in an acceptance speech delivered at today's ceremony, confirmed his worthiness in no uncertain terms.
In an address some 2,800 words in length, Francis invoked humankind fifteen times and Jesus (not Christ the King, but the social-worker-from-Nazareth caricature that he and other apostates worship) but once while calling for the birth of a "new humanism."
His Humbleness proclaimed:
A Europe capable of giving birth to a new humanism based on three capacities: the capacity to integrate, the capacity for dialogue and the capacity to generate …  If there is one word that we should never tire of repeating, it is this: dialogue.
His Humbleness went on to say:
The soul of Europe is in fact greater than the present borders of the Union and is called to become a model of new syntheses and of dialogue …  We are called to promote a culture of dialogue by every possible means …

The culture of dialogue entails a true apprenticeship and a discipline that enables us to view others as valid dialogue partners … Today we urgently need to engage all the members of society in building a culture which privileges dialogue …

Peace will be lasting in the measure that we arm our children with the weapons of dialogue … This culture of dialogue should be an integral part of the education imparted in our schools … Let us arm our people with the culture of dialogue and encounter …

Dialogue, with all that it entails, reminds us that no one can remain a mere onlooker or bystander … This culture of dialogue can come about only if all of us take part in planning and building it.
No, this isn't a parody; it's the Gospel according to Francis:
So integration, generation, and dialogue abide, these three; but the greatest of these is dialogue.
With this in mind, there can be no doubt that when Francis says of his desires for Europe that "the Church can and must play her part," he does not mean to speak of the Holy Catholic Church and her God-given mission of Christianizing the entire world.
On the contrary, what he really has in mind is the church-of-man that shares a common mission with men like Martin Schultz; the same earthbound entity of which the latest Charlemagne Prize winner said, "Her task is one with her mission: the proclamation of the Gospel."
The Gospel according to Francis, that is…