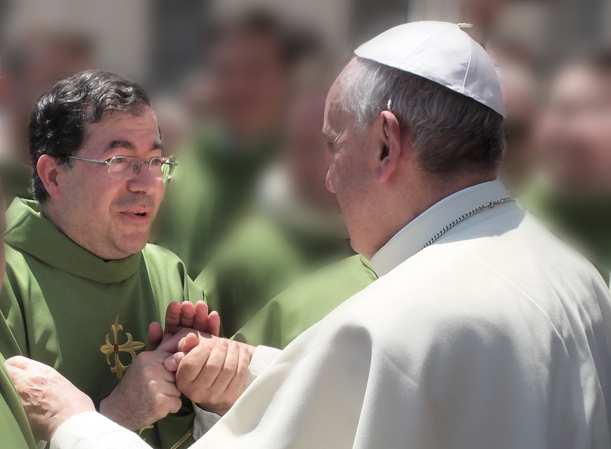 According to Fr. Frank Pavone, National Director of Priests for Life, Amoris Laetitia is an "encouraging roadmap for families."
The "conservative" celebrity cleric went on to fawn in an article for Catholic Online:
The document is a beautifully written pro-life affirmation of the Church's wisdom … In clear language, Pope Francis speaks of the great value of the embryo and his worth, starting at conception and regardless of the circumstances in which he or she was conceived.
Pope Francis also happens to have spoken rather clearly when he said that persistence in adultery and fornication no longer necessarily constitute mortal sin and the loss of sanctifying grace; thus consigning countless millions of souls to Hell. (see AL 301)
Yea, but the pope pointed to the great value of the embryo! What more could we want?
The problem here isn't all that difficult to figure out:
For some Catholic "pro-lifers," Fr. Pavone apparently among them, the human embryo – not the Kingdom of Heaven – is the "pearl of great price" for which they are pleased to sell everything, including whatever commitment they may have had to the mission that Christ actually gave to His Church.
It is perhaps for this reason that Fr. Pavone has no problem praising Francis' Love Letter to Lucifer, saying:
Amoris Laetitia is a timely and loving exhortation for families towards genuine charity that begins within the nuclear family. It can be described as a new road-map for a culture that has taken a sad and tragic detour.
Speaking of sad and tragic detours; here we have the Director of an organization that claims to be "for Life" – and a priest, no less – praising an exhortation that blasphemes the Life by accusing the Lord of burdening men with impossible demands via the Divine Law, and even goes so far as to state that God sometimes wills that people should persist in the grave sins of adultery and fornication! (cf AL 296, 303)
Doesn't Fr. Pavone realize that fornication is the gateway to abortion?
In any case, there can be no doubt that guilt-free sex outside of marriage is remarkably good for business – not just for abortion providers, but for pro-life organizations as well – and let's not be naïve:
Priests for Life isn't in the business of Catholicism; rather, it's firmly committed to the business of Pro-Lifeism.
What do I mean by Pro-Lifeism?
In spite of any good intentions on the part of its Catholic followers, Pro-Lifeism is a false religion wherein ecumenism is so prominently featured that religious syncretism and religious indifferentism are all but endemic.
Though it frequently employs the language of Christianity, ultimately Pro-Lifeism worships not so much Jesus Christ, but rather a Golden Calf known as the human embryo.
As for its mission, Pro-Lifeism is singularly ordered toward securing temporal life for the embryo until such time as either birth or natural death occurs.
Sure, providing material aid (e.g., food, clothing, and shelter) to pregnant women, unwed mothers and impoverished families is also part of the movement, but these are earthbound services that any decent government agency can provide.
Don't get me wrong; Catholicism goes hand in hand with such activities as defending the unborn and offering charitable assistance to those in need. Being a Catholic necessarily means being "pro-life;" however, and this is important – in that order.  
Pro-Lifeism, by contrast, entails the setting aside of one's Catholic identity, and worse, placing the mission that Christ gave to His Church on a shelf.
So, does this describe the modus operandi of Priests for Life, or is Fr. Pavone's unqualified praise for Amoris Laetitia just an unfortunate mistake on his part?
Writing on the Priests for Life website about ecumenical concerns, Fr. Pavone answers this question in no uncertain terms:
[In public anti-abortion demonstrations comprised of those from diverse Christian denominations] flexibility should be exercised by all …  This may mean that the usual way in which one segment of the participants customarily pray is changed on that occasion. Catholics, for example, do not always have to pray the rosary when at the abortion mill. The Psalms are just as Catholic as the rosary is, and Catholics should be perfectly comfortable praying them, along with their Protestant brothers and sisters.
Here we have a priest encouraging Catholics to keep their rosaries in their pockets at certain "pro-life" demonstrations, even though there is no more powerful intercessor in the fight against abortion than the Blessed Virgin Mary, Mother of the Life!
Has it never occurred to Fr. Pavone that the witness of those praying the rosary at such a gathering might just compel one of these "Protestant brothers and sisters" to rethink their offenses against Our Blessed Lady, and even more importantly, perhaps even reconsider their rejection of the solitary Ark of Salvation established by her Son whom they claim to love, the Holy Catholic Church?
Of those heretics who may be so offended by Marian devotion as to withdraw from such an event, at least we can say that they are steadfast in their convictions, misguided or not.
As for rosary-hiding Catholics and the priests who encourage them? Not so much.
The reason Fr. Pavone feels so comfortable urging Catholics to placate, and ultimately confirm, heretics in their errors – the exact opposite of teaching them everything whatsoever that Jesus commanded – is simple:
The mission of Priests for Life, in spite of its Catholic-sounding name, isn't being approached as that which is part and parcel of the mission of the Church; carried out in love for her Founder and Head, Jesus Christ. Rather, its mission flows directly from the tenets of a false religion, Pro-Lifeism, and the worship of its false god; the human embryo.
I am certain that many a committed "Pro-Life Catholic" (the label itself being a clear indication of disordered priorities) would object to such a characterization.
And yet, Fr. Pavone, in his treatment of ecumenical concerns, goes on to confirm just how completely Pro-Lifeism threatens to supplant Catholicism, saying:
At the same time, there can be, at an event of diverse denominations, periods of prayer that express the particular customs of one or another group … The unity on which the entire group stands at such a gathering is the affirmation of the right to life. The gathering should not be a time when one group tries to persuade another that its way of praying should be adopted. Instead, it should be a time of shared encouragement, respectful acknowledgment of differences, and clear recognition that a common enemy (abortion) provides a clear opportunity for unity.
For those with eyes to see, this represents a manifesto for a false religion that stands in stark contrast to the one true faith. Consider:
– What is the common enemy of those who practice Pro-Lifeism?
Abortion, which seeks to deny temporal life to the embryo.
– What is the true common enemy of all humankind?
Satan, who seeks to deprive souls of everlasting life as made possible only by salvation in Christ; through, with, and in His Church.
– What is the unity on which Pro-Lifeism stands?
Affirmation of the right to life for the human embryo.
– What is the unity on which Christians stand?
Membership in the Holy Catholic Church.  According to Pope Pius XI writing in Mortalium Animos, "That unity can only arise from one teaching authority, one law of belief and one faith of Christians."
Pope Pius XI went on to speak of ecumenical federations and the inherent tension between Catholics "who believe it to be good and useful to invoke by prayer the Saints reigning with Christ, especially Mary the Mother of God, and to venerate their images, and those who urge that such a veneration is not to be made use of, for it is contrary to the honor due to Jesus Christ," saying of such arrangements:
We do know that from this it is an easy step to the neglect of religion or indifferentism and to modernism, as they call it. (ibid.)
As Fr. Pavone's glowing assessment of Amoris Laetitia makes clear, it's also an easy step to outright neglect for the mission of the Church; the salvation of souls.
I've said it before and it bears repeating:
If there is such thing as a "silver lining" to this disastrous pontificate, it is the degree to which it is forcing pseudo-Catholics and their organizations into the full light of day.
In the present case, we can be thankful that faithful Catholics who have been supporting Priests for Life, which receives annual contributions of nearly $10 million, now have every good reason to redirect their resources elsewhere.