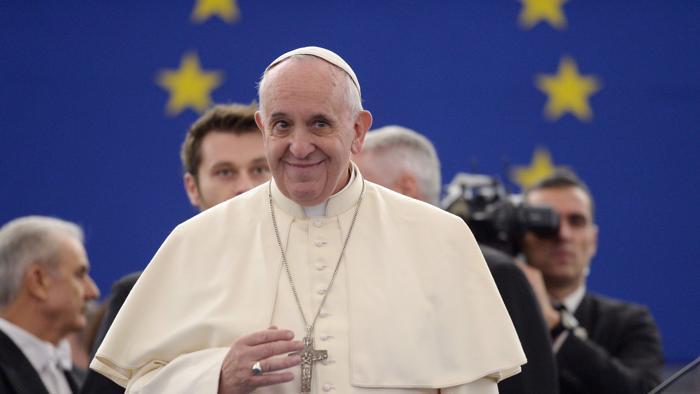 According to Vatican Radio, Pope Francis received an early Christmas present on Wednesday when it was announced that he will be awarded the 2016 International Charlemagne Prize of Aachen, "the oldest and best-known prize awarded for work done in the service of European unification."
A communiqué issued by the Prize Committee, as reported by Catholic News Service states:
In a time when the European Union is facing the greatest challenge of the 21st century, it is the pope 'from the end of the world' who orients millions of Europeans to what the European Union brings together at its core: a valid system of values, respect for human dignity and civil liberties, the uniqueness of human beings whatever their ethnic, religious or cultural background and respect for our natural resources."
The communiqué went on to commend Francis for his message of "peace and understanding" as well as "compassion, tolerance, solidarity and the integrity of creation throughout his pontificate."
In other words, the current Bishop of Rome is precisely the sort of environmentalist / humanist / one-world-religionist the committee had in mind when it began surveying the landscape for potential awardees.
Following Wednesday's announcement, Rev. Federico Lombardi told journalists that the pope accepted the award as "a sign of encouragement for peace in Europe and the world."
According to the organization's website:
The Charlemagne Prize honors exceptional work performed in the service of European unity. According to its bylaws, it is given to public figures or bodies 'distinguished by their outstanding work toward European unity or cooperation between its states.' The contribution, as Kurt Pfeiffer emphasized, can be 'made in the areas of literature, science, economics or politics.'
Get that?
The prize is not intended for those who resemble the Apostles in proclaiming eternal truths, in season and out, in the name of Jesus Christ, the solitary Source of authentic peace and unity; rather, it is given to men with far more worldly aspirations.
On this note, one must concede that the committee has chosen well.
As recipient of this year's International Charlemagne Prize, Francis has big shoes to fill as he succeeds 2015 awardee and former chairman of the Progressive Alliance of Socialists and Democrats (otherwise known as the S&D for short), Martin Shultz.
According to a position paper issued by the S&D:
We will fight against the regressive campaigns of conservative and right – wing forces in Europe, who want to erase the progress made in our societies, most prominently on the rights of women, minorities or LGBT people … We will fight against any kind of discrimination, racism and homophobia.
According to yet another S&D statement:
We, the undersigned, committed to the EU values of human dignity, freedom, democracy, equality, the rule of law and the respect for human rights declare that: ALL OF US believe that women can only be truly equal to men if they are given control over their sexuality, bodies and health … [We] are concerned about the recent developments and initiatives aimed at introducing regressive policies restricting women's access to safe and legal abortions.
This is the company Pope Francis keeps; not in an effort to seek their conversion to Christ, but as one among friends united in a common cause.
Incidentally, Martin Shultz is the current President of the European Parliament, which in March of this year, under his leadership, adopted a report echoing much the same language calling for "ready access to contraception and abortion."
Readers may recall that Pope Francis delivered an address to this body back in November of 2014; a less-than-thirty minute affair that was interrupted some fourteen times by the rousing applause of its members. (I wrote about that speech in some detail HERE.)
Were the parliamentarians cheering Jesus Christ at the behest of His Vicar?
Surely I jest!
Our Blessed Lord's name wasn't mentioned even once in a text of some 3,700 words. Neither was the Holy Catholic Church mentioned, just in case you were wondering.
By contrast, humanity, humans, man, etc. were invoked nearly three dozen times!
Not surprisingly, the communiqué issued by the International Charlemagne Prize Committee specifically referenced this speech in announcing its intention to add to the already robust collection of awards given to Francis during his relatively brief pontificate.
Already he has been named "Man of the Year" by PETA, The Advocate, Time, Rolling Stone, and perhaps most fitting of all for a man of such soaring humility, Vanity Fair; just to name a few.
As the earthbound accolades continue to pile up for this disastrous pope, I cannot help but recall the words spoken by Our Lord in reference to those who labor in pursuit of the praise of men:
Truly, His Humbleness has received his reward.