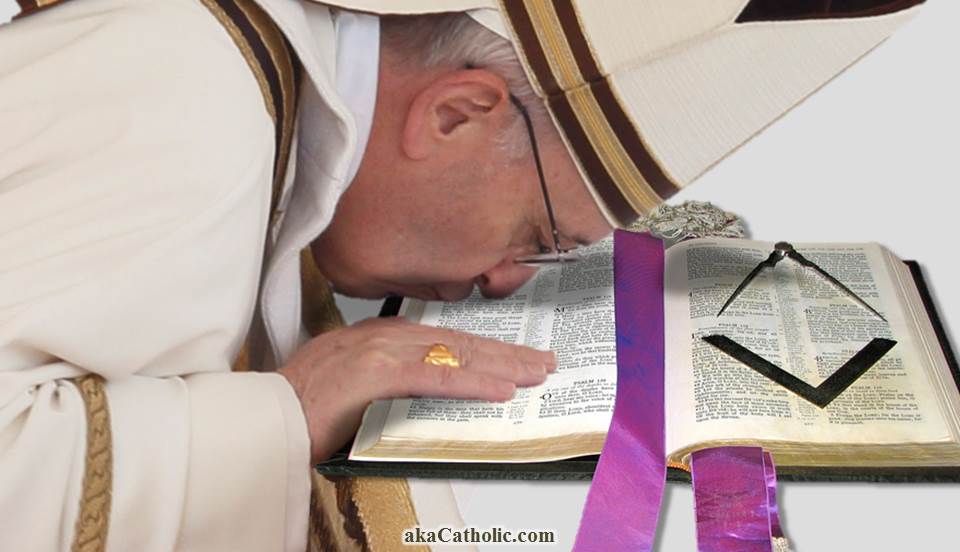 Deacon Nick Donnelly has an interesting post at EWTN Great Britain about what appears to be an increasing amount of concern in Rome over the influence of Freemasonry in ecclesial affairs.
From my perspective, the operative word is appears.
Donnelly cited a report from Edward Pentin wherein it is alleged that Francis instructed Cardinal Burke to "clean out" Freemasonry from the Knights of Malta back in November.
He also made note of specific "on the record" comments made by Francis; one just four months after he took over for Benedict the Abdicator, wherein he mentioned "the problem" of "Masonic lobbies."
Robert Moynihan, editor of Inside the Vatican, is quoted by Donnelly as saying:
Moreover, during the past several months, quietly and privately on most occasions, but sometimes publicly, a word has been whispered and spoken aloud in Rome in a way unlike any other time in the 33 years that I have been writing about Vatican affairs. That word is freemasonry.
Moynihan qualified the concern he is sensing in Rome, saying:
It may not be so much actual membership in a masonic lodge that is involved, but rather adherence to principles of that 'masonic thought' … not accepting any limit to the human ambitions to 'be like gods.'
As for what "masonic thought" entails vis-à-vis Catholic doctrine, he said:
The fact is that the thought of freemasonry, which was the thought of the Enlightenment, believes Christ and his teachings, as taught by the Church, are an impediment to human freedom and self-fulfillment.
Are we to believe that Francis has a problem with those who espouse "Masonic thought"?
One might recall that Francis identified Paul VI – the "cult of man" pope – as "the great light" of his formative seminary years.
This is the same Paul VI who was mourned by Giordano Gamberini, former Grand Master of Palazzo Giustiniani (the Roman headquarters of the Masonic Grand Orient of Italy), in an obituary that was published in La Rivista Massonica which read:
To us, it is the death of him who made the condemnation of Clement XII and of his successors fall. That is, it is the first time –  in  the  history  of  modern  Freemasonry  –  that  the  Head  of  the greatest  Western religion dies not in a state of hostility with the Freemasons! … For the first time in history, Freemasons can pay respect at a Pope's tomb, without ambiguity or contradiction.
(See Paul VI Beatified? by Fr. Luigi Villa – available here in its entirety in PDF.)
Only a willing fool can possibly fail to recognize the "great light" of Paul VI not only reflected in so many of Francis' words and deeds, but even magnified in his official acts to an unprecedented intensity.
If, indeed, there is any genuine concern in Rome about the Masonic attitude wherein human beings strive to "be like gods" apart from Christ, it is not so much a concern that is shared by Francis as one that is inspired by Francis.
He is, after all, the first Bishop of Rome to openly declare that man is "King of the Universe."
As for treating "Christ and his teachings as an impediment to human freedom and self-fulfillment," one need only read Chapter 8 of Amoris Laetitia – a document wherein Our Lord's condemnation of adultery is effectively vetoed while insisting that "concrete situations" exist that do not allow adulterers to "act differently" – to see how well this shoe fits Francis.
If indeed accurately reported, it is a curious thing that Francis would order Cardinal Burke to excise the "influence of Freemasonry" from the Knights of Malta in a meeting held on November 10, 2016…
Was this the "aha moment" that opened Cardinal Burke's eyes to the fact Francis had no intention whatsoever of affirming the true faith by answering the dubia he had submitted nearly two months prior, and what's more, was likely planning his demise?
Surely, Cardinal Burke recognized the hypocrisy attached to Francis' anti-Masonic order.
In any case, it was just four days later that Cardinal Burke & Company decided to go public with their dubia.
Since then, Francis has done nothing whatsoever to suggest that he isn't the best friend that the "cult of man" has ever had in Rome; including Paul VI of most bitter memory.
As such, every time I read some quote that suggests that Francis is interested in eliminating the influence of Freemasonry in the Church, I cannot help but think that Jorge doth protest too much.
I mean, seriously, what's next, a Bergoglian call to arms against modernism?
Thank you in advance for your continued support!