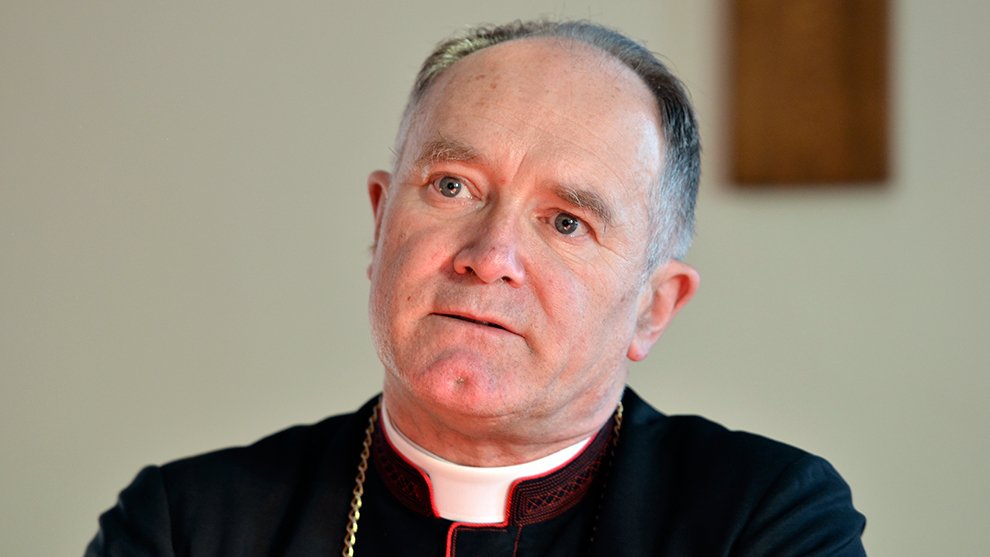 With reports suggesting that canonical regularization of the SSPX is close at hand (whatever "close" means), anxiety is running at an all-time high among so-called "traditionalists" (aka Catholics).
I've made my thoughts on the matter rather clear in the past (e.g., HERE and HERE), but given the present state of affairs concerning Francis in light of the dubia and reasonable doubts about his validity, we have a new wrinkle to consider.
As regular readers of this space know very well, I am convinced that Jorge Bergoglio has plainly judged himself a formal heretic and therefore no pope at all.
(Seriously folks, the man has been publicly called to account for his heresies for many months now, most recently via the dubia, and he has only doubled down on his explicit contradictions of dogmatic teaching.)
At the very least, one cannot help but wonder if in fact he is a legitimate pope.
As such, it is reasonable to ask if it makes sense for the Society to accept a canonical recognition from the hands of Francis given his questionable status.
In order to arrive at an answer, it is necessary to take a few steps back…
The plain and simple fact of the matter is that the SSPX finds itself in an "irregular" state for one reason and one reason alone; those in authority, up to and including popes, have abused their power and acted unjustly.
The Society of St. Pius X has never been anything other than in "full communion" with the Church; their relationship with Eternal Rome unquestioned.
It is the modernists running the show in the Rome of today who breached their own relationship with Holy Mother Church.
The words of St. Athanasius are perfectly applicable here, "They [Rome] have the buildings; we [SSPX] have the Faith."
"Full communion" for the Society does not belong to any pope; i.e., it does not exist simply because he or someone else in authority formally declares it – no more than it ceased to exist simply because they denied it.
If Rome changes course and decides to formally recognize that the SSPX has the Faith; granting them regular jurisdiction, doing so will be nothing more than a matter of justice.
The value of that act of governance does not so much rest on the person of the pope (or the man dressed as such) as it does on the objective truth that the Society and its teachings are entirely Catholic.
While locking the SSPX out of the building (denying them formal jurisdiction) had no effect on that objective truth, it did profoundly effect the way in which the majority of undernourished Catholics viewed the Society (e.g., as a "break away" sect, schismatic, with questionable teachings and invalid sacraments).
Regular jurisdiction for the SSPX will be a great benefit for those souls and their salvation no matter who unlocks the building, and like it or not, they keys are in the hands of modernists right now.
Can the modernists be trusted?
Hell, no!
But what's the worse that can happen?
Bishop Fellay has insisted that he will only move forward with a Personal Prelature if Rome offers a "clear, straightforward statement that these guarantees (that the SSPX can remain as they are) will be respected."
If the modernists in Rome offer such a guarantee and then renege by insisting that the Society in some way compromise, I have every confidence that they will simply refuse; even if that means being kicked out of the building once again and returning to the state in which they find themselves today.
I honestly don't know what all the panic is all about. The challenge to remain faithful in the face of evil is the daily fare of every Catholic – always has been; always will be.
In conclusion…
I must say that one of the things that I would expect to see happen very shortly after the Society's regularization (should that happen) is for Bishop Fellay to begin speaking publicly and forcefully on the matter of Amoris Laetitia, the dubia and Francis' validity.
I think it's fair to say that the Society's public response to date has lacked, shall we say, the kind of Apostolic zeal that one might have expected given the offensiveness of the heresies and blasphemies in question.
Right or wrong, perhaps the decision was made to temper the response, as an attempt to exercise prudence, given that formal jurisdiction appears near.
Whether one agrees or not, I can imagine how a case might be made for such a decision.
That said, once the Personal Prelature either happens, or it becomes obvious that this act of justice isn't so near after all, there can be no reason for Bishop Fellay to refrain any longer from plainly condemning Amoris Laetitia in its entirety in no uncertain terms; denouncing in particular the specific heresies and blasphemies that it contains.
Back in April, Bishop Fellay likened this dreadful document to a boat that is reasonably well constructed in Chapters 1 thru 7, but has a gaping hole below the sea line courtesy of Chapter 8.
In spite of any claims that Amoris Laetitia contains much that is "beautiful," the plain truth is that it adds absolutely, positively nothing to the perfectly sound vessel that already exists in the Church's authentic magisterium on marriage and family. Nothing.
That being the case, insisting that Francis fix the hole in Amoris Laetitia with "clarifications" is utterly useless.
This evil text needs to be incinerated and reduced to ash immediately, and the actual relationship of its author to the Body of Christ needs to be addressed plainly.
I for one am looking forward to the day when the Society of St. Pius X and Bishop Fellay will issue an unequivocal call for precisely this. Whether that takes place with or without regular jurisdiction, it needs to happen soon.
The salvation of souls is at stake.