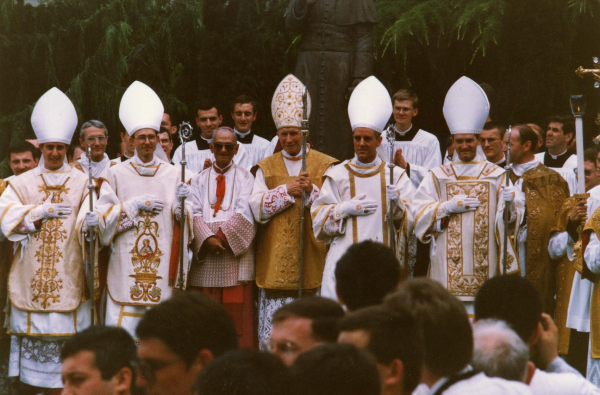 Now that we've had a little time to let the news sink in of Pope Francis' recognition that the SSPX has always had supplied jurisdiction (as explained in the previous post), let's come face to face with the other delightful elephants in the room.
To recap: It is now clear that the faithful may freely approach the SSPX for valid and licit absolution from their sins, without any worry about validity or licity, apart from ordinary jurisdiction for their clergymen; namely, with jurisdiction supplied extraordinarily by the pope via a simple letter, or by the Church as has been the situation all along, in both cases by virtue of "the need to respond to the good of these faithful," to quote Pope Francis.
Even though the focus of conversation has, understandably enough, been on the Society priests' ability to validly and licitly hear confessions and grant absolution, common sense alone tells us that the implications of this state of necessity (which is no longer up for debate) extends much further.
NB: The jurisdiction presently under discussion is ordered not specifically toward absolution, per se, but more fundamentally unto salvation.
It only stands to reason, therefore, that this same state of necessity for the good of souls exists such that the faithful may freely approach the SSPX for the Holy Sacrifice of the Mass, offered as expiation for our sins unto salvation, likewise without any worry as to it being valid or licit.
In fact, the faithful need not hesitate to approach the priests of the SSPX for any of the sacraments.
I wonder how long it will take for Bishop Morlino to retract his advice to the people of his diocese, "Have nothing to do with the SSPX," given last month?
In any case, the neo-cons will love this…
We now no longer have to wonder whether or not +Archbishop Lefebvre (along with +Bishop Antônio de Castro Mayer) judged rightly when he consecrated four bishops in 1988 without the Holy See's approval; based upon what he considered to be a state of necessity for the salvation of souls.
It should be crystal clear to all concerned (His Vortexcellency included), ironically thanks in part to the confirmation provided by Pope Francis, that +Archbishop Lefebvre acted heroically in providing for needs of the faithful in light the authentic state of necessity that existed in 1988 (and endures even today), in spite of the fact that he knew very well that persecution awaited him for doing so.
Nor can there be any question as to the judgment of the SSPX bishops who continue to ordain holy priests without formal approval in order to meet the same needs of the faithful.
God is good.