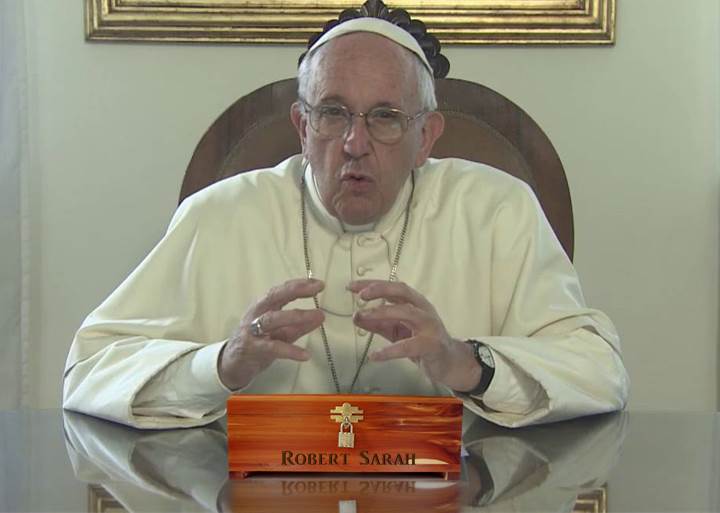 On August 23, 2016, Cardinal Robert Sarah, Prefect of the Congregation for Divine Worship and the Discipline of the Sacraments, addressed the clergy of the Archdiocese of Colombo, Sri Lanka; the title of his presentation being: Liturgical Life and the Priesthood.
This was the first such address given by Cardinal Sarah since the Sacra Liturgia Conference in London where, on July 5th, he spoke about the necessity of offering liturgical worship in the ad orientem posture.
Readers may recall His Eminence's plea:
I believe that it is very important that we return as soon as possible to a common orientation, of priests and the faithful turned together in the same direction—Eastwards or at least towards the apse—to the Lord who comes, in those parts of the liturgical rites when we are addressing God … I think it is a very important step in ensuring that in our celebrations the Lord is truly at the centre.
Further indicating just how deeply he believes in the importance of returning to ad orientem worship, Cardinal Sarah even went so far as to suggest that liturgy versus popolum (facing the people) can be likened to the unfaithfulness of the people Israel in the 6th century BC; the same that invited the Babylonian exile.
Speaking directly to priests, he said:
Dear Fathers, we should listen again to the lament of God proclaimed by the prophet Jeremiah: "they have turned their backs to me and not their faces" (2:27). Let us turn again towards the Lord!
Cardinal Sarah implored his brother bishops, "Please lead your priests and people towards the Lord in this way," and to this end he suggested that the first Sunday of Advent of this year may be a good time to implement the widespread return of ad orientem worship.
In the aftermath of his Sacra Liturgia address, many in Catholic media (and social media), especially those of a neo-conservative bent, couldn't applaud Cardinal Sarah enough for his so-called "faithful leadership."
Yours truly, by contrast, provoked no small amount of rage for saying that Cardinal Sarah, unabashed man of the Council that he is, is part of the problem; not the solution.
Well, as you now know, Rome would have none of this ad orientem talk.
Cardinal Sarah was promptly called into the Generalissimo's office immediately upon his return to Rome and duly castigated for daring to suggest that the Mass isn't all about us. The Holy See press office even issued a rare "clarification" on the matter; versus populum worship isn't going anywhere.
Following the smack down of Cardinal Sarah at the hands of His Humbleness, I wrote:
"Now that the battle lines have been clearly drawn, and in a most public way, we will find out what Cardinal Robert Sarah is made of: Will he serve the Lord, or will he dutifully serve his earthly taskmaster, Francis? Time will tell."
Well, in light of the address that he delivered yesterday in Sri Lanka, it appears that the time is now at hand, and the story that it tells is plain; i.e., Cardinal Sarah has made his choice.
Before commenting specifically on liturgy, Cardinal Sarah proposed the following to his clerical audience:
My brothers, let us never forget that before we are ordained, we are baptised. This may sound a little strange, but sometimes it is easy for us priests to think and behave as if we are a caste somehow 'above' those who are not ordained. That is not correct.
Sound familiar? It should.
The ministerial priesthood is one means employed by Jesus for the service of his people, yet our great dignity derives from baptism, which is accessible to all. The configuration of the priest to Christ the head … does not imply an exaltation which would set him above others. (cf Evangelii Gaudium 104)
So, is Cardinal Sarah simply echoing the sentiments of his earthly taskmaster in spite of his own beliefs, or does he really imagine that the dignity derived from priestly ordination is no greater than that of baptism – something that even the heretics have received?
It's anyone's guess, I suppose, but if the remainder of his presentation in Sri Lanka is any indication, it appears all-too-obvious that Cardinal Sarah is more than willing to set aside his deeply held convictions in order to curry favor with his boss, the blasphemous Argentinian heretic in white.
Just as he did in his London address, Cardinal Sarah correctly identified a central problem in many of our liturgical celebrations, saying to the priests in attendance:
In recent decades in some countries the Sacred Liturgy has become too anthropocentric; man not Almighty God has often become its focus. However we must take care to form our people that God, not ourselves, is the focus of our worship.
"How can we pursue such a [liturgical] renewal, a renewal that so many of us need," Cardinal Sarah asked his audience?

This is essentially the same rhetorical question posed by His Eminence at the Sacra Liturgia Conference in London, but rather than passionately stressing the fundamental necessity of ad orientem worship as he did prior to being called on his papa's carpet, this time he chose to tiptoe through the tulips like a fearful teenaged girl sneaking back into her daddy's house two hours after curfew.  

Last month, in London, I gave a presentation "Towards an authentic implementation of Sacrosanctum Concilium" … This talk received a lot of attention—some of it not always very accurate!
There he goes again! In this, Cardinal Sarah is making his own the "clarification" set forth by the Holy See wherein it is said:
Some of his [Cardinal Sarah's] expressions have however been incorrectly interpreted, as if they were intended to announce new indications different to those given so far in the liturgical rules and in the words of the Pope regarding celebration facing the people and the ordinary rite of the Mass.
As if it wasn't already obvious enough that Cardinal Sarah left his… shall we say, "manhood" in a lock box back in Francis' office, the closest he came to standing by the impassioned address that he delivered at Sacra Liturgia in London was to tell the priests present in Sri Lanka:
In any case, I recommend that you read the text of this address (it is available on the Internet). Perhaps we can talk about some different questions together later.
Please allow me to translate:
I, Robert Sarah, will be pleased to speak with you in private about the indispensable role ad orientem worship plays in liturgy, and our solemn obligation as priests of Jesus Christ to so lead the souls entrusted to our care, but I dare not speak about such things publicly as Cardinal Prefect even though this is what I am obligated to do before God, and this for fear of upsetting Francis; the same who holds the key to my immediate ecclesial future and all of the earthly comforts that come with the high office that I am pleased to currently occupy.
I'm not one to say "I told you so," but…
What I wrote roughly six weeks ago (Cardinal Sarah: A weak and incompetent neo-con hero) appears all the more obvious today.