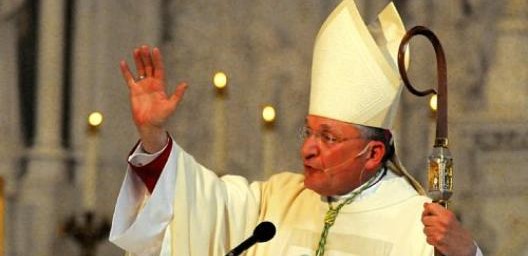 On August 17th, the Pittsburgh Tribune posted an article about the Diocese of Pittsburgh and its revitalization plan, "On Mission for the Church Alive!"
If the name of the project alone is enough to activate your gag reflex, congratulations; your hereticometer is in good working order.
Interviewed for the article was the ordinary of the diocese, Bishop David Zubik.
Readers of this space may recall that this is the same Bishop Zubik who hired a protestant to serve as his Communications Director a few years back; a woman who vowed to dutifully  "express my Christian faith" in the role; never mind the fact that hers is a heretical faith.
Astonishingly enough, it appears that things aren't going all that well in Pittsburgh.
According to the Tribune:
Since 2000, weekly Mass attendance has dropped by 40 percent — for almost 100,000 fewer regular churchgoers; K-8 Catholic school enrollment fell by 50 percent; and the number of active priests plummeted from 338 to 225.
So how does Bishop Zubik envision turning things around?
"The No. 1 priority has to be, 'We need to make our worship better,'" Zubik told the Tribune-Review. "Second of all, we need to do the best job that we can to get not only more ordained leaders, but we really have to open up lots of doors for the lay leaders of the church."
Sure, more "ordained leaders" (otherwise known as priests, and in NovusOrdoLand, permanent deacons) would be nice, but we really have to open up lots of doors, not just a few, for an army of "lay leaders" (otherwise known as women in NovusOrdoLand).
And what, pray tell, is the key to "better worship" according to His Excellency?
We must focus on "better homilies, better music and more people."
If you think this means preaching unadulterated Catholic doctrine and the return of Gregorian chant, I've got some shoreline property you may be interested in.
Readers may also recall that this is the same Bishop Zubik who joined hands with Franklin Graham at a heretic hoedown in 2014 just prior to issuing a decree warning local Catholics not to assist at Holy Masses offered by the SSPX; even going as far as to threaten those who do with excommunication! (See article at The Remnant.)
In a promotional video posted on the Mission Alive! website, Zubik made it clear that the mission at hand is going to be a collaborative effort between clergy and laity.
To this end, he cited the inspiration of Pope John XXIII, one of the "three wise men" that have influenced him most, and his "call to be consultative."
"That's an important message that we have to take a look at as church," Zubik said.
The other two wise men? Pope John Paul the Great Ecumenist and His Humbleness, Francis.
In a letter on the same website, Zubik writes:
We need to study what it means to be the church, what it means to be parish, what it means to be excited about our faith, what it means to be Catholic.
Seriously? If a bishop, a shepherd of souls, a man that has care for an entire diocese feels the need to enter into collaborative study with laity in order to discover what it means to be Catholic; it's time to retire.
None of what I shared here is surprising. Bishop Zubik is an Apostle of Newchurch through and through.
What I did find a bit surprising, however, is the applause that Zubik received from Fr. Z.
Honestly, when I saw the link to his post on my Facebook feed and clicked on it, I sincerely expected it to say that these diocesan renewal-by-committee projects are a ludicrously protestant waste of time and money.
Anyway, you can read his reaction there…
For those of you in Pittsburgh, do yourself and your family a favor:
While Zubik and his think tank of many are trying their damnedest to figure out what it means to be Catholic, and racking their creative little brains looking for ways to jazz up the sacred liturgy, avail yourself of the one true faith in all of its richness at St. James Catholic Church, gloriously restored by the Society of St. Pius X as shown in the video below.