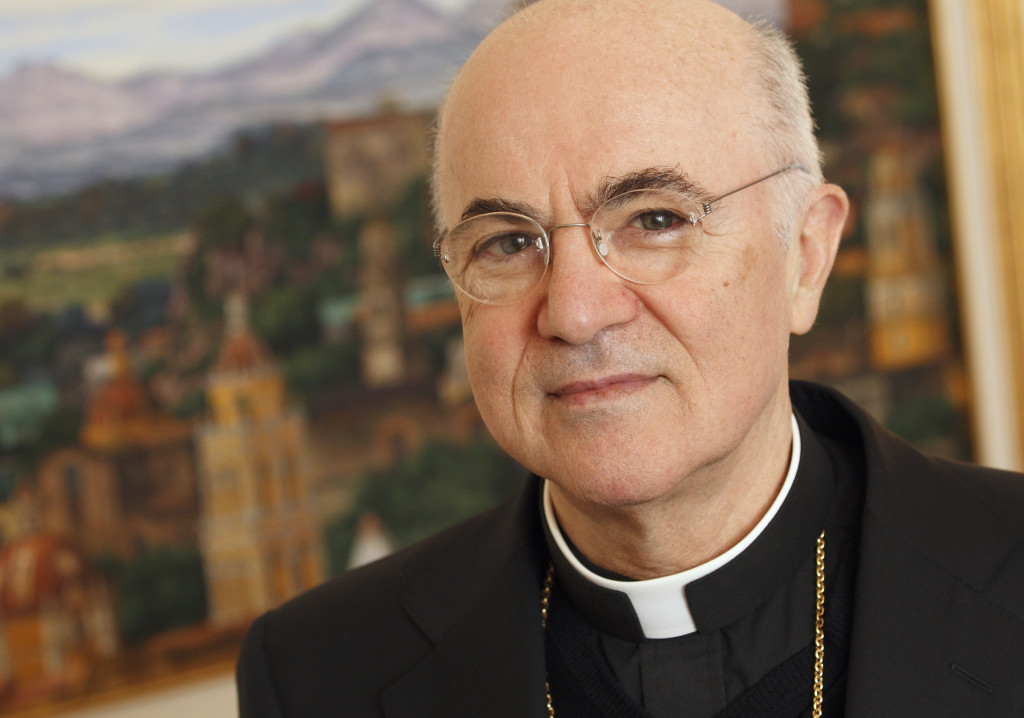 Archbishop Carlo Maria Viganò has just issued yet another testimony. We'll take a look at the most noteworthy parts of it below, but the real value of this follow-up text lies in what it does not say and yet makes crystal clear all the same.
On board yesterday's return flight from his visit to the Baltic region, Bergoglio's chief PR handler, Greg Burke, made it clear that journalists were to focus their questions exclusively on the trip; i.e., there would be no discussion of the Viganò affair. And yet, the chatty Argentinian could not help but say:
When there was that famous communiqué of an ex-Apostolic Nuncio, the episcopates of the world wrote me, saying clearly that they felt close, that they were praying for me.
Ah, yes… You recall back "when there was that famous communiqué," don't you?
Clearly, Bergoglio would like the journalists, and the world, to consider the case closed; as if it is just a regrettable thing of the past, albeit one that ultimately served to further cement his relationship with bishops throughout the world.
What a shameless load of self-serving garbage! How about those bishops that are publicly calling for a full investigation? Or those that have come forward to vouch for Archbishop Viganò's character?
In any case, in spite of Bergoglio's attempt to brush the Viganò testimony under the carpet, by releasing a new testimony today, the archbishop has made it known that he has no intention whatsoever of letting the matter rest. Furthermore, as we will see, he has also made it plain that he intends to put other churchmen on the spot, by name, forcing them to declare their allegiance – either to Light or to darkness.
Now, on to the text.
Archbishop Viganò pointed to the failure of Bergoglio and certain cardinals to produce any meaningful refutation of the claims made in his initial 11-page testimony as evidence that he spoke the truth:
Neither the pope, nor any of the cardinals in Rome have denied the facts I asserted in my testimony. "Qui tacet consentit" surely applies here, for if they deny my testimony, they have only to say so, and provide documentation to support that denial. How can one avoid concluding that the reason they do not provide the documentation is that they know it confirms my testimony? …
Now, the pope's reply to my testimony was: "I will not say a word!" But then, contradicting himself, he has compared his silence to that of Jesus in Nazareth and before Pilate, and compared me to the great accuser, Satan, who sows scandal and division in the Church — though without ever uttering my name.
Though one expects more of the same from Bergoglio & Co. – namely, silence and slander – a common sense observer is hard pressed not agree with the archbishop.
With every passing day, it becomes more and more obvious that "the accuser" in this case has indeed spoken the truth; i.e., in no way can his actions in coming forward be compared to a work of the Devil. As for the slanderer, readers can make up their own minds. The following from Archbishop Viganò should help:
He [Bergoglio] put in place a subtle slander against me — slander being an offense he has often compared to the gravity of murder. Indeed, he did it repeatedly, in the context of the celebration of the most Holy Sacrament, the Eucharist, where he runs no risk of being challenged by journalists.
Indeed, and it has long been standard procedure for His Humbleness to heap insults – some veiled, others not so much – against those who oppose his diabolical designs from the pulpit.
I'm not certain there is anything more Satanic than turning the Mass (even if it is just a quasi-Protestant Novus Ordo) into a platform for launching a personal vendetta against one's foes in such a way. Truly, these are the actions of a man who genuinely hates the Catholic faith and He who established it. No other conclusion can be drawn.
Viganò went on to provide a brief recap:
The center of my testimony was that since at least June 23, 2013, the pope knew from me how perverse and evil McCarrick was in his intentions and actions, and instead of taking the measures that every good pastor would have taken, the pope made McCarrick one of his principal agents in governing the Church, in regard to the United States, the Curia, and even China, as we are seeing these days with great concern and anxiety for that martyr Church.
This, Viganò characterized as "the pope's cover-up of McCarrick," and that it "was clearly not an isolated mistake." He went on to list examples of how "Francis has defended homosexual clergy who committed serious sexual abuses against minors or adults."
This effectively preempts any attempt on Bergoglio's part to make the same phony claim that he made with respect to the Bishop Barros affair. Readers may recall that after initially accusing sexual assault victims of calumny, the Humble One circled back in the face of increasingly negative public opinion (like a true politician) to apologize, saying:
[I made] serious errors in the judgment and perception of the situation, especially due to a lack of truthful and balanced information.
Though there is little indication that Bergoglio is considering doing the same with respect to McCarrick, either way, Viganò has just beaten him to the punch.
Perhaps recognizing that Bergoglio has no intention of responding in any manner, much less of telling the truth plainly, Viganò called out by name both Cardinal Daniel DiNardo and Cardinal Marc Ouellet, in the apparent hope that their consciences will move them to step forward with important information.
First, to DiNardo, who recently led a delegation to Rome to request of Bergoglio a full investigation of Viganò's claims regarding "Uncle Ted" McCarrick:
Cardinal DiNardo and the other prelates should tell the Church in America and in the world: did the pope refuse to carry out a Vatican investigation into McCarrick's crimes and of those responsible for covering them up? The faithful deserve to know.
Then to Ouellet:
I would like to make a special appeal to Cardinal Ouellet … Your Eminence, before I left for Washington, you were the one who told me of Pope Benedict's sanctions on McCarrick. You have at your complete disposal key documents incriminating McCarrick and many in the curia for their cover-ups. Your Eminence, I urge you to bear witness to the truth.
With the release of today's testimony, Viganò has let it be known that he is going to continue forcing the rats out into the light of day, and those churchmen with information they would prefer to hide under the cover of silence, are chief among them.
Well played, Excellency.