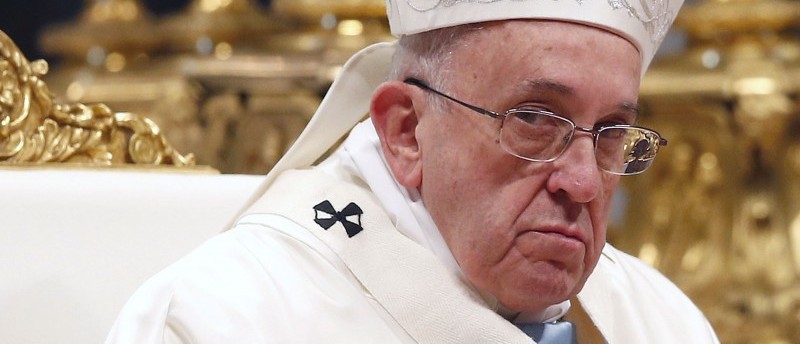 How bad is the present situation in Bergoglian Rome?
So bad that even the Jesuit periodical America Magazine is publishing reports that paint Francis as a liar.
At issue is the case of Bishop Juan Barros, who, after serving for eleven years as Bishop of the Chilean Military, was appointed by Francis to lead the Diocese of Osorno, Chile in 2015.
When news of Barros' appointment to Osorno was first made public, a number of sex abuse victims objected; alleging that he, as a priest, was present when Fr. Fernando Karadima homosexually abused minors and yet did nothing to stop, much less report, him.
Even members of the Pontifical Commission for the Protection of Minors that Francis created in 2014 publicly expressed shock that he would make such an appointment in spite of such serious allegations.
Allegations.
NOTE: Barros denies having any knowledge of Karadima's abuse of minors, and although it is being reported that Barros isn't being accused of personally engaging in any such activity, he is being accused (see the report in America Magazine) of engaging in homosexual acts with Karadima in the presence of minors, which by any measure is sexual abuse of said minors.
Fast forward to Francis' in-flight press conference of 21 January from Chile to Rome.
When a reporter attempted to ask about the allegations against Bishop Barros, Francis cut her off, curtly interjecting:
No one has come forward, they haven't provided any evidence for a judgment. This is all a bit vague, it's something that can't be accepted. You, in all good will, tell me that there are victims, but I haven't seen any, because they haven't come forward.  It's true that Barros was a member of the group of young people there; I'm not sure when Barros entered the seminary, but he's been a bishop now for twenty-four or twenty-three years, and must have been a priest for fifteen years…  For many years: he entered [the seminary] when he was very young. He says he saw nothing. He was part of the group, but then he took another path.  We have to be clear about this: anyone who accuses without evidence, pertinaciously, this is slander.
Earlier in the press conference, Francis said:
I don't have the evidence needed to convict.  And if I were to convict without evidence and without moral certitude, I would myself commit the offense of judicial misconduct.
In this, a couple of things stand out.
One, Francis is spinning this matter into a debate about whether or not the "evidence needed to convict" Barros (not Karadima, who was found guilty in 2011 after a canonical investigation) exists.
Judicial misconduct?
This is not the issue.
Sure, the victims of Karadima would probably like very much to see Barros "convicted" in some sort of judicial proceeding, but that's not what they or members of the Pontifical Commission for the Protection of Minors were seeking; rather, all indications are they were simply trying to overturn his appointment as Bishop of Osorno where he would have oversight of parishes, schools and countless youth.
During his time as Bishop of the Chilean Military, it appears that Barros was flying under the radar.
So why was Francis so determined to make him the Ordinary of Osorno, in spite of so many allegations, when surely there were other men available for the appointment?
We'll come back to this.
Secondly, the key phrase in Francis' in-flight presser concerns his claim is that "no one has come forward."
As detailed in the AP report published in America Magazine (which I encourage you to read for yourself), however, Cardinal Sean O'Malley, who heads the Pontifical Commission for the Protection of Minors, personally handed a letter to Francis in 2015 from Juan Carlos Cruz, one of Karadima's victims,  detailing how Barros was not only present during the abuse, but also engaged in homosexual acts with Karadima in the presence of minors.
About Francis' claims to the contrary, Mr. Cruz said:
"I was upset, and at the same time I couldn't believe that someone so high up like the pope himself could lie about this."
Is Barros truly guilty as charged?
Thankfully, we don't have to make that call, and guess what? Neither does Francis.
So why was Francis so determined to make Barros the Ordinary of Osorno, and why is he is so determined to defend him now?
Though Francis speaks as if he is simply attempting to treat Barros justly according to the "evidence" in hand, this is nothing more than a smoke screen; in no way is Barros due the position in question as a matter of justice.
Though one cannot make a subjective judgment concerning why Francis does what he does, what we can say with objective certainty is that wherever one finds lies, spin jobs and cover-ups, there is the hand of Satan.
Francis' trip to Chile was rather telling in this regard.
Readers will recall how he took part in the "impromptu" so-called marriage of two airline personnel; only for us to later discover that the entire thing was planned months in advance. (#FAKENEWS)
Bottom line, folks, with every passing day it is becoming more and more obvious that the Evil One has a faithful vicar in Francis; whether willing or unwitting.
So much so that even the editors of America Magazine appear to be waking up.