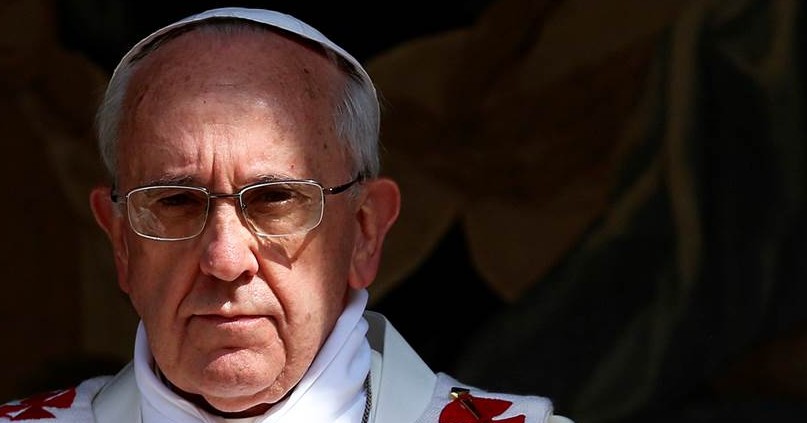 Sunday, November 20th on the Novus Ordo calendar marked the Solemnity of Our Lord Jesus Christ, King of the Universe.
In his homily, Francis described it as "the crown of the liturgical year;" a nice turn-of-phrase to be sure, but make no mistake about it, in his eyes, Christ Himself remains crownless.
As his preaching that day suggests, the Bergoglian image of Jesus is born, in part, from what appears to be a practical denial of the resurrection:
'The Christ of God, the Chosen One, the King' (Lk 23:35,37) appears without power or glory: he is on the cross, where he seems more to be conquered than conqueror.  His kingship is paradoxical: his throne is the cross; his crown is made of thorns; he has no sceptre, but a reed is put into his hand; he does not have luxurious clothing, but is stripped of his tunic; he wears no shiny rings on his fingers, but his hands are pierced with nails; he has no treasure, but is sold for thirty pieces of silver.
While one may rightly speak of the "throne of the Cross" where Our Lord appeared (NB: past tense) "to be conquered," it would be a most grievous error to imagine that this is where the story ends.
Though Francis said, "His kingship is paradoxical," he never seems to get around to the "other side of the coin" by extolling to the extent of Our Lord's authority, His infinite power, and His social reign.
Rather, he consistently speaks as if to gaze upon Our Lord even now is to look upon one who "seems more to be conquered than conqueror."
Missing entirely from the Christology of Francis is any indication that he believes in One who is clothed in majesty, sovereignty and glory. It's as if the resurrection never happened!
This presumably is why he can only manage to preach a crucified king whose throne is a cross as opposed to the Risen Lord who said of Himself, "I am set down with my Father in his throne." (cf Apocalypse 3:21)
In establishing the Feast of Christ the King, Pope Pius XI taught:
After His resurrection, when giving to His Apostles the mission of teaching and baptizing all nations, he took the opportunity to call himself King, confirming the title publicly, and solemnly proclaimed that all power was given Him in heaven and on earth. These words can only be taken to indicate the greatness of His power, the infinite extent of His kingdom. (cf Quas Primas 11)
How different this image of Christ is from the one espoused by Francis and those who think as he does!
Consider, for example, the words of Cardinal Oscar Rodríguez Maradiaga, the man handpicked by Francis to lead the cardinals advising him on the Curia's reorganization:
The function of the hierarchy is redefined in reference to Jesus as Suffering Servant, not as "Pantocrator" (lord and emperor of this world); only from the perspective of someone crucified by the powers of this world it is possible to found, and to explain, the authority of the Church.
Apart from a Jesus Christ who is Pantocrator indeed, the authority of the Church that He established is effectively rendered nil, and the function of her sacred pastors is thus reduced to that of a therapist who is called to do little more than "accompany" sinners on the way to Hell.
And isn't this exactly what is promoted in Amoris Laetitia as interpreted according to the explicit input of its author?
If one simply takes Francis at his word, it is evident that he worships a false god of his own making – an itinerant first century doer of good deeds; a live-and-let-live liberal who judged nothing and no one, only to be left beaten, bloodied and belittled by those who hold earthly authority.
It is this paltry substitute for Christ the King that Francis urges his listeners to follow; as if the mission at hand primarily concerns finding a remedy to temporal poverty and social inequalities.
An honest appraisal of the last three-and-a-half years makes it difficult to deny that the lord of Bergoglianism bears a striking resemblance to Jesus as viewed through the eyes of most modern day self-described Jews; a rather well-meaning social worker with a revolutionary spirit, who, at the end of the day, was really just an ordinary man.
This, my friends, is the Christological heresy upon which Bergoglianism is founded; namely, a failure to recognize the Divinity of Our Lord.
As I write, the dubia is front and center in the minds of most Catholics, and the questions that it poses can be summarized into just one:
Do you, Francis, recognize the Divinity of Christ?
If the answer is clearly yes, then the five questions presented in the dubia would pose no difficulty whatsoever.
On the other hand, if the answer isn't quite so black and white, then Our Lord's words concerning adultery would appear to be up for revision; likewise Catholic teaching concerning intrinsically evil acts as based upon Sacred Scripture and the Tradition of the Church would seem negotiable on a case-by-case basis.
In fact, it's not difficult to imagine that presenting the dubia to one who doubts the Divinity of Christ just might be enough to render him boiling with rage.