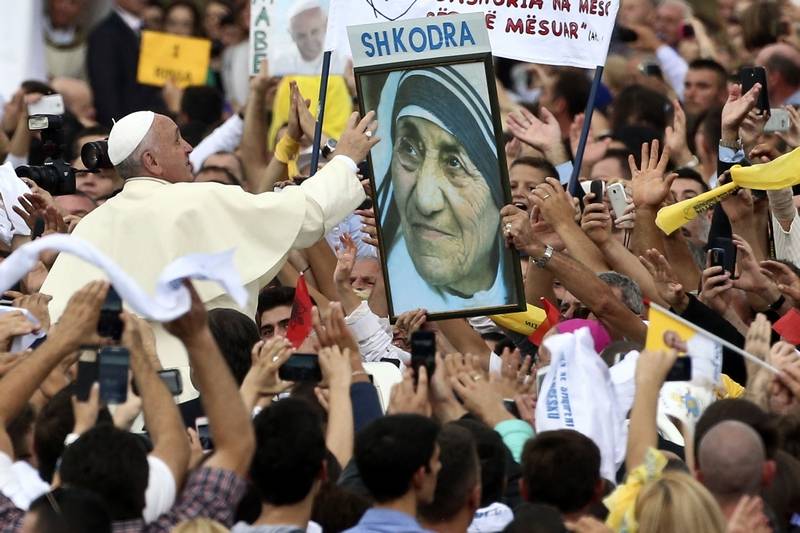 This upcoming Sunday, September 4, 2016, Francis the Loquacious will declare Gonxha Bojaxhiu, better known throughout the world as Mother Teresa of Calcutta, a canonized "Saint" of the Catholic Church – at least insofar as such things are currently understood by many in our day.
And it is well that she should be so declared, and by none other than Francis, for the simple reason that Teresa of Calcutta provides a stellar image of the post-conciliar ecclesial crisis – a "Saint" whose icon and legacy provide neo-conservatives and Apostate Romans alike with much to venerate.
First, let's talk about the neo-conservatives; a large portion of whom have all but abandoned the mission of the Church in favor of Pro-Lifeism, many without even realizing it.
For misguided souls such as these, Mother Teresa practically canonized herself more than two decades ago when, at the 1994 National Prayer Breakfast before Bill and Hillary Clinton, she said:
I feel that the greatest destroyer of peace today is abortion, because it is a war against the child, a direct killing of the innocent child, murder by the mother herself. And if we accept that a mother can kill even her own child, how can we tell other people not to kill one another? … Any country that accepts abortion is not teaching its people to love, but to use any violence to get what they want. This is why the greatest destroyer of love and peace is abortion.
For the neo-conservative, this is a shining example of evangelizing with boldness. The "traditionalist" (aka Catholic), by contrast, realizes that it's nothing of the kind.
Writing in his magnificent encyclical Quas Primas, Pope Pius XI (whose own cause for sainthood is sure to remain dead in the water until the present crisis comes to an end) provided the immutable Catholic faith:
When once men recognize, both in private and in public life, that Christ is King, society will at last receive the great blessings of real liberty, well-ordered discipline, peace and harmony.
Did Mother Teresa believe this?
If so, she did a masterful job of keeping her beliefs to herself.
This, alas, is precisely one of the reasons why Mother Teresa is eminently qualified to represent the post-conciliar church-of-man and its understanding of "missionary" work; the ethos of which she famously summarized:
"I've always said that we should help a Hindu become a better Hindu, a Muslim become a better Muslim, a Catholic become a better Catholic." (A Simple Path, pg. 31)
In all of this, the Apostate Roman and the neo-conservative (in particular, the Constitution-loving sort who lives right here in good ol' God Bless America) have much to celebrate in common when it comes to Mother Teresa.
You see, all concerned consider the Second Vatican Council's Declaration on Religious Freedom to be the non-negotiable gospel of the New Springtime, and this necessarily means that they share two core beliefs:
One, the separation of Church and State is utterly sacrosanct, and two, if not rejecting the Social Kingship of Christ outright; at the very least, it is necessary to keep the doctrine hush-hush for the sake of expedience.
For his part, the Apostate Roman, being far more Masonic than Catholic, cannot help but venerate Teresa of Calcutta all the more.
According to Fr. Brian Kolodiejchuk, MC, Postulator of the Cause of Canonization of Blessed Mother Teresa, her understanding of the mission at hand can be summed up thus:
She wanted people to come closer to God (however they understood Him) and believed that in this way they would also come closer to each other, love one another, and ultimately create a world that is better for everyone to live in.
In her own words:
I have never found a problem with people from different religions praying together. What I have found is that people are just hungry for God, and be they Christian or Muslim we invite them to pray with us. There is a large percentage of Muslims in our mission houses in Spain and France and they want to pray. So that is our main focus, to encourage them to pray, to have a relationship with God, however that may be, because when you have that then everything else will follow. (A Simple Path, pg. 32)
Compare Mother Teresa's method and mission to the following:
The doors of Freemasonry are open to men who seek harmony with their fellow man, feel the need for self-improvement and wish to participate in making this world a better place to live. (cf International Masons)

Masons believe that there is one God and that people employ many different ways to seek, and to express what they know of God. Masonry primarily uses the appellation, "Grand Architect of the Universe," and other non-sectarian titles, to address the Deity. In this way, persons of different faiths may join together in prayer, concentrating on God, rather than differences among themselves. Masonry believes in religious freedom and that the relationship between the individual and God is personal, private, and sacred. (Masonic Service Association of North America)
Truly, Mother Teresa could very well be considered the Patron Saint of both Free Masonry and Pro-Lifeism alike!
Lastly, one cannot help but acknowledge just how fitting it is that Francis will be presiding over Sunday's award show as clearly he is among Mother Teresa's most devoted disciples.
"We believe our work should be an example for people. We have among us 475 souls — 30 families are Catholics and the rest are all Hindus, Muslims, Sikhs — all different religions," Mother Teresa noted; apparently relishing, not just religious diversity itself, but the fact that Catholics are in the minority. (ibid, pg. 31)
If you're looking for any concern on her part over the fact the overwhelming majority of people who died in her care did so outside the Church and without the sacraments, forget about it. For her, the Church was just one "House of God" among many:
"God is not separate from the Church as He is everywhere and in everything and we are all His children — Hindu, Muslim, or Christians." (ibid, pg. 59)
Speaking at Foot Wash Fest 2016, Francis expressed his concurrence, saying:
"All of us together, Muslims, Hindus, Catholics, Copts, Evangelical, are brothers and sisters — children of the same God."
In other words, while the Church used to be concerned about Baptism, given all of the human suffering present in today's world, nobody got time for dat!
As Mother Teresa put it, "I get asked my opinion on the role of the Church today … I don't have time to worry about all these issues – there are too many things to do in my everyday work." (ibid, pgs. 59, 60)
In sum, the life and legacy of Mother Teresa provides a crystal clear image of what Francis is Hell bent and determined to usher into being:
A Catholic Church effectively stripped of her true identity; ambivalent toward her divinely-given mission – with all that remains being an earthbound enterprise so entirely focused on temporal matters that even her most highly celebrated missionaries can't be bothered to consider the supernatural ends for which man was created.