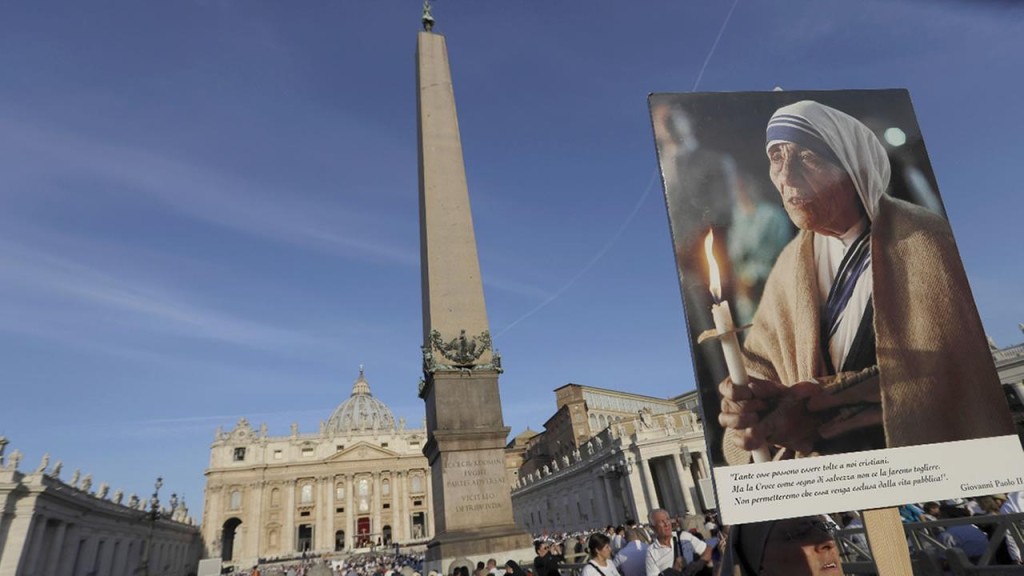 In his 1926 encyclical on Catholic Missions, Rerum Ecclesiae, Pope Pius XI felt it necessary to remind those who serve as missionaries of their duty to perform both spiritual and corporal works of mercy.
For many in the Church today, especially considering the widespread giddiness that surrounded yesterday's "canonization" of Teresa of Calcutta, the Holy Father's words will undoubtedly come as a shock, and likely for an unexpected reason:
Let Us recall what We said on another occasion, namely, that the missionaries who preach to the heathen know only too well how much good-will and real affection is gained for the Church by those who look after the health of the natives and care for their sick or who show a true love for their infants and children. All of which only goes to prove how readily the human heart responds to charity and to kindness.
Oh, I can hear it now…
See that? Mother Teresa is a model of heroic virtue who blessed us with a missionary example most worthy of emulation! I told you so!
Not so fast…
The reason these words of Pope Pius XI should give pause to the devotees of Teresa of Calcutta is simply this:
As the Holy Father wrote, just as it had been from the very earliest days of the Church, everyone worthy of the name Catholic knew very well that the goal of all missionary work is to bring souls to Christ; i.e., to "preach to the heathen," to rescue him from his errors, and to bring him to new life in the waters of Baptism.
As such, Pius XI desired to remind missionaries not to overlook the corporal works of mercy, as these too are necessary.
In other words, all concerned were well aware that the spiritual works of mercy lie at the very heart of the Church's mission, and thus, at the very heart of every missionary endeavor.
There is no need to insist how foreign it is to the virtue of charity, which embraces both God and men, for the members of Christ's Church not to think of those unfortunate souls who live in error outside the Fold. Surely the obligation of charity, which binds us to God, demands not only that we strive to increase by every means within our power the number of those who adore Him "in spirit and in truth" (John iv, 24) but also that we try to bring under the rule of the gentle Christ as many other men as possible in order that "the profit in his blood" (Psalms xxix, 10) may be the more and more fruitful and that we may make ourselves the more acceptable to Him to Whom nothing can possibly be more pleasing than that "men should be saved and come to the knowledge of the truth." (I Timothy ii, 4) [ibid.]
Pope Pius XII, writing in his encyclical "On Promotion of Catholic Missions," Evangelii Praecones, also gave an indication of just how unquestioned the nature of Catholic missionary work was in the minds of all concerned:
The object of missionary activity, as all know, is to bring the light of the Gospel to new races and to form new Christians. However, the ultimate goal of missionary endeavor, which should never be lost sight of, is to establish the Church on sound foundations among nonChristian peoples, and place it under its own native Hierarchy.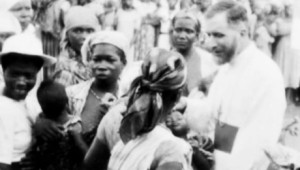 That was in 1951, just sixty-five years ago. Today, it seems, practically no one knows, or even cares to know, that Catholic missionary work is truly all about forming new Christians.
Yesterday in Rome, Francis the Loquacious, declared a "Saint" a woman whose so-called "missionary" activity was the embodiment of this dreadful phenomenon.
Not only did Teresa of Calcutta ignore her solemn obligation to counsel the doubtful, instruct the ignorant and admonish the sinner unto the forming of new Christians; she boldly set herself against the spiritual works of mercy and laid them to waste!
There are so many religions and each one has its different ways of following God. We never try to convert those who receive [aid] to Christianity, but in our work we bear witness to the love of God's presence and if Catholics, Protestants, Buddhists, or agnostics become for this better men — simply better — we will be satisfied. It matters to the individual what church he belongs to. If that individual thinks and believes that this is the only way to God for her or him, this is the way God comes into their life — his life. If he does not know any other way and if he has no doubt so that he does not need to search then this is his way to salvation." (Mother Teresa, Life in the Spirit: Reflections, Meditations and Prayers , pp 81-82).
Far from trying to bring under the rule of the gentle Christ as many other men as possible in order that "the profit in his blood" may be the more and more fruitful (Pius XI), Mother Teresa sought only to confirm the heathens in their errors, and the reason she did so is plain:
For her, every religion is a "way to salvation," with the only prerequisite being misguided certitude and abject ignorance, and God knows she wasn't about to disturb their peace by instructing them otherwise; much less was she willing to admonish those who sin against the First Commandment.
And now, thanks to the apostasy in Rome, countless poorly formed Catholics believe that this woman actually provided a model of heroic virtue that one does well to follow.
There is absolutely no disputing the fact that the cause for Teresa of Calcutta never would have been undertaken at any time prior to the 1960's; in fact, had she lived just 40 years earlier, she would have been severely censured for her heterodoxy.
As I wrote in the previous post, Mother Teresa provides a stellar image of the post-conciliar ecclesial crisis.
In response, a friend forewarned: "The neo-caths will lose their minds when they read this. Prepare for unbridled vitriol."
She was absolutely right, and their reactions were very telling:
Clearly, one of the results of today's hyper-focus on the corporal works of mercy to the near exclusion of those spiritual is the feminization of Catholic men.
The corporal works of mercy take effort to be sure, but the heathens, heretics and Jews are out there feeding the hungry and clothing the naked as well, and the enemies of the Church are delighted to make sure that everyone knows it for a reason.
That they do so, not in the name of Christ, but in the name of performing random acts of kindness, sends a deliberate message – we can make the world a better place without Him and His Church; in other words, who really needs to be Catholic? It's enough for the Hindu to be a better Hindu, the Muslim a better Muslim…
The spiritual works of mercy, on the other hand, require the firm resolve of a genuine soldier for Christ.
Unlike feeding the hungry and clothing the naked, activities that are met with the world's applause, instructing the ignorant and admonishing the sinner is a sure fire way to invite scorn and persecution; the likes of which the putative popes of the last fifty years have been unwilling to endure.
As such, I suppose it's no coincidence that so many of the outraged respondents on social media to my protests against the "canonization" of Mother Teresa were whiny emotional males who didn't even attempt to mount a Catholic defense of her religious indifferentism; the simple fact that they were personally offended was all that really mattered.
Feelings, nothing more than feelings…
In conclusion – those who profess to love Mother Teresa would do well to cease imploring her intercession and start praying for the repose of her soul.
Requiem aeternam dona ei, Domine, et lux perpetua luceat ei. Requiescat in pace. Amen.