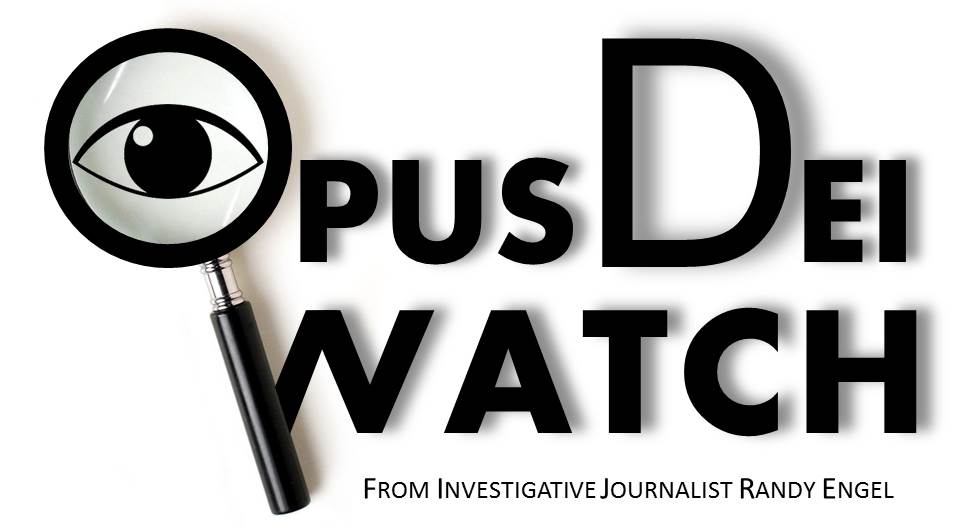 By: Randy Engel
"The things of Opus Dei – Where is the power of Opus today,
how does it exercise it, who is channeling it, in what media does
it influence or where does its pressure flow, how does it regulate
the credits and to whom does it grant, if it does or can it do so?"
Quote from Jordi Garcia
            OpusLibros 
"Shut Up, Pray, and Don't Worry" – Opus Dei's Solution to Clerical Sex Abuse
Introduction
While Catholics in Spain await the verdict of its Supreme Court in the case of José María Martínez Sanz, an Opus Dei numerary who has been sentence by the Provincial Court of Bizkaia to 11 years in prison for the sexual assault of a young boy at the Gaztelueta boys school operated by "the Work" in Basque country, another Opus Dei sex abuse case has been making Spanish headlines.(1) The new case, one of many that are about to explode on the Opus Dei international stage, concerns the alleged sexual assault of an 18-year-old Opus Dei member by a prominent Opus Dei Spanish numerary priest, Father Manuel Cociñay Abella. (2)
Cociña – An Associate of Josemaría Escrivá
It seems that Father Manuel Cociña, who had lived with Josemaria Escrivá, the  founder of Opus Dei in Spain, was on the eccesiastical fast track at the Prelature. He was Rector of the Pontifical Basilica of St. Michael in Madrid that is administered by Opus Dei priests. He served as a member of the Academy of Ecclesiastical History, is a Knight of the Order of the Holy Sepulcher of Jerusalem in Granada, and a member of the Nobility of the Old Kingdom of Galicia. Not too many years ago, Cociña was rumored to become the first numerary-prelate of the Prelature following the death of Bishop Javier Echevarria Rodriguez on December 12, 2016. But all his ambitions came to a grinding halt when Cociña's unnatural passions and predatory penchant for young men became public knowledge in April 2019.
Charges Against Cociña  
The alleged victim known only by the initials MGF [also FGM] resided at the Colegio Mayor Almonte in Seville, Spain, a  residence center for young men, that is attached to the University of Seville. It is a corporate work of Opus Dei (since 1967) and is operated and controlled by an Opus Dei Board including an Opus Dei Director and Chaplain. These university-based centers are a major recruiting ground for the Prelature.
Born in 1984, MGF was recruited by Opus Dei in 1999 at the age of 15 or 16. At age 18, when the abuse began, he was a celibate numerary of the Prelature, and therefore, was required always to make his regular confession to an Opus Dei priest, in this case Father Cociña.
According to Cociña'accuser, the sexual abuse took place after confession between November 2002 to July 2003, at which time the alleged victim left the Opus Dei residence hall, but not the Prelature. As a numerary he was assigned to an Opus Dei house in Madrid.
In 2007, Cociña became Rector of the Basilica of St. Michael in downtown Madrid.
The specific charges leveled by MGF against Cociñais that the priest "massaged" the young man's genitals at least seven different times after the young man's confession to him.  MGF stated that at least four other young men had reported similar episodes of abuse at the hands of the same Opus Dei priest.
According to MGF, Cociña maintained contact with him by electronic means until 2010 when the Opus Dei numerary decided to exit the Work completely.
It took MGF three months to receive his dispensation from the Prelature.
During this time, MGF obtained a meeting with the Opus Dei Regional Director in Madrid who listened to his accusations against Cociña. The Director told MGF that he himself was reluctant to relay the charge to his superiors because he was unsure if the act(s) of massaging the victim's genitals had a sexual connotation. The Director told MGF that the revelations would hurt and that the young man should shut up, pray for the priest, and not worry.
MGF, who moved to Chile 2013, followed the Director's advice and remained silent until 2018.
Under the Opus Dei regime of Directors filing regular reports on numeraries in the Prelature, there is no question in this reporter's mind that the Director immediately informed Opus Dei officials in Rome of MGF's accusations, but the matter was kept under wraps until 2019.
MGF Breaks His Long Silence
Prophetically, it was the Karadima sex abuse scandal in Chile that convinced the young man, now married with a wife and two children to break his years of silence.
The reader may recall that in  2015, the sex abuse case of Chilean serial pederast Father Fernando Karadima, a spiritual leader among Santiago's most prominent families, and the subsequent cover-up by members of the Chilean hierarchy, made world headlines. Karadima has since been defrocked by the Holy See.
MGF, who was still suffering from guilt and shame associated with his sexual abuse by Cociña, recalls thinking, "Manuel Cociña is the Karadima of Opus Dei."
In 2017, Cociña contacted MGF as a "friend" contact on LinkedIn. It was then that MGF learned  Cociña was still a priest in good standing in Opus Dei, and that he had resumed a more active role in Opus Dei and the Spanish Church.
After Pope Francis' three-day visit to Chile in January 2018 in which the pontiff asked for forgiveness for the sex abuse scandal in the Church, MGF made the decisión to go public with his accusations against Cociña.
Opus Dei Receives Formal Complaint
In August 2018, officials of the Prelature received notice of MGF's formal complaint against Father Manuel Cociña.
On September 14, 2018, the Regional Vicar of the Prelature in Spain, at the request of its prelate, Monsignor Fernando Ocariz, ordered a preliminary investigation of the charges against Cociña, in accordance with Canon 1717 of the Code of Canon Law. ( 3)
On October 1, 2018, Msgr. Ocariz ordered that precautionary measures be taken against Cociña, and the priest was restricted to an Opus Dei center in Granada and forbade from having any contact with any young person under the age of 30. Opus Dei Canon lawyer, Father Rafael Rodriguez Ocana, was charged with the investigation.
On October 11, 2018, Opus Dei sent its investigators to Chile to interview MGF at the Opus Dei headquarters in Santiago before a lawyer and a notary.
In November 2018, Cociña was also interrogated  at his Opus Dei residence in Granada.
In December 2018, following Opus Dei's investigation of Cociña, the Prelature forwarded  its report on Cociña to the Congregation for the Doctrine of the Faith. It will be up to the Congregation to determine Cociña's guilt or innocence and determine a penalty, including the possibility of laicization.
Spanish Media Exposes Scandal
It should be pointed out that until mid-April 2019, Opus Dei had been successful in keeping  the Cociña scandal out of the public eye.
Digital Religion, one of the world's leading portals on religious information in Spanish was the first to break the story on April 10, 2019.
Subsequently, Opus Dei confirmed that sex abuse charges had been made against Cociña with Agencia EFE, S.A., the world's 4th largest wire service, and INFO VATICANA.
This reporter can find no link that indicates any U.S. Catholic media source carried the story. My initial source was a brief report that appeared on the Opus Libros website that monitors the activities of Opus Dei in Spain.
Opus Dei responded with a formal press statement indicating that the matter was now in the hands of the Congregation for the Doctrine of the Faith where it is being studied.
The statement stressed that there were no minors involved in the accusations against Cociña since the numerary was 18, and therefore, of legal age, when the abuse occured, and therefore, it was up to the young man to report the incident to the proper authorities.
The Prelature stated, "We want to express our closeness and support to the complainant, as well as the most complete rejection of any abuse and total collaboration to help heal the wounds."
Opus Dei Reveals New Set of Protocols
At this time, the Opus Dei Information Office also revealed that in December 20, 2013, it formulated and approved of a set of  sex abuse protocols for cases involving minors which includes  the creation of a new Opus Dei position of Child Protection Coordinator for Spain.
Opus Dei also told the press that it had a sex abuse hot line in place at   proteccionmenores.es@opusdei.org to receive complaints involving Opus Dei priests, numeraries, supernumeraries, cooperators and other personnel connected to the Prelature.
However, it is more likely that sex abuse victims of Opus Dei personnel will take their complaints directly to police authorities or to the independent new sex abuse victim hotline at abusosopusdei@gmail.com  which has already received 20 cases of alleged abuse involving the Prelature.
The End
Randy Engel contact information: rvte61@comcast.net
References
(1)       Background on the Gaztelueta Case is available at https://akacatholic.com/opus-dei-watch-march-part-1/, https://akacatholic.com/opus-dei-watch-march-part-2/ . See also    https://akacatholic.com/opus-dei-sex-abuse-case-an-exclusive-interview/  , https://akacatholic.com/opus-dei-trial-ends-with-a-guilty-verdict/
(2)       This article was based, in part, on the reporting of Julio Nunez and the following Spanish media articles:
https://translate.google.com/translate?sl=es&tl=en&u=https%3A%2F%2Fwww.elconfidencial.com%2Fespana%2Fandalucia%2F2019-04-11%2Fvaticano-opus-dei-abusos-sexuales_1936490%2F
https://www.religiondigital.org/espana/Manuel-Cocina-Karadima-Opus-Dei-religion-abusos-sevilla-granada_0_2111188883.html
https://www.religiondigital.org/espana/Opus-Dei-escondio-protocolo-actuacion-religion-manuel-cocina-abusos_0_2112088775.html
https://www.religiondigital.org/espana/Opus-Dei-escondio-protocolo-actuacion-religion-manuel-cocina-abusos_0_2112088775.html
(3) CHAPTER I : THE PRELIMINARY INVESTIGATION
Can. 1717 §1 Whenever the Ordinary receives information, which has at least the semblance of truth, about an offence, he is to enquire carefully, either personally or through some suitable person, about the facts and circumstances, and about the imputability of the offence, unless this enquiry would appear to be entirely superfluous.
2 Care is to be taken that this investigation does not call into question anyone's good name.
3 The one who performs this investigation has the same powers and obligations as an auditor in a process. If, later, a judicial process is initiated, this person may not take part in it as a judge.