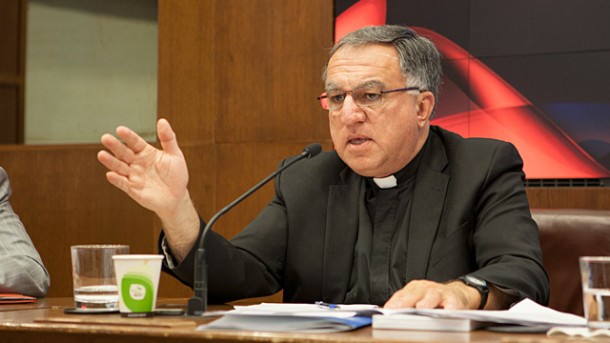 As most readers know, a traditional Catholic blogger, David Anthony Domet, who blogs at Vox Cantoris, has been threatened with a law suit by Vatican spokesman Fr. Thomas Rosica, CSB, for daring to author posts calling attention to the priest's actual words and deeds.
In addition to his work for the Holy See, Fr. Rosica is the founder and CEO of Salt + Light Television, a Canada-based network dedicated to building the church-of-man that emerged over and against the Church of Christ following the Second Vatican Council.
Those unfamiliar with Rosica's heterodox orientation can learn everything they need to know by viewing his 2012 interview of uber-heretic Gregory Baum (available below), wherein he gushed with praise for the notorious dissenter like a twelve year old school girl at a backstage encounter with Justin Bieber.
(For more information on Gregory Baum, please see this essay written by Monsignor Vincent Foy.)
Ironically, Fr. Rosica is a member of the Basilian Fathers, the spokesman of which, Fr. Timothy Scott, recently made news by issuing a Tweet suggesting that His Eminence Raymond Cardinal Burke should "STFU."
It is unclear just how commonplace such undignified behavior is among the Basilians at large, but in any case, Fr. Rosica is more than doing his part not to be outdone in classlessness.
In a letter to Mr. Domet, Fr. Rosica's attorney, Nina Perfetto, quoted a total of nine statements made on Vox Cantoris that allegedly caused damage to her client's "reputation, work and service to the church [sic]."
She also claimed that the posts have "had direct ramifications on Salt + Light;" a clever move that suggests that Fr. Rosica, should he in fact choose to further embarrass himself by pursuing legal action, will use the network's assets to financially destroy Domet, an ordinary family man who appears guilty of no more egregious a crime than thinking and behaving like a Catholic.
In all of this, I can't help but think of Our Blessed Lord's words spoken during the Sermon on the Mount, and just how short Fr. Rosica is falling in modeling them:
Blessed are they that suffer persecution for justice' sake: for theirs is the kingdom of heaven. Blessed are ye when they shall revile you, and persecute you, and speak all that is evil against you, untruly, for my sake: Be glad and rejoice for your reward is very great in heaven. For so they persecuted the prophets that were before you. (Mt 5:10-12)
It doesn't take an awful lot of research into the positions held by the personalities involved in this case to discern which one is playing the part of the persecutor and who is filling the role of the prophet.
Even so, let's just say for the sake of argument that Fr. Rosica, a powerful cleric with international connections, really is being wrongly portrayed by Domet.
In other words, let's assume that the collared Canadian media mogul truly has no other agenda than to uphold the immutable doctrines of our Holy Catholic Faith.
How does his threat to sue a blogging member of the flock over perceived insults serve to reflect his pure intentions?
It doesn't; in fact, it tells a contrary tale.
Threatening Domet with legal action is so entirely out of step with the behavior of a cleric laboring for the Lord's sake that it provides strong circumstantial evidence (to continue the legalistic theme) that the priestly plaintiff is anything but a righteous victim.
Interestingly enough, the very next verses in the Sermon on the Mount are those that lent Fr. Rosica's network its name:
You are the salt of the earth. But if the salt lose its savor, wherewith shall it be salted? It is good for nothing anymore but to be cast out, and to be trodden on by men. You are the light of the world. A city seated on a mountain cannot be hid. (Mt 5:13-14)
Can anyone even imagine an example of "savorless salt" more poignant than a priest called to act as a liaison with media members, in the name of the Church, who threatens to sue those writers with whom he disagrees?
If nothing else, Fr. Rosica has managed to shine a light on the simple fact that he deserves to be "cast out;" i.e., he has shown himself to be unqualified for his current position in the Holy See Press Office.
Unless, of course, the powers-that-be, in the lead-up to Synod 2015, are keen on the idea of intimidating Catholic journalists who have the audacity to hold the sacred hierarchy accountable for their duty to safeguard the sacred deposit of Christian doctrine.
We'll keep a close eye on this story to see precisely where it is headed.
In the meantime, please join me in keeping David Domet and his family in your prayers.