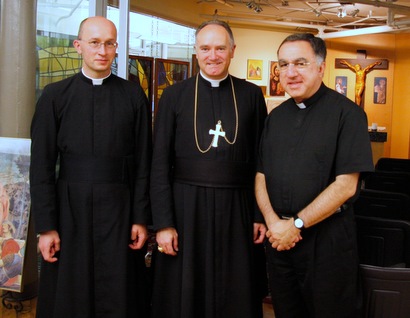 In my last post, I provided Fr. Thomas Rosica's interview of the notorious heretic Gregory Baum to give readers a snapshot of former's heterodox leanings.
Who is Gregory Baum?
He is an ex-priest married to a former nun; a man who has long been a vocal supporter of gay marriage, contraception, fornication, and Communion for the divorced and civilly remarried.
He is also, to some extent, prescient.
In 1967, Baum predicted what the post-conciliar Church would look like once the reforms of Vatican II, of which he was a peritus, took effect; a vision that he labored to bring to fruition:
Bishops and popes will not be dressed as feudal lords. They will simply be brothers who have something to say. They will have authority because they express what their brethren really believe . . . In the future Christians will not look down on their fellow citizens who differ from them nor will they regard it as their duty to convert them. (The Telegram, Toronto, July 1, 1967)
For those who haven't had an opportunity to see the video of Fr. Rosica's interview of Baum, the current English language Vatican spokesman fawned over his heretical guest, saying:
I've certainly admired very much your theology, your writings but also your love of the Church, your love of Christ, and you helped to keep alive not only the spirit of the Second Vatican council, but also the authentic teaching of the Council … you remain a faithful, deeply devoted Catholic, love Jesus, the Church, the Eucharist … Gregory, I want to thank you, You have been for me and continue to be a real model of hope – Gaudium et Spes – joy and hope.
This is who Fr. Thomas Rosica is.
As such, it may come as a surprise to see another interview (below) that he conducted less than five months earlier with one Bishop Bernard Fellay, the Superior General of the Society of St. Pius X.
In this interview, Fr. Rosica is entirely gracious, giving Bishop Fellay ample opportunity to express the Society's point of view; ultimately telling the bishop, "I promise you our prayers, our support. Oremus pro invicem."
So, what gives?
This, my friends, is a glowing example of what one might call the "Benedict Effect," a phenomenon that managed to keep the anti-traditional sentiments of certain of the more ambitious clerics in check; even to the point where they would publicly exhibit tacit support for things that run counter to their own orientation.
With this in mind, the "Francis Effect," such as we are witnessing it today, isn't so much one in which otherwise faithful clerics are going-along-to-get-along (a truly faithful man would never do such a thing); rather, it is more a matter of the wolves shedding the lambskin costumes behind which they were hiding during the reign of Pope Benedict.
This explains how Conclave 2013, the preponderance of which was comprised of men who were given the red hat by Benedict himself, could so swiftly elect the likes of Jorge Bergoglio.
These observations aptly serve to underscore the undeniable power of the papacy and the plain fact that the ethos of the currently reigning Roman Pontiff at any given time is precisely the driving force behind the direction in which the Church will go.
As such, one can easily discern the sheer foolishness of those who at once refuse to address Pope Francis' near daily assault on the sacred deposit of Christian doctrine and those who profess it, and yet imagine themselves to be model defenders of Holy Mother Church.