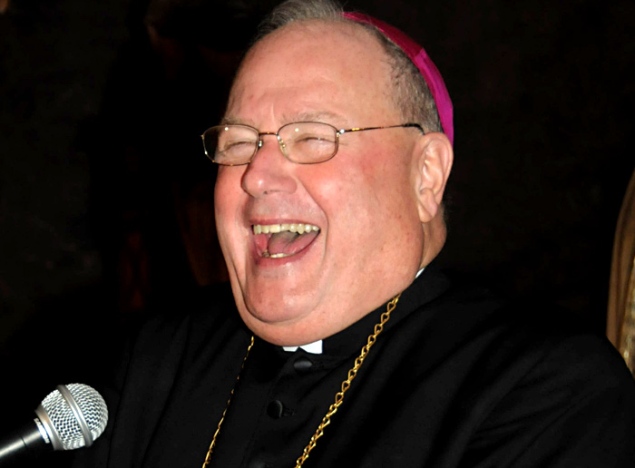 On February 20th, Cardinal Timothy Dolan posted a sermon on his blog that he recently delivered at the Sabbath service of New York's Temple Emmanuel.
It is, needless to say, rife with precisely the sort of interreligious diplomat-speak that one might expect from Cardinal Dolan.
And yet, some of his comments stand out as noteworthy for the degree to which they chafe Catholic sensibilities, even coming from him.
Speaking of the effect of the conciliar revolution on Catholic-Jewish dialogue, Dolan said:
The advances in friendship between us Jews and Catholics this past half-century prompts us all to praise God. Lord knows it was long overdue. It's a providential friendship that is especially cherished and appreciated here in New York, the metropolis dubbed the "capital of the world" by Pope St. John Paul II.
Lord knows it was long overdue…
In other words, the Captains of Newchurch, like Dolan and any number of other movers-and-shakers in red, sincerely believe that the Holy Catholic Church, with her prayers for the conversion of the Jews, was sadly misguided lo those many centuries prior to the dawn of the conciliar springtime.
Apparently so too was Our Blessed Lord, but I suppose we've discussed that in some detail recently enough in this space.
Ever the gifted wordsmith and consummate crowd-pleaser, Cardinal Dolan spun into a reflection on "Emmanuel," God with us, saying:
As God-is-with-us in Israel, in the Law and the prophets, in the covenant, in our faith and tradition, and, as we Christians add, in Jesus Christ, so – – and here's the imperative – – we show a skeptical, fatigued world, by our lives, by our communities of faith, Emmanuel! We dare the world, "If you doubt that He-is-with-us" – – as we hear a lot of you do – – "watch us! Because we bear within His presence, His life!"
I suspect that many an under-nourished Catholic in our day might find little objectionable in these words, and yet, just six short decades ago, your average catechumen would likely bet his bottom dollar that they came from the lips of an unconverted heretic.
First, no Catholic worthy of the name prior to the Council would give the Jews assurance that the old covenant – the one they unceremoniously broke by denying Christ – is as yet unfulfilled, much less the place where God is to be found.
Secondly, one notes with no small amount of righteous indignation, though it may not be immediately obvious to some, how this supposed Prince of Holy Church summarily denied both Our Lord Christ and the Blessed Virgin Mary.
Never mind Cardinal Dolan's weak-kneed qualifier, "as we Christians add," what follows is tantamount to swearing before an angry mob, "Truly, I do not know the man!"
Does not Cardinal Dolan believe, as the Church most certainly professes, that God is not simply in Jesus Christ, but rather Jesus Christ is Emmanuel; He is God with us?
One gets a sense for the depths of Dolan's denial when recalling that it is from the Hebrew Scriptures that the promise of Emmanuel comes:
Therefore the Lord himself shall give you a sign. Behold a virgin shall conceive, and bear a son and his name shall be called Emmanuel. (Isa 7:14)
With this in mind, it should be plain for all to see that Timothy Dolan, a man that many sincerely believe speaks in the name of the Church, denied in one fell swoop both the Lord and His mother.
This is how far we have fallen.
The icing on the cake (or cream cheese on the bagel, if you prefer) was this positively ecumaniacal proclamation:
I believe God does dwell at St. Patrick's; I'm convinced He dwells here at Temple Emmanuel, at John the Divine, at the Abyssinian Baptist, at Fifth Avenue Presbyterian, and yes, at Christ Church Methodist!
Let's connect Dolan's dots…
If God dwells at the establishments of the false religions, and God is simply in Jesus Christ, then it would appear that Cardinal Dolan supposes that the Mystical Body of Christ is not just the Catholic Church, but every heretical and heathenistic community that one can imagine; including those of the Jews who plainly deny Him.
Finally, I offer Dolan's inadvertent profession of truth, the import of which appears to be lost on the cardinal:
Wherever His people worship in faith, spirit, truth, and love, Emmanuel! God-is-with-us!
Though I've little doubt that Dolan would deny it, especially if a non-Catholic was within earshot, there is only one religion wherein the Lord is worshiped in truth; namely, the Holy Catholic faith.
At this, I invite you to visit Cardinal Dolan's blog if you so please. At present, mine is but one of three comments (copied below); perhaps you might feel moved to add your own.
____________________________________________________________
So, Eminence, with God dwelling in the buildings of so many false religions, even in the synagogues of those who plainly reject Him (you do recall Our Lord's words, "He who rejects me rejects him who sent me," don't you?), why in God's name should anyone ever convert to the Holy Catholic faith; the one true religion established by Him?
Indeed, Our Lord's will is for "peace, healing, amity, mercy, love, and reconciliation," as you say, but He commanded His Apostles (of which you are a Successor) to carry it out according to the mission given in Mt 28:16-20; "Go to all nations, baptizing them, teaching them everything whatsoever that I commanded…"
Your reflection, therefore, raises many questions.
Was St. Peter (inspired as he was by the Holy Ghost) mistaken when he called the Jews to conversion on Pentecost?
The venerable popes, bishops, priests and religious who evangelized with true missionary zeal and burning charity, calling souls to conversion to the Holy Catholic faith over the last two millennia, were they mistaken?
Are we, the faithful, now to imagine that we do well to leave the Catholic Church for a "dwelling" more to our liking?
Your speech likely earned you warm applause at Temple Emmanuel, but that adulation came at great expense; not the least of which is the confusion of your flock.
As such, your response to the questions raised herein will be much appreciated.
Prayerfully in Christ,
Louie Verrecchio
HarvestingTheFruit.com