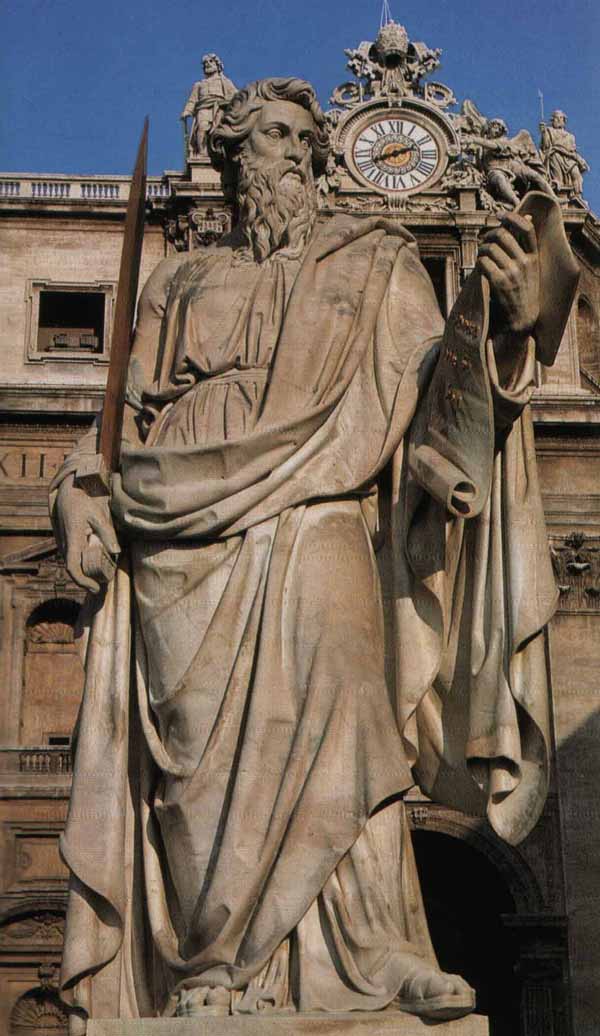 In follow-up to my last post, for those who as yet still struggle to believe that it's even possible for Rome to lose the faith, it might be useful to provide some biblical perspective.
In the Second Epistle of St. Paul to St. Timothy, the Apostle provides a warning about the latter days, which he tells us are "dangerous times."
In the hope that the faithful might recognize them when they come, he provides some detail concerning the behavior of men in those days, saying:
Men shall be lovers of themselves, haughty, proud … they shall be disobedient to parents and lovers of pleasure more than of God…
OK, fair enough, we might say, but surely men such as these have been with us in every age. This being the case, there must be something more to it, otherwise it's really not much of a warning at all. Right?
Well, if we pay close attention to what follows in the text, we discover that St. Paul is speaking, not so much of humankind in general, but of a very specific group of men of whom he goes on to say:
They have an appearance of godliness but denying the power thereof. Now these avoid. For these are the sort that creep into houses and lead captive silly women laden with sins, who are led away with divers desires: Ever learning, and never attaining to the knowledge of the truth.
At this, I think we need to stop for just a moment to address the elephant in the room, and if the gentlemen reading this post aren't entirely sure exactly what that elephant is, I can assure you the ladies didn't miss it.
These are the sort that lead captive silly women…
This leads to some questions:
What on earth would prompt St. Paul to say such a thing?
Is he being deliberately provocative?
It's perplexing; especially when you consider that this Epistle was written toward the end of St. Paul's life. I mean, you would think he had already been beaten and stoned enough already!
So, what's going on here?
Is St. Paul just so much a product of the paternalistic culture in which he lived that he just can't help but denigrate women?
I wouldn't be at all surprised if this is precisely what many, if not most, seminaries were teaching in the decades following the Council, but that's not the case at all.
In order to understand what St. Paul intends to convey, we have to read his words in the context of all that he has written.
When we do this, it becomes evident that in speaking of "silly women" St. Paul is referring very specifically to those who learn religious truths, as opposed to those who teach them.
Recall that St. Paul had written previously in his First Epistle to Timothy:
But I suffer not a woman to teach, nor to use authority over the man: but to be in silence. (1 Tim 2:12)
Now, that should make the ladies feel better, eh?
I admit it, at first glance these quotes sound a whole lot more like the Letters of Archie Bunker to Edith than Sacred Scripture, but once again, context will draw out the true meaning for us.
I suffer not a woman to teach, nor to use authority…
Immediately from here, St. Paul goes about describing the qualifications of those who would be, get this, bishops!
He says that the man who desires the Office of Bishop, desires a good work, and he cautions that such a man should be, "blameless, and prudent, and a teacher.
Now we're getting somewhere…
So, is St. Paul being deliberately provocative when he says "silly women?"
You bet he is. He's trying to get our attention. He wants to make sure we don't miss the point.
And why is doing this?
He already told us: because the latter days are dangerous times! Like a good father, he wants us to recognize that danger when it's upon us.
Applying what we've discussed thus far to the warning that St. Paul is issuing in Second Timothy, it becomes rather clear that he is making a point of calling our attention to those who have the office of teaching, and the way in which they will behave in the latter days; leading their flocks astray in the ways of perdition.
They will have an appearance of godliness … but they must be avoided.
St. Paul describes these wolves in shepherds clothing further, saying that they shall be:
Blasphemers and traitors … stubborn and puffed up … men who resist the truth … men who are corrupted in mind, and reprobate concerning the faith.
He's talking about members of the sacred hierarchy, and in particular, bishops. Let that sink in for just a moment…
These are dangerous times, indeed.
It's quite a warning, especially when we consider that it comes, not so much from the pen of St. Paul, as from Almighty God who inspired the text.
St. Paul went on to say that even though these wayward men will ultimately fail, it's going to be very difficult for those of us who stay true to the faith.
He says:
And all that will live godly in Christ Jesus shall suffer persecution. But evil men and seducers shall grow worse and worse: erring, and driving into error…
But just like any good father might, St. Paul didn't stop there; rather, he provided instruction as to how the faithful are to behave in those days, saying:
But continue in those things which you have learned and which have been committed to thee.
St. Paul went on to encourage us to hold fast to Sacred Scripture which is:
Inspired of God, profitable to teach, to reprove, to correct, and to instruct in justice … that the man of God may be complete, equipped for every good work.
That's the answer to the all-important question, "What now?"
Look, it's obvious: Churchmen in our day, up to and including the pope, are "corrupted in mind, and reprobate concerning the faith." They "have an appearance of godliness, but they must be avoided."
Our job is to hold fast to the faith that has been handed down through the ages; to stay grounded in the Word of God in Sacred Scripture as proclaimed and explained, in truth, by Holy Mother Church, and I might add that we must encourage others to do the same – including those in the sacred hierarchy.
If we do these things, even though we can well expect to be persecuted, we will be well-equipped for every good work, in spite of these dangerous times in which we live.
So fear not, my friends, for we have this assurance from Almighty God Himself.
All glory, praise and honor to Him – Father, Son and Holy Ghost!