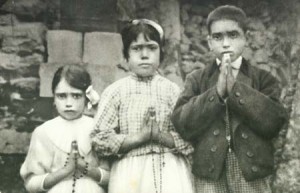 Just eight days after the Church Militant lost its most fervent crusader for Our Lady of Fatima with the passing of Fr. Nicholas Gruner, the Prefect of the Congregation for Saints' Causes addressed a conference entitled "The Message of Fatima between Charism and Prophecy."
From the text of Cardinal Amato's address, as reported by Catholic News Service and other media outlets, it is apparent that he is either complicit in, or woefully ignorant of, the Holy See's official campaign of obfuscation.
According to CNS:
Cardinal Amato said he had "the privilege" of reading the original manuscripts of the secrets of Fatima when he served as secretary of the Congregation for the Doctrine of the Faith from 2002 to 2008.
In fairness, it should be noted that Cardinal Amato served at the CDF two years after the Holy See (aka the Bertone / Sodano / Ratzinger triumvirate) had already gone on record with the alleged publication of the Third Secret "in its entirety."
As such, the "original manuscripts" read by Cardinal Amato likely included nothing more than what has already been revealed.
As far as I'm concerned, there's no good reason to believe that the same duplicitous men who labored so mightily to cover-up the contents of Sr. Lucy's handwritten letter conveying Our Lady's actual words of warning had not also seen to it that the letter was completely destroyed.
In any case, one might conclude that it is perhaps with a clear conscience that Cardinal Amato then went on to assert:
There is no fourth secret and there are no other hidden secrets.
At best, Cardinal Amato here speaks out of ignorance, but even if that be the case, his ignorance is nothing short of willful and, therefore, inexcusable.
Look, it's not exactly a secret (no pun intended) that a wide cross section of respectable Catholics – clergy and laity alike – have raised credible doubts as to the Holy See's claims regarding the Third Secret of Fatima and the consecration of Russia.
As such, it is the height of irresponsibility for anyone, especially a cleric or any other high profile Catholic, to weigh in on the Fatima messages apart from a concerted effort to evaluate all of the readily available facts of the matter.
The greatest challenge for those who have thus far chosen to accept the Holy See's official treatment of the Fatima message, like children suckling milk from the breast of their mother, is coming to terms with the mere possibility that a collection of cardinals, bishops and even popes may have been complicit in a well-calculated campaign of deception spanning several decades.
This juvenile naïveté is apparently enough to prevent such persons from scrutinizing the statements that have been made by these hierarchs; measuring them against the irrefutable witness of the public record, and then partaking of the solid food of truth that doing so necessarily provides.
Those who are willing to undertake just such a review, by contrast, cannot help but conclude that the document issued by the Congregation for the Doctrine of the Faith in June of 2000, The Message of Fatima, (which includes commentary from Archbishop Bertone, Cardinal Sodano and Cardinal Ratzinger) is little more than an amalgam of half-truths and outright lies deliberately crafted in the vain hope that the faithful will cease to inquire about the still-hidden warnings that were issued by their Blessed Mother.
If you haven't yet done so, I cannot undertake that review for you. No one can, and yes, it will take time and effort.
Tomorrow, however, I will offer some brief commentary on certain portions of the CDF document that, even for the marginally well-informed, point rather clearly to the tangled web of deceit that is woven therein.
As for the likes of Cardinal Amato…
I think it's safe to assume that there are some in the Roman Curia and elsewhere who let out a sigh of relief when news of Fr. Gruner's passing became public, but if they think for a moment that his noble cause ended when he breathed his last, rest assured that good men like John Vennari, Chris Ferrara, John Salza, Michael Matt and others will see to it that they only deceive themselves.
In the meantime, The Fatima Center remains a veritable treasure trove of information for anyone willing to invest in a discovery of the truth.