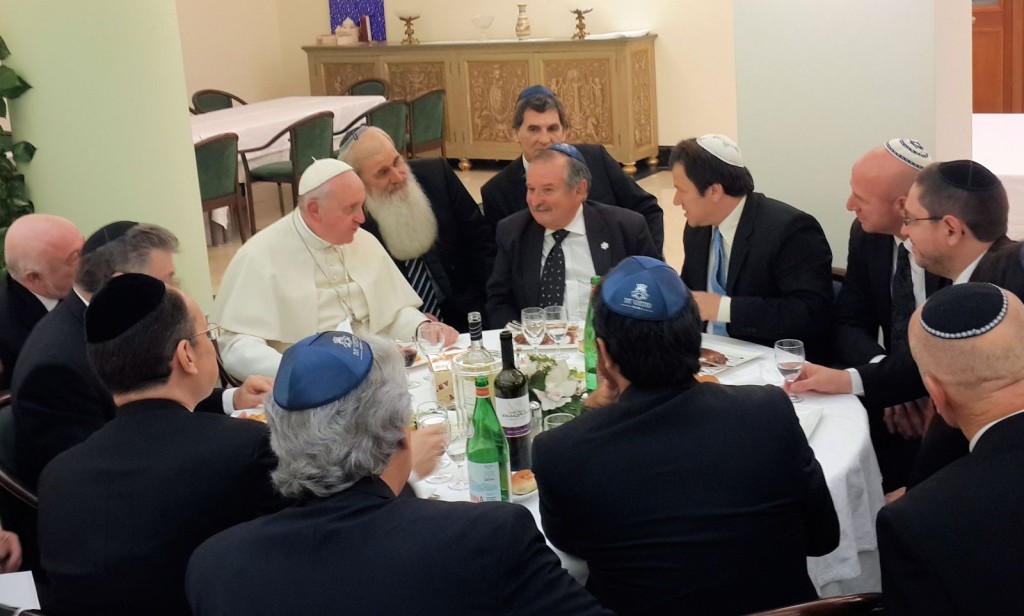 On December 10, 2015, the Pontifical Commission for Religious Relations with the Jews published a 10,000 word treatment on Nostra Aetate (the Second Vatican Council document on the Church's relation to non-Christians) essentially stating that the Jews are off-limits with respect to the Church's evangelizing efforts. (Video commentary HERE.)
Their reasoning?
According to the document, the salvation of the Jews isn't in jeopardy simply because they reject Jesus Christ:
From the Christian confession that there can be only one path to salvation, however, it does not in any way follow that the Jews are excluded from God's salvation because they do not believe in Jesus Christ as the Messiah of Israel and the Son of God.
This blatant denial of Him who said, "He who rejects me rejects Him who sent me" should spark outrage on the part of every single solitary person who dares lay claim to the name "Christian."
It is clear, however, that this document has created something of a dilemma for the neo-conservative "hermeneutic-of-continuity" crowd (e.g., EWTN, National Catholic Register, and ChurchMilitant.tv to name just a few).
While this latest bit of apostasy out of Rome is presumably as plain and (one hopes) as offensive to them as anyone, they just can't bring themselves to address this document for what it really is; namely, an official statement on the true meaning of Nostra Aetate.
You see, to do so would require departing, first and foremost, from their comfort zones.
It's one thing to acknowledge that the Church in our day is in crisis thanks to an abundance of faithless prelates (even if one stops short of identifying the "humble" prelate in white as one of the worst offenders); it's quite another to admit that the Almighty Council lies at the very heart of the problem.
Addressing that reality head-on not only endangers one's psychological comfort, but also (as I know all-too-well) one's financial comfort too.
Now, some in the neo-conservative camp would likely deny the inextricable link between the Commission's recent document and the content of Nostra Aetate, but that position is simply untenable.
In its opening commentary, the document reminds readers that the Commission for Religious Relations with the Jews was established by Paul VI specifically for the purpose of undertaking "the practical implementation of Nostra Aetate;" clearly, with the suggestion being that this present treatment is simply an exercise of that very mandate.
Others will perhaps attempt to separate the two by pointing out that the Commission plainly said that "the text is not a magisterial document or doctrinal teaching of the Catholic Church."
The fact of the matter is, however, the same can be said of Nostra Aetate itself as it also suffers from a total lack of doctrinal weight. In fact, none of the conciliar decrees are binding upon the faithful as such.
In spite of its nonbinding nature, who can deny that Nostra Aetate has become the de facto "position paper" of the post-conciliar popes with respect to their treatment of the Jews; even to the exclusion of all that preceded it?
In any case, this latest screed from the Pontifical Commission doesn't claim to be anything other than a direct fruit therefrom.
In other words, as I've said in this space before: IT'S THE COUNCIL, STUPID!
This reality has left the dyed-in-the-wool neo-conservative commentator with just two options; either defend the document, or ignore it.
Jimmy Akin of National Catholic Register, for example, produced yet another one of his tortured lists of "things to know and share" wherein he cheery picked from among the more palatable portions of the text, while splitting linguistic hairs on some of the others.
But hey, at least he tried to grab the bull by the horns.
The same cannot be said for our pal Michael Voris over at Church Impotent. Apparently his … ahem … Executive Producer … has decided that this topic comes too close to challenging the Council; something Michael used to do without trepidation before he decided to put sacred cows before sacred tradition.
Likewise has EWTN failed to even mentioned this travesty.
This, of course, may come as little surprise, but what many perhaps fail to recognize is the degree to which the lack of a response in this case (and most certainly others) represents sheer hypocrisy.
Some readers may recall the 2002 document jointly produced by the USCCB Committee for Ecumenical and Interreligious Affairs (under the leadership of Cardinal William Keeler) and the National Council of Synagogues entitled, "Reflections on Covenant and Mission."
Among other highly controversial things, that document stated:
A deepening Catholic appreciation of the eternal covenant between God and the Jewish people, together with a recognition of a divinely-given mission to Jews to witness to God's faithful love, lead to the conclusion that campaigns that target Jews for conversion to Christianity are no longer theologically acceptable in the Catholic Church.
The publication of this document, the contents of which are being echoed in the one just issued by the Pontifical Commission for Religious Relations with the Jews, elicited such widespread and severe backlash among Catholic prelates and theologians that the USCCB deleted it from its website within (as I recall) just a matter of days.
Among those outlets that published responses that came down rather hard on the apostasy contained in "Reflections" was none other than EWTN.
Writing for the Catholic media giant, Fr. John Paul Echert said:
From what I have read of the document, parts of it strike me as contrary to divine revelation, and I predict that it will not be approved by the Vatican, or perhaps the bishops themselves. As I understand it, this draft was put together by a committee, and it does not have approval by the body of bishops. It is an embarrassment, lacks any teaching authority, and serves to reveal the thinking of some people who hold powerful positions in the national conference. If a document such as this gains approval, as it currently stands, I will seriously consider the prospect that we are moving into one of the signs of the end times, namely, apostasy.
In 2009, the USCCB, still cognizant of the damage that had been done, even went so far as to issue a clarification (which is pathetic in its own right) entitled, "A Note on Ambiguities Contained in 'Reflections on Covenant and Mission.'"
The entire affair was a colossal (and well-deserved) embarrassment for Cardinal Keeler.
Well, guess what?
Reflections on Covenant and Mission is once more available on the USCCB website!
So, what changed?
It's certainly not the truth; rather, the men in charge in Rome have simply taken the propositions put forth by the Council yet another decade further toward their logical conclusion; outright apostasy. In conciliar hindsight, in other words, Cardinal Keeler was guilty of nothing more offensive than being ahead of his time!
Fr. Echert was at least partially correct in predicting that the Vatican wouldn't approve a text so "contrary to divine revelation" as Reflections on Covenant and Mission.
What he, and perhaps none of us, could have imagined, however, is that a Pontifical Commission would issue a likewise reprehensible document of its very own some thirteen years later.
In conclusion, this entire episode, in spite of the great harm that it is causing (about which I will have more to say soon), also serves to confirm what St. Paul wrote in his Epistle to the Romans:
And we know that to them that love God all things work together unto good… (cf Romans 8:28)
In the present case, the good coming from this latest denial of Jesus Christ emanating from Rome lies in the degree to which it is exposing those who present themselves as defenders of the Faith; when in truth their labors are more properly ordered toward defending their own particular franchise.