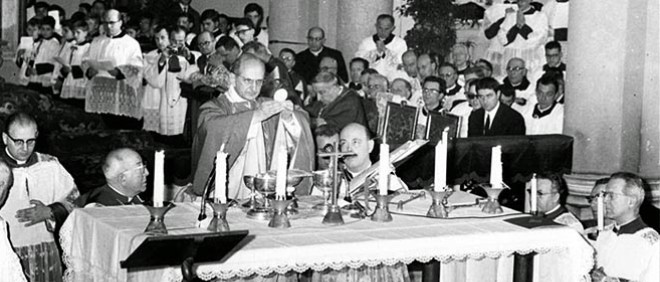 I've said it before and it bears repeating often: We are making a difference!
I know… it doesn't always feel like it, but as the following makes clear, this blog (and that means you as much as anyone) is being used by Our Lord to draw souls closer to Himself by way of Catholic tradition and our efforts to defend the same.
In the present case, below please find a letter that I recently received from Deacon Edward Schaefer, President of Collegium sanctorum angelorum, who I interviewed back in November. Deo gratias!
++++++++++++++++++++++++++++++++++++++++++++++++++++++++
Louie,
I am writing this to you as a follow-up to an earlier conversation that you and I had and as a response to the comments by a very small, but astute, number of your faithful readers to the interview that you posted about Collegium sanctorum angelorum.  You may share it with your readers, as you wish.  I am writing to you because of the high regard in which I hold you and your work.
There are three matters that I would like to address.  [Note: Two of which will be the content of a future post.] The first has to do with diaconal continence, as outlined in Canon 277 and that has been a part of the Church's tradition since the earliest of times.
My decision to enter the diaconate was a long and deliberate one, taking the better part of a decade.  I have always had a gnawing concern that the "restored" diaconate (which now to me appears to be more of an innovation than a restoration of anything) was something of a veiled attempt to laicize the clerical state, or vice-versa, depending on your perspective.   My recent discoveries – thanks to your readers – of the solidity of the tradition and discipline of clerical continence have only confirmed my concerns about this.
This now creates a not-small dilemma for me.  On the one hand I am a married man, not only with conjugal rights that I could forego, but also with conjugal responsibilities that I cannot forego without the willing agreement of my wife.  On the other hand, I am also a validly ordained cleric.  Even if I were to forfeit my faculties, that would not change the ontological situation.  It would make it less public, but truthfully that is not the heart of the matter.  This is not really a matter of scandal except, perhaps, for a small handful of blog readers whom I have never met and whom I will likely never meet.  I think to them my situation represents a larger scandal that my faculties or lack therefor would hardly dent.
Too, while the matter is significant, it is not a moral one.  I have done nothing to put myself in a state of sin.  The Church has blessed my situation.  Perhaps she should not have done so, but that is for another discussion.  It is what it is, not unlike many anomalies in the Church today that all of us trust will be corrected in God's time, even as we wish that His time would come sooner rather than later.
Rather, I think the matter is one of personal integrity and spirituality.  How will I live out the situation in which I discover myself so that I am true to my sacramental obligations, I am true to God's will, and I am faithful to His bride the Church.   Because the decision about how to address this situation involves not only me, but also my wife, it must be entered jointly and with the love with which our sacrament binds us.  It will take some time, prayer and sacrifice.  It is also a very personal matter.   So while I thank your readers for bringing this to my attention because of the spiritual benefits I am sure it will ultimately bring to me and to my wife, I will not give any "updates" on our discernment.  This will be end of the matter publicly.
Deacon Edward Schaefer
++++++++++++++++++++++++++++++++++++++++++++++++++++++++
Note: I hope that you will take a moment to reflect on just how good Our Lord is to use lowly sinners like us, and on a simple blog no less, as vehicles for inviting the untold "spiritual benefits" that Deacon Schaefer confidently anticipates for himself and his wife. Please, if you are able, help us continue this effort so that others may be similarly moved. Thank you!