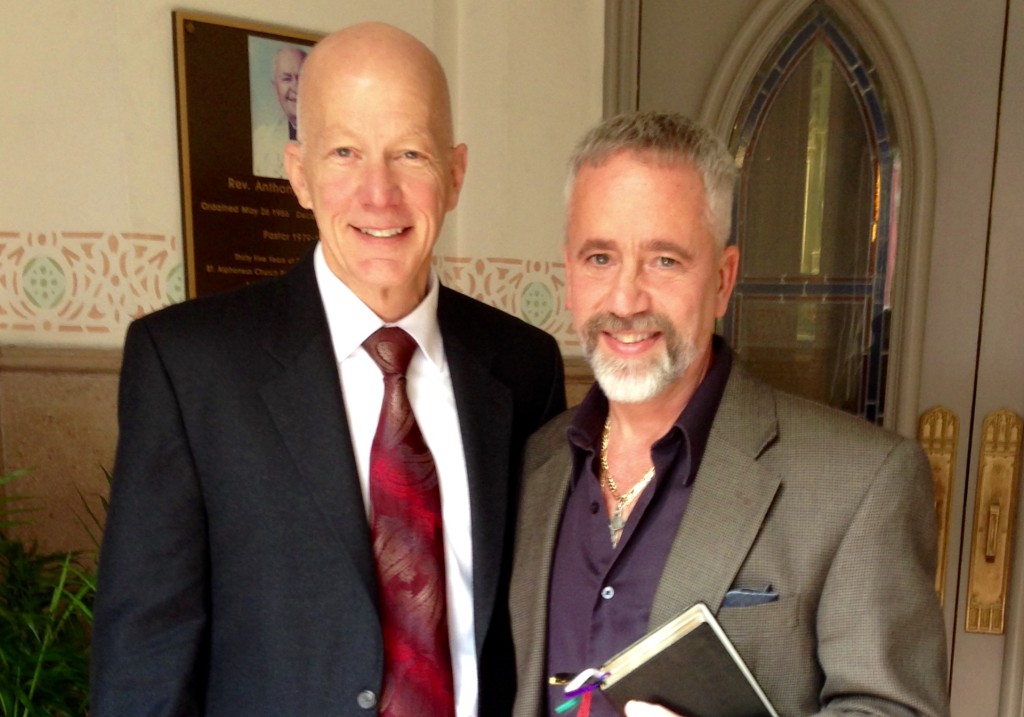 Before returning home following the Angelus Press Conference last month, I had the great pleasure of visiting St. Mary's Academy & College with some good friends. Operated by the Society of St. Pius X, the Academy serves grades K – 12, while the College offers an Associate's degree in Liberal Arts and a four-year Catholic Teacher Preparation Program.
St. Mary's is a rare treasure in this day and age when young adults all-too-often go off to a supposedly "Catholic" college only to witness the faith being openly belittled and attacked. Even the best of the lot are polluted with varying degrees of post-conciliar modernism.
Every inch of St. Mary's, by contrast, is permeated with Catholicism. From the curriculum, to the religious art, and the beautiful Chapel housing a magnificent display of literally hundreds of relics; it's truly an amazing place.
I left there with mixed emotions. On the one hand, it's encouraging to know that an institution like St. Mary's exists; on the other, it's discouraging to realize, unless I'm mistaken, there's no place like it anywhere else.
Well, hopefully, that's about to change.
Following Holy Mass for the Feast of Christ the King, I had a chance to meet with Deacon Edward Schaefer (pictured with me above) to talk about his plan to establish a traditional Catholic college in Florida called Collegium sanctorum angelorum.
That's right. He's a permanent deacon who is determined to establish a traditional Catholic college.
I have to tell you… There was a time (during my days of "conservative" confusion) when I thought that I was called to the permanent diaconate. In hindsight, I can say that I had it about half right; Our Lord was calling me to something.
Why He chose to open my eyes to tradition, and yet not others, I still don't know. I'm just thankful that He did.
Well, I can tell you after having spoken with him extensively (including in the interview below), Ed Schaefer's eyes have been opened as well; i.e., as permanent deacons go, there's nothing "ordinary" about him, nor is there anything ordinary about his vision for Collegium sanctorum angelorum. 
Below is an excerpt from the interview, with my questions in boldface.
Before we talk about the college, tell me a little about yourself.
My educational background is in music, with a specialization in the musical patrimony of the Church. I have four degrees and a certificate in music, along with formal studies in chant at the Conservatoire Supérieur de Musique et de Dance de Paris and studies in chant with several individuals at monasteries in the United States and Europe. I taught in Catholic colleges and universities for twenty-seven years, leaving only after it became impossible to support the direction in which these schools were moving. Currently, I direct the Florida Schola Cantorum, a group that sings weekly for Traditional Latin Masses. Overall, I have over thirty-five years of experience in higher education teaching and administration.
I am probably a little unusual as a permanent deacon. I was raised on the traditional Mass, its spirituality and its theology. I am also fully versed in its ritual, having served as a deacon or subdeacon in solemn Masses numerous times. In fact, my assignment in the diocese was, in part, based on my attachment to the Traditional Latin Mass in the diocese.
Tell me about Collegium sanctorum angelorum and what is motivating your efforts.
Other than St. Mary's College, a two-year college operated by the Society of St. Pius X, there isn't a single college in the United States that is truly devoted to traditional Catholicism. Some accommodate it to varying degrees, but no college is dedicated to living, learning, and praying according to traditional Catholic teaching and practice. We are.
We also don't have colleges that are truly affordable. We are dedicated to keeping the cost of tuition, room and board at $13,500/year per student.
Traditional and affordable will get a lot of our readers' attention. Talk about these in more detail, starting with "traditional."
Most colleges today are so expensive that they focus on preparing students for the workforce in order to justify the cost. There is nothing wrong with preparing students for work. We will do that, too. But our primary mission is to prepare students for heaven.
How will you go about doing that?
We'll do that through embracing Catholic teaching and practice as it has been handed down to us from Apostolic times; making it a part of everything we do.
On the level of simple day-to-day living, for instance, we intend to create an environment that helps students live virtuous lives, rather than one that throws near occasions of sin in front of them constantly. One small example of this is the residence halls, which are commonly co-ed today. Ours will be single-sex residences, and we'll have a dress code that promotes modesty as well.
The students of the college will also come together regularly each day for prayer. They will be taught how to sing traditional Lauds and Vespers, and will gather to sing them every day, in addition to having the option of singing Compline.
Traditional liturgy, obviously that's very important. What about Holy Mass?
At present we will be able to assist at the Traditional Latin Mass offered (sung) each Sunday nearby at a local parish. If at some point we are granted a chaplaincy, we'll have Mass daily at the college. It is curious that, with all of the hype in Sacrosanctum concilium about the Liturgy being the "source and summit" of the life of the Church, in practice today – and especially in the colleges – the liturgy is anything but the source and summit of Catholic life. That will change at Collegium sanctorum angelorum.
OK, having daily Mass at the college sounds terrific, but I have to ask, how will the college respond if the local bishop requires celebration of the Novus Ordo as a condition for granting a chaplaincy, a chapel, or anything else?
At this, I invite you to read Deacon Schaefer's answer to this question along with the rest of the interview on the Collegium sanctorum angelorum website.
Please consider lending your prayerful support to this worthy effort.