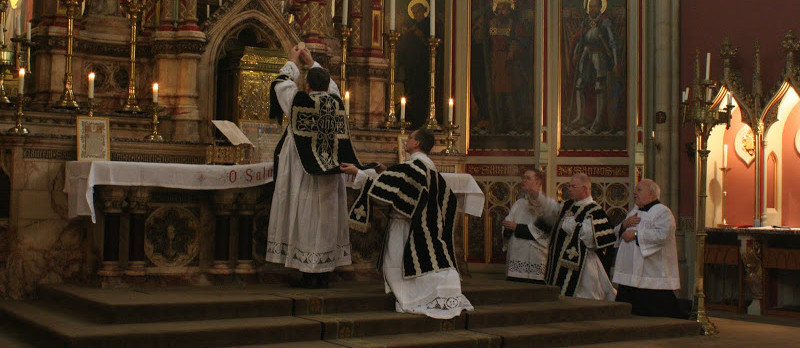 Just as one might expect in the days leading up to and following All Souls Day, I've noticed any number of articles from Catholic sources discussing the purpose of the Requiem Mass.
For example, an article recently posted on the website of Our Lady of the Mountains Roman Catholic Church in Jasper, GA, attempted to set the record straight, saying:
We have come to believe as the Protestants do, that "once saved, always saved" and that all who declare Christ their Lord will go straight to Heaven upon death.  But this has never been what the Church teaches and it is not true.  Nothing but perfection may enter Heaven, and none of us is perfect.  We need the purging, the cleansing of our souls, before we can enter the Perpetual Light.

Properly speaking, a Funeral Mass is not supposed to be a canonization, wherein we presume the deceased individual is in heaven.  Rather a Funeral Mass is more traditionally a Requiem Mass, because we're supposed to be praying for God's mercy, and for our loved one's rest and peace.  How tragic that the poor souls in Purgatory are left with no one to pray for them because we presume they are already in Heaven.
In yet another recent article posted on the same website, we find the following:
Non-Catholic funerals are all about "saying some words over the deceased."  Consequently, there can sometimes be two sermons and even a couple of eulogies (which can be embarrassing to endure).  The "words" are unscripted and can sometimes sound more like a speech at a retirement party.  At other times, these "words" are a kind of canonization of the deceased, for everyone is presuming that their loved one is already a saint singing with the angels … But by contrast, the Catholic Funeral is not about these sentimental innovations, but rather it is about ritual – ritual that has evolved for two thousand years, and ritual that prescribes constituent parts that make it recognizable as a Catholic Requiem Mass.
Having read these excerpts, it would be understandable if one were to assume that Our Lady of the Mountains is perhaps an SSPX chapel, or maybe a community that in some way or another is devoted exclusively to the Traditional Latin Mass. This, however, is not the case.
In fact, I just gave the parish a call and was informed that Our Lady of the Mountains does not celebrate the pre-concilar Mass at all, not even for the deceased! Rather, this is a Novus Ordo parish of the Archdiocese of Atlanta with a pastor who, all indications are, may very well be drawing dangerously close to a glorious, albeit uncomfortable, awakening.
How so?
It appears to me that he is but a whisker away from coming face-to-face with a truly terrible truth; namely, the Novus Ordo Missae (specifically as it concerns the present discussion) formally known as the Mass of Christian Burial contains in its official texts precisely the protestant heresies he decries.
The implications of this truth are quite profound.
First, this means that it cannot be said that this Mass – valid though it may be – was given to the faithful by "the Church,"  in spite of its 'official' standing as an approved rite.
Why not?
Simply put, a Holy Mother does not dispense poison to her children, and the Novus Ordo "Mass of Christian Burial" contains precisely that.
How then did we get this abomination of a Mass?
Sinful men (e.g., the likes of Annibale Bugnini, Pope Paul the Pathetic, and those who succeeded him) abused their authority and their duty before God.
It only stands to reason, therefore, that this Mass, thanks to the heresies it contains, is without any question whatsoever an offense against Almighty God.
But, some will cry, the Mass is valid. This means that the Most Holy Eucharist is truly there! It has been celebrated by numerous popes! It cannot be offensive to God!
Oh, poor fools… These things serve not to remove the offense, but only to heighten it!
[By the way, this truth is at once so very clear, and yet so very painful to acknowledge, that this blog has lost readers and supporters who, when faced with it, would evidently prefer to close their eyes than to see the light. So be it.]
Before I get to what I believe is the most important implication that follows from all that has been said thus far, I offer the following citations from the Roman Missal for the Novus Ordo "Mass of Christian Burial" (taken from a post I had written over two years ago) that demonstrate very clearly that it is a protestantized, heresy ridden, abomination.
Take, for instance, the text of the "Final Commendation and Farewell," beginning with the "Invitation to Prayer" of which there are two options (a hallmark of the post-conciliar liturgy, options, options, options… but more on that later):
"Before we go our separate ways, let us take leave of our brother/sister. May our farewell express our affection for him/her; may it ease our sadness and strengthen our hope. One day we shall joyfully greet him/her again when the love of Christ, which conquers all things, destroys even death itself." (Option 1)
So, can we really be assured that we will one day "joyfully greet" our deceased loved ones once again?
Of course not. Maybe we will, but then again, maybe we won't.
Option 2 isn't any better:
Trusting in God, we have prayed together for (N.) and now we come to the last farewell. There is sadness in parting, but we take comfort in the hope that one day we shall see N. again and enjoy his/her friendship. Although this congregation will disperse in sorrow, the mercy of God will gather us together again in the joy of his kingdom. Therefore let us console one another in the faith of Jesus Christ.
Again, there is a false confidence being expressed in the suggestion that God's mercy is such that everyone, without distinction, can be assured of one day being "gathered together in the joy of His kingdom." As such, the consolation being encouraged is also false.
And yet we wring our hands wondering why so many reject the very notion of Hell!
Moving on, in the "Prayer of Commendation" (Option A) we find (excerpt):
Into your hands, Father of mercies, we commend our brother/sister (N.) in the sure and certain hope that, together with all who have died in Christ, he/she will rise with him … help us who remain to comfort one another with assurances of faith, until we all meet in Christ and are with you and with our brother/sister for ever.
"Sure and certain hope" that "we all" will rise with Christ?
Well, OK… all of us shall rise in the general resurrection; some unto glory, others unto eternal damnation, but "assurances of faith" that we will meet again in Christ for all eternity? There's no use in sugarcoating it; this simply is not a Catholic proposition.
So, what exactly is the most profound implication that one should draw from all of this?
It is a bitter pill to swallow indeed, but the simple fact that a rite such as the Novus Ordo Missae – and not just for the Mass of Christian Burial – is widely accepted as having been "officially" promulgated, is valid, and has been celebrated even by popes, does not mean that it is not also an offensive against Almighty God that one should avoid at all costs.
I cannot help but wonder if the pastor of Our Lady of the Mountains in Jasper, GA has perhaps begun a journey that will lead him to the the same unavoidable conclusion, and therefore to a singular devotion to the Traditional Latin Mass.
In any case, please offer a heartfelt prayer for that intention this very moment.