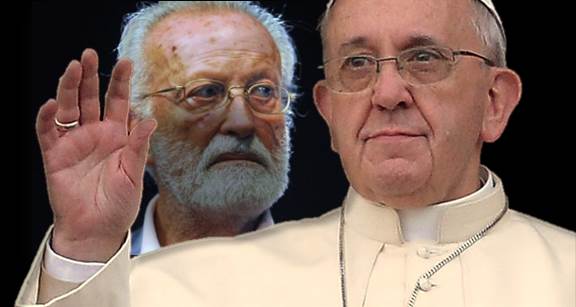 Rorate Caeli has provided an English translation of excerpts from yet another interview of Pope Francis conducted by Eugenio Scalfari, the atheist publisher of the Italian daily, La Repubblica.
It is true — Pope Francis answered — it is a truth and for that matter the family that is the basis of any society changes continuously, as all things change around us. We must not think that the family does not exist any longer, it will always exist, because ours is a social species, and the family is the support beam of sociability, but it cannot be avoided that the current family, open as you say, contains some positive aspects, and some negative ones …

The diverse opinion of the bishops is part of this modernity of the Church and of the diverse societies in which she operated, but the goal is the same, and for that which regards the admission of the divorced to the Sacraments, [it] confirms that this principle has been accepted by the Synod. This is bottom line result, the de facto appraisals are entrusted to the confessors, but at the end of faster or slower paths, all the divorced who ask will be admitted." [Rorate translation, emphasis added]
Today, however, Edward Pentin of National Catholic Register is reporting that Fr. Federico Lombardi refuted the interview, saying that "what is being reported by him [Scalfari] in the latest article about the divorced and remarried is in no way reliable and cannot be considered as the Pope's thinking."
According to the Register, Father Lombardi said he would not be issuing a statement about the matter as those who have "followed the preceding events and work in Italy know the way Scalfari writes and knows these things well."
Edward Pentin ended his article with a rhetorical question:
Why does the Pope continue to speak to someone such as Scalfari, and discuss such sensitive subjects with him, when he knows he is unreliable but likely to report his words without reference to a recording or transcript? 
The answer is entirely obvious; Jorge Mario Bergoglio (aka Pope Francis) is a dyed-in-the-wool modernist, the same of which Pope St. Pius X wrote:
None is more skilful, none more astute than they, in the employment of a thousand noxious arts; for they double the parts of rationalist and Catholic, and this so craftily that they easily lead the unwary into error; and since audacity is their chief characteristic, there is no conclusion of any kind from which they shrink or which they do not thrust forward with pertinacity and assurance. (Pascendi Dominici Gregis 3)
The Holy Father, Pius X, went on to warn that the activities of the modernists are indeed "well calculated to deceive souls."
And so it is with Pope Francis.
We've seen this act before, folks. As I wrote in a recent post, this pope has a history of leveraging the power of trial balloons in order to float scandalous notions that, while entirely his own, are initially kept at arm's length.
Specifically, Pope Francis knows very well that this most recent Scalfari interview, in combination with the Holy See's refusal to issue a clear refutation of its contents, effectively accomplishes the following:
– First, it serves to prepare the soil for what lies ahead by allowing the children of the Church to become used to the idea that the civilly divorced and remarried will be invited to approach the sacraments by virtue of their desire alone; apart from any authentic remedy of their sinful situation (e.g., a firm purpose of amendment).
– Secondly, and closely related, Pope Francis knows that even apart from any official decree encouraging this practice, an environment of expectation is being created that will undoubtedly lead to precisely the outcome suggested in many places.
– Thirdly, the underlying principle suggested in the interview – namely, that the desire of the communicant alone is enough to open up Holy Communion to those in objectively sinful situations – will in many places be applied to justify calling to the Communion rail as well, not only active homosexuals, but also non-Catholics. Again, this will be the case even apart from any official decree to that effect.
As recently announced, however, an official decree is indeed forthcoming (and perhaps even already written); with Pope Francis expected to issue an Apostolic Exhortation in follow up to the Synod in the not-too-distant future.
The Scalfari interview only reinforces my expectation that this document will deliberately misinterpret the notion of "discernment" as expressed in Familiaris Consortio in order to stress the primacy of the "internal forum" (aka the individual conscience); thereby making "sincere desire" tantamount to a proper disposition, and this in spite of one's perseverance in an objectively sinful situation.
While the results of the Synod do not afford Francis with the luxury of claiming recourse to the mind of its majority, I expect him to cite the very points floated in this latest Scalfari interview; namely, "the diverse opinion of the bishops" as a reflection of the "modernity of the Church and of the diverse societies in which she operates."
This, he will ultimately leverage to suggest that entrusting the task of appraising the state of would-be communicants to confessors, such that "all the divorced who ask will be admitted to Communion," is a principle has been accepted by the Synod.
In this way, Francis will force, in a dictatorial manner, precisely the result he desired all along, while hiding behind a synodal façade.

We've already known for some time that this is exactly what he wants. Now, it is starting to become a bit clearer as to how he intends to get it.
Incidentally, I sense that the appearance of synodality is of great importance to Pope Francis relative to what appears to be a steadfast desire to leave behind a lasting legacy; namely, the destruction of the Church's hierarchical structure as constituted by Christ. (How very humble!)
In a recent interview with Religion News Service, Cardinal Walter Kasper spoke about Francis' commitment to so-called collegiality:

"His principle is that he must set in motion a process which is irreversible," said Cardinal Walter Kasper, a well-known German theologian and former Vatican official who is close to Francis.

Kasper, sitting in his apartment across the street from the Vatican, said he does not expect a lengthy term for Francis and thinks the pope needs a few more years to give his initiatives a better chance to endure. But Kasper believes that the system for promoting collaboration among bishops "is already done, and no successor can go back."
Returning to the Scalfari interview…
Look, Francis has already demonstrated that he is more than crafty enough to use Eugenio Scalfari as a strategic tool for furthering his modernist agenda. In fact, it may very well be the case that Bergoglio and his atheist sidekick have entered into a private agreement to secretly collaborate as co-conspirators in the effort to bring the Holy Catholic Church to her knees before the god of humanity.
Truly, would anyone in their right mind be surprised to discover concrete evidence that this is indeed the case?
Recall, if you will, the first Scalfari interview dated 1 October, 2013.
After its initial publication and the firestorm that ensued, Fr. Lombardi likewise called into question its reliability while stopping short of directly refuting any of the claims made therein.
The interview was even published on the website of the Holy See where it remained until the 15th of November, at which time Fr. Lombardi announced that it had been removed by order of the Secretary of State. but not due to any doctrinal issues.
Fr. Lombardi made it a point to say that Scalfari did not record or otherwise transcribe the pope's words, but simply reported them from memory.
Seriously?
I didn't believe it then, and I disbelieve it even more today thanks to the bitter experience of the past two years.
It simply beggars belief that Eugenio Scalfari – who, in spite of whatever one may think of his opinions, is a professional journalist – simply took it upon himself to craft papal quotes amounting to some 3,000+ words, gathered over the course of a lengthy interview, by sheer memory alone.
Nonsense. All indications are that these two men are kindred spirits, close collaborators and confidants.
In any case, by the time that initial interview was removed from the Holy See's website, it had already served the Bishop of Rome's agenda well enough.
Let's briefly review some of the controversial statements attributed to the pope therein:
– "The most serious of the evils that afflict the world these days are youth unemployment and the loneliness of the old."
– "The Son of God became incarnate in order to instill the feeling of brotherhood in the souls of men."
– "Proselytism is solemn nonsense, it makes no sense … our goal is not to proselytize but to listen to needs, desires and disappointments, despair, hope."
– "I believe in God, not in a Catholic God, there is no Catholic God, there is God and I believe in Jesus Christ, his incarnation."
At this, I ask you, in the time that has since passed, has Pope Francis said, written or done anything whatsoever that would lead a reasonable person to believe that Eugenio Scalfari somehow misrepresented the pope's core beliefs, or gave readers the wrong impression with respect to his intentions for the pontificate moving forward?
Clearly, the contents of the first Scalfari interview have only been confirmed, time and again, throughout the duration of this dreadful pontificate.
Of even more relevance as it concerns the future under this pope are the following, also taken from this same interview:
– "Heads of the Church have often been narcissists, flattered and thrilled by their courtiers. The court is the leprosy of the papacy."
– "Carlo Maria Martini … is very dear to me … When Cardinal Martini talked about focusing on the councils and synods he knew how long and difficult it would be to go in that direction. Gently, but firmly and tenaciously."
– "Each of us has a vision of good and of evil. We have to encourage people to move towards what they think is Good. And I repeat it here. Everyone has his own idea of good and evil and must choose to follow the good and fight evil as he conceives them."
Do the math, my friends; it all adds up to one thing…
The atheist Eugenio Scalfari has never been anything other than a close collaborator to Pope Francis, and a loyal servant to his cause. As such, we do well to take this latest interview for what it truly is; a sure sign of things to come:
A papal decree that makes of the so-called "internal forum" a license for inviting all manner of unrepentant persons to Holy Communion, and a concerted effort to cement the Bergoglian legacy by establishing a quasi-democratic church in place of the one that hierarchically constituted by Christ.