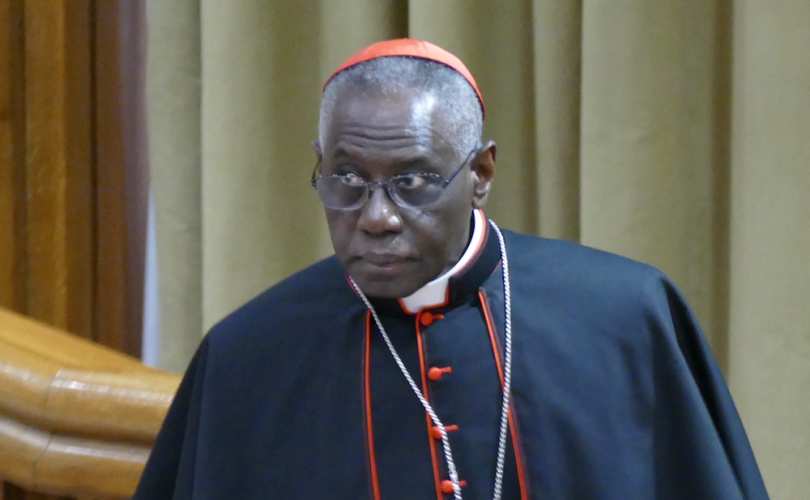 Given from the humble hand of Francis on September 3rd was yet another motu proprio; the document, Magnum Principium, which grants greater authority to bishops' conferences to translate liturgical texts into the vernacular.
Liberals, of course, found this latest pronouncement from Occupied Rome a cause for celebration; while neo-conservatives and more tradition-minded persons, on the other hand, were largely horrified.
Adding to the angst of the latter group is what Marco Tossati at First Things called the "calculated humiliation" of Cardinal Robert Sarah, who was publicly corrected by Francis after suggesting that Rome's authority to establish binding liturgical translations according to the norms set forth in the 2001 document, Liturgiam Authenticam, had not actually been ceded to the bishops.
Francis' publicly published correction reads in part:
Magnum Principium no longer holds that the translations must be in conformity on all points with the norms of Liturgiam Authenticam, as was done in the past.
Cardinal Sarah, of whom the Catholic Herald declared in June, "terrifies his opponents," has long been a neo-con idol. Today, it seems, his stock in such circles has never been higher.
In truth, however, it should be the exact opposite.
This isn't the first time Cardinal Sarah has been called to the carpet by Francis, who saw to it that the cardinal was publicly chastised for calling on priests to offer the new Mass ad orientem back in July of 2016.
At the time, I wrote:
Now that the battle lines have been clearly drawn, and in a most public way, we will find out what Cardinal Robert Sarah is made of:
Will he serve the Lord, or will he dutifully serve his earthly taskmaster, Francis?
Time will tell.
Well, time has told, and far from being the great protector of tradition that some imagine him to be, Robert Sarah is a nebbish who terrifies no one in Bergoglian Rome, which is presumably the only reason why he has retained his position at the CDW.
Writing about Magnum Principium, Sandro Magister recently stated:
It must be noted that when this was drafted it was kept in the dark from Cardinal Sarah, prefect of a dicastery whose middle management has long been rowing against him.
Let's be honest, Cardinal Sarah is the very definition of ineffectual, and truth be known, what he apparently desires to promote – a pious-appearing Novus Ordo – is still poison; albeit better disguised.
This brings me back to Magnum Principium.
For us so-called "traditionalists" (aka Catholics), modernist Rome granting bishops' conferences the authority to customize the Novus Ordo according to local sensibilities, presumably even those that are theologically dubious, is something to be desired.
It will accomplish far more good than anything Cardinal Sarah might have in mind for the simple reason that it will serve to tear the mask off of the bastard rite; revealing it for the manmade affair that it always has been.
For this reason, I'm not inclined to bemoan Magnum Principium; on the contrary.
I welcome the day when we will hear "for all" spoken in Germany, gender-inclusive pronouns employed in France, and pedestrian language intoned at new Masses in nations all over the globe.
The bottom line is that the Novus Ordo Missae was not given to the faithful by Holy Mother Church; it was dispensed from the hands of mere men who abused their authority, and it is largely responsible for the unprecedented loss of faith that has come to define the post-conciliar age.
If Magnum Principium makes this truth clearer to more people, and presumably it will, I say bring it on!
Thank you to all who have have generously offered their financial support. We're making progress, but more remains to be done to keep akaCatholic going strong!