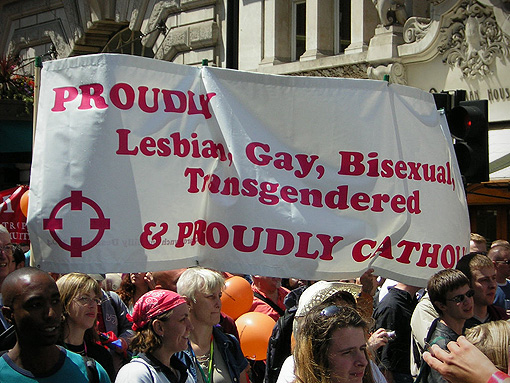 As I write, it is June and yet another so-called "LGBT Pride Month" is upon us.
Here in the United States, Bill Clinton was the first president to formally acknowledge the multi-national observance in the year 2000.
After an eight year reprieve during the Bush Administration, the practice of presidentially proclaiming  "LGBT Pride Month" was resumed under Barack Obama and has occurred annually ever since.
On May 31st, President Obama issued the most recent such proclamation stating in part:
"Despite the extraordinary progress of the past few years, LGBT Americans still face discrimination simply for being who they are." 
Since when are the "things we do" the equivalent of "who we are" – as if one has no choice in the matter?
Yes, I know… ever since it became politically expedient to do so, that's when.
The reality is, however, homosexual activity is not who anyone is; no more than masturbation, or bestiality, or even celibacy is.
Sadly, however, identity politics isn't confined to the political arena alone.
In the aftermath of the massacre in Orlando, Bishop Robert Lynch of St. Petersburg, FL got into the act saying that Catholicism "targets" and "often breeds contempt for gays, lesbians and transgender people."
This misappropriation of identity with respect to sexual activity wasn't lost on Joseph Sciambra, an "ex-gay" Catholic blogger who was at one time deeply immersed in the homosexual lifestyle:
Unfortunately, some in the Church, like the Bishop from Florida, continue to make the same mistakes of the past, by constantly referring to us as gay, lesbian, transgender and LGBT; we are none of those things. We were not born "gay," and we were not born damaged; we may have been hurt along the way, but, like the rest of humanity, we can recover and heal. We do not belong to an identity, we do not belong to a movement, and we do not belong to a group. So don't talk to us as if we do. We belong to God.
Treating individual human beings as if they are the activities that they do, or are tempted to do, isn't an expression of love. Love desires the best for its beloved. In the case of human persons; the "best" is the Heavenly perfection to which all of us are called.
True love, therefore, recognizes that every human person is greater than even the most laudable of earthly activities, as each is necessarily limited and in some way imperfect.
When one equates another's (or even one's own) identity with their sinful activities, it's the exact opposite of love. Why? Because it limits the individual soul for which Our Blessed Lord laid down His life – that it might attain to Heavenly perfection – to the confines of this fallen and imperfect world, and ultimately to Hell.
Joseph Sciambra (and no doubt many others) experienced this firsthand; not from a politician, but from a churchman:
When I left "gay," not by any choice, but because of the impending reality of death, I inexplicably, and almost immediately, went to speak with a Catholic priest. I explained everything I had been through over the past decade and how I wanted to leave San Francisco and the Castro. When I finished talking, he let out a sigh and said: "But, you were born gay, that's where you belong." He critiqued some of my methodology, that I had gone about being "gay" in a somewhat erratic and reckless way, and that I should try to "settle down" with one man.
That, my friends, is what hatred looks like.
So too is this from the aforementioned proclamation of President Obama:
We remain committed to addressing health disparities in the LGBT community — gay and bisexual men and transgender women of color are at a particularly high risk for HIV, and we have worked to strengthen our National HIV/AIDS Strategy to reduce new infections, increase access to care, and improve health outcomes for people living with HIV.
Who is he kidding? He hasn't an ounce of genuine concern for those who so suffer.
The most recent data available from the U.S. Centers for Disease Control indicates that "gay and bisexual men" account for 78% of all newly diagnosed HIV infections in the United States; not because of who they are, but because of what they do:
"Most gay and bisexual men acquire HIV through anal sex…"
With this in mind, Obama may have just as reasonably said:
We are committed to addressing the high rate of electrocution among children who stick forks into electrical outlets, but we refuse to address their behavior since, after all, this is who they are.
So, what exactly is this "LGBT community" of which Obama writes?
As Webster's Dictionary defines it, a "community" is "a body of people having common rights, privileges, or interests, or living in the same place under the same laws and regulations."
The so-called "LGBT Community" has little to do with "rights and privileges." The truth is, the entire human family, ultimately, lives under but one law; the same that no authentic rights and privileges can possibly oppose – the Divine Law.
It is here where the heart of the LGBT Community lies; namely, in one common interest and one alone – and that is the rejection of the Divine Law in favor of unbridled homosexual activity in all of its disgusting detail.
If you're not quite sure what those details are, follow this link at the risk of losing your appetite as Joseph Sciambra reveals "The gay sex secret homosexuals want no one to know."
(I dare say that there are likely thousands of naïve "straight" LGBT activists, including the parents of "gay" children, who would think twice about waving a rainbow flag after having read this.)
At the end of the day, the "LGBT Community" is all about a false "right" to do whatever one damn well pleases in spite of God's Law, and in spite of the harmful consequences to oneself and others, and it is this that the leaders of many nations, including my own, are asking their countrymen to celebrate with "pride."
Perhaps the worst part of Obama's proclamation came at the very end:
"IN WITNESS WHEREOF, I have hereunto set my hand this thirty-first day of May, in the year of our Lord two thousand sixteen, and of the Independence of the United States of America the two hundred and fortieth."
The year of Our Lord…
Imagine, the unmitigated gall that it takes to invoke the Saving Act of Jesus Christ in a document that effectively mocks the Divine Law!
If you think it's deplorable when a man who presents himself to the world as a "Christian" does such a thing, how much worse is it when a man who presents himself to the world as a "pope" does the same?
Hence it is can no longer simply be said that all those in any 'irregular' situation are living in a state of mortal sin and are deprived of sanctifying grace.  More is involved here than mere ignorance of the rule … [One] can also recognize with sincerity and honesty what for now is the most generous response which can be given to God, and come to see with a certain moral security that it is what God himself is asking amid the concrete complexity of one's limits.  (Amoris Laetitia – 301, 303)
I (and others) said all along that it would be naïve in the extreme to imagine that the "irregular situations" to which Francis refers somehow excludes those that involve homosexual activity.
This attempt on the part of the blasphemous Argentinian heretic in white to effectively abrogate mortal sin is no less an assault on the Divine Law than "LGBT Pride Month;" in fact, even more so.
As goes the Church, so goes the world…
From the time of the Council to the present moment, Rome no longer hearkens to the voice of the Lord, but rather does it fall in line to march in lockstep with His enemies; including those who do so under the rainbow flag.
So, if you're growing sick and tired of homosexual activism and the ubiquitous demands of their supporters, be sure to place the blame where it most belongs; on their churchmen bedfellows.
I'll let Joseph Sciambra have the last word:
"I came of age in the post-Conciliar Church of the 1970s. Then, a sort of seemingly benign indifference pervaded every aspect of Catholic education. This created a strict adherence to the subjective theory that all the long-held doctrines and teachings of the Church were inherently relative to certain individuals and situations. We were essentially told to create our own personal Jesus – to make our own world; and, that is exactly what we did."