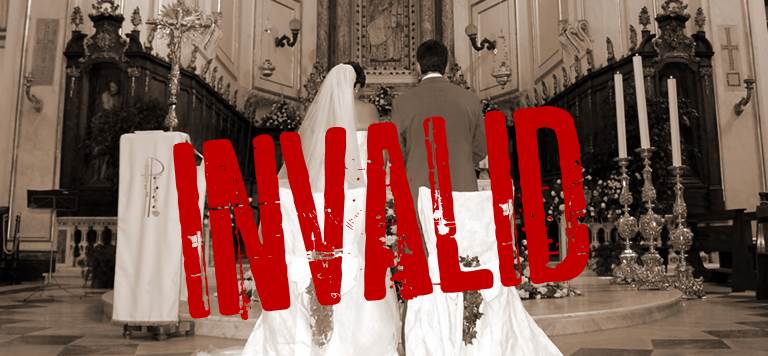 The Catholic world was set abuzz a few days ago when, at the opening of the Pastoral Congress of the Diocese of Rome, the local ordinary called into question the validity of most sacramental marriages.
As reported by the Bergoglian News Agency (otherwise, CNA):
Pope Francis said Thursday that the great majority of sacramental marriages today are not valid, because couples do not enter into them with a proper understanding of permanence and commitment. 'We live in a culture of the provisional,' the Pope said in impromptu remarks June 16. After addressing the Diocese of Rome's pastoral congress, he held a question-and-answer session.
Apparently, so outrageous was this assertion that the transcript for the event had to be revised. According to an update from CNA:
When the Vatican released its official transcript of the encounter the following day, they had changed the comment to say that 'a portion of our sacramental marriages are null.'

In the Vatican blog 'Il sismografo,' Vatican spokesman Fr. Federico Lombardi said that this change is a revision approved by the Pope himself.

'When they touch on subjects of a certain importance, the revised text is always submitted to the Pope himself,' Fr. Lombardi said. 'This is what happened in this case, so the published text was expressly approved by the Pope.'
This was enough to cause Michael Matt over at the Remnant to wonder if Francis is in the initial stages of dementia:
"It may well be time to consider the possibility that Pope Francis is entering his dotage, and is no longer in complete control of his mental faculties," he wrote.
Perhaps, but I'm not convinced that the man is losing his mind; rather, I tend to believe he's simply speaking his mind, albeit perhaps a bit too plainly.
I'll explain…
Recall that Archbishop Bruno Forte, who served as Special Secretary for both Synod sessions, recently acknowledged in a press conference that Francis had advised him heading into the process as follows (thanks to Christopher Ferrara for the translation):
"If we speak explicitly about Communion for the divorced and remarried, you do not know what a terrible mess we will make." So, Francis told Bruno, "we don't speak of it plainly; do it in a way that the premises are there, then I will draw out the conclusions."
From day one, this entire affair has ever been but one big surreptitious maneuver; replete with smoke (courtesy of Satan) and mirrors and predetermined outcomes.
There can be no doubt that Francis has been operating on the premise that the "great majority" of sacramental marriages today are invalid all along.
Cardinal Kasper essentially told us as much over a year ago.
Clearly, this means that Francis has ever likewise imagined that the majority of those who had obtained a civil divorce (or several) and remarried along the way were never really married to those other people in the first place.
As such, he obviously believes that each one is therefore entitled to an annulment, and it was this conviction that gave rise to his controversial motu proprio revising the process for obtaining a decree of nullity.
For Francis, however, annulments are for those who tend toward legalism. If a civil divorcee desires one (or two, or more) fine, let's make it easy; if not, no big deal.
After all, the confessional isn't meant to be a torture chamber where a purpose of amendment should be required, and, at the end of the day, the Eucharist is simply the Church's way of helping such persons attain to an ideal. (cf Amoris Laetitia footnote 351).
As for this most recent dust up over Francis' comments, don't kid yourself:
The revised transcript isn't evidence that Vatican officials are at long last moving to rein-in the loose canon that is Francis; rather, it most likely came about after Team Bergoglio's senior advisors encouraged the Generalissimo to apply the same strategic plan that he once presented to Bruno Forte:
If we speak explicitly about the great majority of sacramental marriages being invalid, we do not know what a terrible mess we will make. So, let's not speak of it plainly; rather, do it in a way that the premise is there, then we will draw out the conclusions.
The destruction, in other words, will continue unabated.