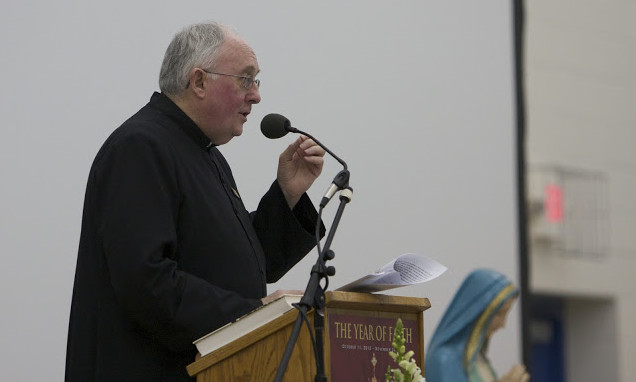 On Sunday, April 29, Archbishop Alexander Sample offered a Pontifical High Mass in thanksgiving for Summorum Pontificum at the Basilica of the National Shrine of the Immaculate Conception in Washington, D.C.
The Mass was televised by ETWN, along with color commentary provided by Msgr. Charles Pope and Msgr. Andrew Wadsworth – yes, very much in the manner of a sporting event or other spectacle that might require expert analysis for the benefit of viewers.
While seeing the Holy Sacrifice of the Mass "covered" in this manner cannot but grate against those with a Catholic sense, EWTN was simply acknowledging what His Humbleness would call the "concrete realities" of the present day. After all, the Mass of Ages is by no means an ordinary part of Catholic life as we know it.
This, of course, calls to mind the very Apostolic Letter being commemorated that day, a text wherein Benedict XVI introduced the utterly preposterous notion that the one Roman Rite has two forms, each of which express "the same lex orandi of the Church" – one "ordinary" (the Novus Ordo Missae that was invented by men sitting around a conference table with the input of heretics) and the other "extraordinary" (the venerable Traditional Latin Mass that has existed for some 1500 years).
About the best that can be said of this idea (which was, in part, a self-fulfilling prophecy) is that Benedict's words do contain at least a thread of truth inasmuch as the Traditional Roman Rite, more than a decade after Summorum Pontiticum, is indeed still treated as something less-than (in this case, ordinary); very often as if it were but an unwanted stepchild that must be tolerated.
Be that as it may, the neo-conservative desire to imagine that the current state of ecclesial affairs is far more glorious than it truly is really is irrepressible.
For instance, Jeff Ostrowski, who blogs at CC Watershed, (and whom I wrote about HERE) suggested in light of the aforementioned Solemn Pontifical Mass that insofar as their treatment by influential churchmen is concerned, the Traditional Roman Rite presently enjoys equal status with the Novus Ordo.
This, he wrote, "is contrary to what the experts told us." For instance:
On 28 January 2007, just a few months before Summorum Pontificum was issued, Fr. Reginald Foster (who worked for four popes) declared categorically that Pope Benedict XVI would not follow through: "He is not going to do it. He had trouble with Regensberg, and then trouble in Warsaw, and if he does this, all hell will break loose."
Another of the experts that Mr. Ostrowski had in mind was Fr. Brian W. Harrison, whom he quoted as having written in 1995:
What all traditionalists really want, of course, is complete equality of status for the old rite of Mass, alongside the new rite. But this, I submit, is simply a pipe dream. It just is not going to happen. Already the head of the Vatican's Ecclesia Dei Commission, Cardinal Innocenti, has made it clear that in his view the present arrangements permitting the old Mass should be seen as temporary and that the final end in view is the "integration" of traditionalist Catholics into the mainstream worship of the Latin rite—that is, full acceptance of the Mass of Paul VI. Not one of the Cardinals with any chance of being elected as the next pope has given any reason to think that he would grant full equality to the preconciliar rite of Mass, and, indeed, any such decision would probably be unenforceable: it would provoke uproar among most of the world's bishops… [Emphasis added by Mr. Ostrowski]
Clearly, Fr. Foster was wrong, but what about Fr. Harrison?
After having his attention called to the CC Watershed post, Fr. Harrison kindly offered the following response for akaCatholic readers:
I'm naturally very glad this Traditional Latin Mass (Solemn Pontifical) was celebrated by Archbishop Alexander Sample in the National Basilica of the Immaculate Conception, with several high ranking liturgical establishment figures present on the sanctuary. But of course, while the cited scornful prediction of Fr. Reggie Foster (my Latin tutor for a while when I first went to Rome in 1982) has indeed been falsified by Summorum Pontificum and events like Abp. Sample's recent Mass in Washington, these 21st-century developments are in no way "contrary" to my 1995 prediction cited in this report, as the author claims they are.
On the contrary, the present overall situation in the Church shows that my prediction (namely, that full equality between the old and the new rites 'just ain't gonna happen') continues to be verified by the facts.
The very fact that the TLM was officially named the "extraordinary form" by Benedict XVI, and is still hedged about by many restrictions – quite a few de jure in SP and additional ones imposed de facto by many or most diocesan bishops and religious superiors – shows that the contemporary Church is nowhere near granting full equality to both the pre- and post-Vatican II rites of Mass. And the present Pontiff has of course been emphasizing and reinforcing their decidedly unequal status. Only the Novus Ordo (in whatever language) is the "ordinary form" or 'default' Mass of the Roman Rite, and needs no permissions, or the fulfillment of any special conditions, in order to be celebrated by any Latin-rite priest.
Going by the 'logic' of this blogger, one would have to say that the Church now officially places Extraordinary Ministers of Communion (lay people) on a level of "full equality" with bishops, priests and deacons (the Ordinary Ministers), when it comes to distributing Holy Communion. Or that priests (extraordinary ministers of Confirmation) and bishops (ordinary ministers thereof) enjoy "full equality" as regards administering that Sacrament. To say or imply that "Ordinary = Extraordinary" is in fact a rather obvious self-contradiction.
As a defender of both Vatican II and the new Mass, Fr. Harrison isn't exactly of one mind with akaCatholic "traditionalists." I do think it's fair to say, however, that he is being drawn ever closer to tradition.
Shortly after Amoris Laetitia was published, for example, Fr. Harrison was outspoken about his misgivings, but insisted that "considerable time, study and prayerful reflection" was needed to evaluate the text properly. He was quick to conclude, however:
"He [Francis] is not repudiating in principle the objective truth of any revealed dogma or moral norm."
A year-and-a-half later in October 2017, though he declined to sign the Filial Correction that plainly charges Francis with propagating numerous heresies, he did offer a vigorous defense of those who chose to sign it.
Last December, following word that Francis had ordered publication in the AAS of the guidelines for the implementation of Amoris Laetitia established by the bishops of Buenos Aires, along with his letter commenting on the same ("there are no other interpretations"), Fr. Harrison wrote:
"I find myself unable in conscience to just flick a switch in my mind and give my religious assent to his [Francis'] novel doctrine."
Beyond what appears to be a progression in the direction of tradition, Fr. Harrison is a model of how sincere, passionate Catholics should treat one another in spite of serious disagreement.
He and I met in 2012 at a conference in Detroit (during my "conservative" adolescence) where we were both speakers (as was then Bishop Alexander Sample). We've since exchanged a few emails discussing certain issues about which we don't see eye to eye.
Today, even though he believes that I've become too "aggressively" traditionalist, Fr. Harrison continues to treat me far better than any number of persons who call themselves traditional Catholics, and for this I am genuinely grateful.
So, in conclusion, please refrain from any urge to use the comment section to criticize Fr. Harrison and instead take a moment to pray for him – that his journey toward tradition (fueled no doubt by the Bergoglian hostage crisis) will proceed swiftly.