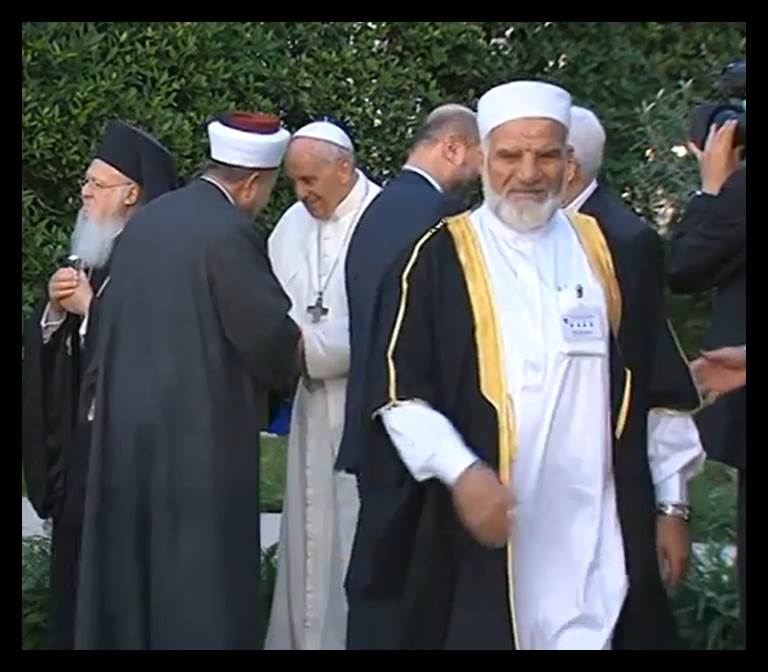 During his recent visit to Korea, Pope Francis took the opportunity to make certain that the Church in Asia understands just how much he despises, to be perfectly blunt, the mission of the Holy Catholic Church as given to her by Christ.
Speaking to the Korean Bishops, the Holy Father said:
"And so, with my identity and my empathy, my openness, I walk with the other. I don't try to make him come over to me, I don't proselytize."
Wow! That's seven, count them, seven I's and my's in just two sentences!
Truly I say to you, not even in Washington D.C. have I seen such humility! (On which note, if you've not yet read Chris Ferrara's treatment of papal humility on display in Korea at the Remnant, do yourself a favor and be sure to do so soon.)
If anything is clear in the all-too-often inchoate public commentary of Pope Francis it is his personal aversion to seeking converts to the one true faith.
Now, please note that I deliberately chose not to speak of the public "teaching" of Pope Francis since that might invite confusion as to whether his thoughts on the matter represent an act of the sacred magisterium. On this point, let us be perfectly clear, they most certainly do not.
Rather, his frequent admonitions against what he has chosen to label "proselytism" are truly nothing more than the private (and let's be honest, decidedly un-Catholic) opinions of the man who, as bitter misfortune would have it, is the currently reigning pope.
For those who are as yet still confused (either by ignorance or by choice), perhaps it will help to provide some clarity as to what the former Jorge Bergoglio means by "proselytism."
In his "Top 10 Secrets to Happiness," (also the entirely personal opinion of the man who just so happens to be known as Pope Francis) we find the following:
Don't proselytize; respect others' beliefs. We can inspire others through witness so that one grows together in communicating. But the worst thing of all is religious proselytism, which paralyzes: 'I am talking with you in order to persuade you,' No. Each person dialogues, starting with his and her own identity. The church grows by attraction, not proselytizing.  
So, what is this condemnable "proselytism" that Pope Francis so often decries?
It is truly nothing more insidious than seeking to persuade non-Catholics to enter the solitary Ark of Salvation; i.e., the mission of the Church.
Our Blessed Lord issued His commission to the Apostles saying, "Go, make disciples of all nations … teach them everything whatsoever that I commanded."
One does well to note that "teaching" and "making disciples" (otherwise known as "pupils") are essentially one and the same thing; i.e., Christ the King was so determined to make it clear that His is to be a teaching Church that He repeated Himself!
Contrast this with the notion that "the church grows by attraction," as if heathens, heretics and Jews are just going to magically gravitate to the Catholic Church like moths to a lantern if only we perform enough random acts of kindness.
Taking our queue from Papa Bergoglio's highly favored "hospital for sinners" image of the Church, his idea of mission is like a medical residency program that promises to instruct medical students simply by the attractive force of an attending physician who refuses to offer correction; even when a life is at stake.
In truth, this analogy fails as the situation in the Church today is far more dangerous.
Not only do we have a pope who refuses to condemn and correct the very errors that threaten to lead souls to eternal death; he even goes so far as to actively encourage their adherents to persevere in darkness!
The reason he does so is at once simple and bone chilling: the man simply does not believe that the Holy Catholic Church is the solitary Ark of Salvation. Worse still is that his words and deeds give no indication whatsoever that he believes that faith in Christ Jesus Our savior is in any way necessary in order to be saved!
This much is becoming ever more clear with every passing day, and if you think that the current Roman Pontiff's lack of Catholic faith comes without great cost, think again.