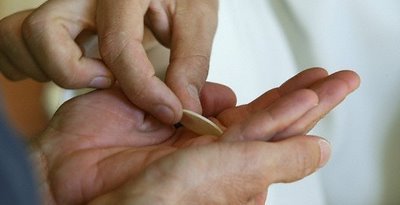 As presumably readers are by now well aware, news of another "Black Mass" has been making the rounds for the last several weeks; this one scheduled for September 21st at the Oklahoma City Civic Center where a consecrated host is allegedly going to be desecrated.
On August 19th, the Archdiocese of Oklahoma City filed a lawsuit against the organizers of the event.
"Our contention is that they are in possession of stolen property," Archbishop Coakley told the National Catholic Register. "We are asking the court to order them to return it immediately to me. We hope this is a way that we can prevent the desecration of the Eucharist from taking place…"
Well, apparently the threat of legal action was enough to force Adam Daniels, the organizer of the satanic event, to reconsider. Yesterday, he returned the host to the archbishop through his attorney.
Adams denies, however, that the host was stolen.
The Oklahoman reports:
He said he acquired the host from a Catholic priest in Turkey who consecrated it and mailed it to him. Daniels said the priest, whom he refused to name, was killed recently by Muslims in Turkey because of his satanic beliefs.
I'm going to go out on a limb here and say that this disciple of the father of lies is probably telling tales.
I'm also going roll the dice here and say that Archbishop Coakley's desire to protect the Blessed Sacrament from desecration, while perhaps realized in the present case, is very difficult to reconcile with the way in which Holy Communion is distributed throughout his diocese.
Consider, for example, how Holy Communion is given at Christ the King parish in Oklahoma City (in the video below); a parish that by all indications appears to be a model of "neo-conservative" Catholicism:
While there doesn't appear to be any theft of the Blessed Sacrament taking place in this video, anyone paying attention cannot help but notice just how easy it would be if one was so inclined. Just look at the number of people who take the Eucharist in their hands and then briskly walk away; neither the priest, nor the "Extraordinary Laywoman" have any clue what is happening next.
There's no telling how many times Our Blessed Lord in the Most Holy Eucharist has been pocketed, only to be desecrated by some spiritually dead moron like Adam Daniels.
Needless to say, this isn't a problem in Oklahoma City alone, and Daniels is just one of God only knows how many depraved souls who are involved in satanic activity. Is anyone really so naïve as to think that every time such people plan a "Black Mass" they also necessarily rent a public facility and advertise their wicked intent?
Sure, it is conceivable that a person could take communion on the tongue only to remove it from their mouth shortly thereafter, but let's not pretend that the risk of profanation in both cases is equal. Even Pope Paul VI – the great destroyer of the sacred liturgy and soon-to-be saint of newchurch – knew better.
Look, it's all well and good that so many in the Catholic world were moved to pray and fast as the spectacle of the Black Mass in Oklahoma City approached, and I'm pleased to see that the host has reportedly been returned, but until we cease handing out the Most Holy Eucharist like Halloween candy to every Tom, Dick and Harry that sticks out his unconsecrated hand like so many Trick-or-Treaters, please spare me the victory dance.