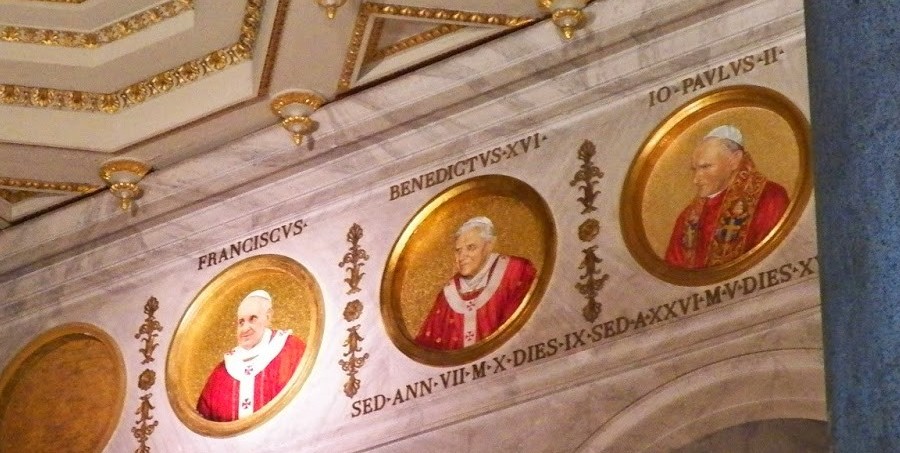 In an interview with Edward Pentin of National Catholic Register published over one week ago, Cardinal Burke was asked, Are you here making a final plea to Francis? 
Cardinal Burke replied:
Yes, for these grave reasons, one year after rendering public the dubia, I again turn to the Holy Father and to the whole Church, emphasizing how urgent it is that, in exercising the ministry he has received from the Lord, the Pope should confirm his brothers in the faith with a clear expression of the teaching regarding both Christian morality and the meaning of the Church's sacramental practice. [Emphasis added]
In this, Cardinal Burke is citing the words of Our Lord:
And the Lord said: Simon, Simon, behold Satan hath desired to have you, that he may sift you as wheat. But I have prayed for thee, that thy faith fail not: and thou, being once converted, confirm thy brethren.  (Luke 22:31-32)
Note very well that Jesus has revealed to us that He intercedes for the pope in a unique way; i.e., He dispenses graces upon the occupant of the Throne of St. Peter that are specific to his ministry and mission, in a way that goes beyond His solicitousness for the rest of the Successors to the Apostles.
As I have written a number of times in this space, there are many reasons to believe that the resignation of Benedict XVI may be invalid – from statements he has made indicating that he was forced to so act (e.g., the absurd claim that no black cassocks were available in Rome upon his departure, and plainly revealing that he is "cloistered" and not free leave his domicile without Francis' permission), to the defect of intent relative to "expanding" the Petrine ministry as suggested in his resignation statement and commented upon by well-regarded canonists.
Needless to say, if indeed the resignation was invalid, that would make conclave 2013 likewise invalid given that the See of Rome was not truly vacant at the time of its convention.
Sure, some will argue that the result of a conclave assembled under such conditions can still be valid, and with infallible certainty, provided only that a moral unanimity of the Church is deceived into accepting the man elected as pope.
Those who argue as much are unable, however, to produce even one applicable citation from a respected theologian in support of such a notion.
At best, they will cite commentary concerning defects in validly convened conclaves, but none concerning a conclave assembled under false pretenses.
All of this said, I'm well aware of the fact that many readers disagree on questions concerning the validity of Benedict's resignation, but no honest observer can deny that questions exist, and furthermore, that many of them are being asked by men of high repute and are entirely legitimate.
I have also argued in this space, extensively, that Francis – if indeed validly elected – has done more than enough to reveal himself as a formal, pertinacious heretic and thus not a member, much less the head, of the Body of Christ on earth.
I realize that many readers disagree.
Returning now to Cardinal Burke's response…
He is assuming, of course, that Francis is, in fact, the pope – both validly elected and still in retention of the Office of Peter.
As such, he is also assuming that Jorge Bergoglio is the specific subject of Our Lord's prayer as quoted in the Gospel according to St. Luke and cited above.
But what if he isn't? What if he never was? What would that mean?
It would mean that Jorge Bergoglio is not the beneficiary of Our Lord's prayer that he, in a most specific and profound way, should be protected from Satan who desires to sift him as wheat that his faith may fail.
In other words, it would mean that he is no different in this regard than that idiot cardinal from New Zealand who injected his "creative initiative" into the Novus Ordo, or Cardinal "I wouldn't deny Communion to anyone" Cupich, or Bishop "Maybe Hell is empty" Barron.
Based on Bergoglio's behavior, that would make a whole lot more sense than any assumption to the contrary, would it not?
Seriously, from the very first moment that he was introduced to the world as Francis to this very day, what has he ever said or done to even hint that he enjoys the unique graces that accompany the occupant of the Office of Peter?
In all sincerity, I cannot think of one, single, solitary thing along those lines, but I can rattle off dozens of things that tell me otherwise.
Perhaps this is why Francis is so entirely unique in the history of the papacy.
In any case, here we are ten days removed from Cardinal Burke's "final plea" to Francis, and ten days away from the beginning of Advent – ushering in the "days of great grace" during which, as the dubia cardinal suggested last year, would preclude issuing the "formal act of correction."
If "great grace" is what Cardinal Burke really wants for the Church, he can do no better than to take that next step sometime in the next week.
I'm already on record as saying that I believe that he will, though to what end is anyone's guess and likely not what most of us hope it will be.
Whether I am right about that, we'll find out soon enough.