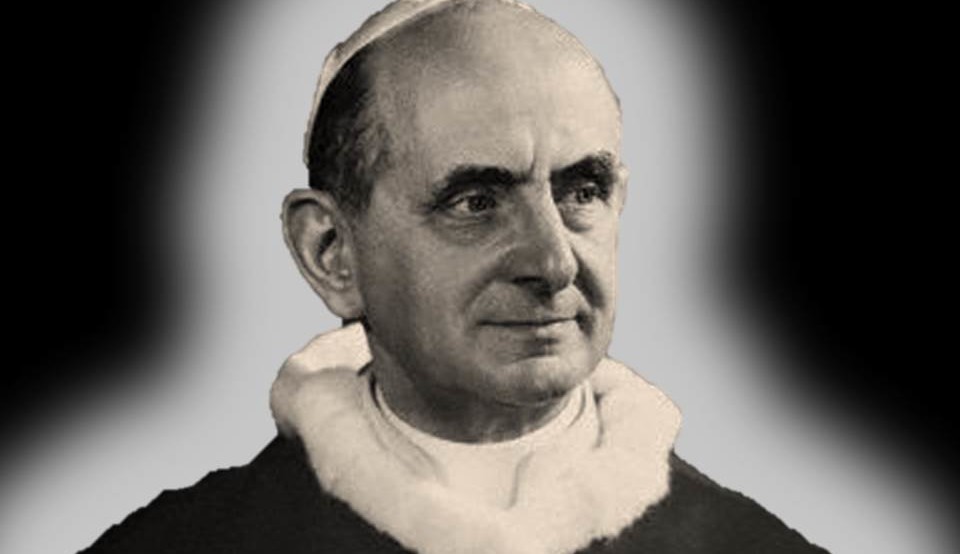 According to Vatican Radio, Francis has sent a message to participants of a conference taking place in Rome on the theme "Pope Paul VI, the pope of modernity."
A more fitting theme would be "Pope Paul VI, the pope of Modernism."
After all, this is the pope who unceremoniously abrogated the "Oath Against Modernism;" his reasons for doing so being obvious enough. (HINT: He's the pope who signed off on each of the sixteen Council documents.)
In his message to the conference, Francis made note of the fact that 2017 marks the 50th anniversary year of the encyclical of Paul VI, Popolorum Progressio, which he said sought to be a "solemn appeal for concerted action in favor of integral human development".
Integral human development…
Truly, this is nothing more than a slogan, and a fitting one at that, for the architects of the City of Man who have no interest in defending the Sovereign Rights of Christ the King.
And from where did it come?
It may surprise some readers to discover that it did not originate with Francis, who by way of motu proprio established the Dicastery for Integral Human Development in August of 2016. More surprising still, perhaps, is that the phrase wasn't first invoked in Rome by Paul VI either.
It was actually Benedict XVI who in 2009 entered the dreadful buzz phrase into modernist Rome's playbook with his encyclical, Caritas in Veritate – the full name of which is "Integral Human Development in Charity and Truth."
When comparing Caritas in Veritate to Populorum Progression, the former may appear more defensible, but appearances can be deceiving. In truth, it is every bit as man-centered as the latter, in spite of its somewhat more Catholic tone.
In my reading of Benedict's text, one of its main contributions to the unapologetic humanism being practiced by Francis today lies in the following:
The Christian revelation of the unity of the human race presupposes a metaphysical interpretation of the "humanum" in which relationality is an essential element. Other cultures and religions teach brotherhood and peace and are therefore of enormous importance to integral human development.  (Caritas in Veritate 55)
NB: He does not say that the Holy Catholic faith is "of enormous importance…;" rather, he speaks of "other religions."
Here one sees reflected precisely the attitude of Francis (and indeed all of the post-conciliar popes); namely, that "religion" in general is good for man and society regardless of whether or not it is true – a claim that only the Holy Catholic faith can make.
Benedict goes on, however, to add a word of caution:
Some religious and cultural attitudes, however, do not fully embrace the principle of love and truth and therefore end up retarding or even obstructing authentic human development. There are certain religious cultures in the world today that do not oblige men and women to live in communion but rather cut them off from one other in a search for individual well-being, limited to the gratification of psychological desires. (ibid.)
In other words, not all religions are good. Sounds rather Catholic, no?
If one pays close attention, however, it is clear that what Benedict is actually saying is that in order for a religion to contribute to "integral human development," the only thing that is required is that it obliges men to live in communion with one another.
No room for Christ the King there!
Be that as it may, Francis did well to cite Populorum Progressio as a solemn appeal for "integral human development" as he understands it and wishes to promote it.
In fact, when reading the text, one understands why Francis called Paul VI "the Great Light" of his formative seminary years; truly, it seems that he imagines himself walking in Paul's footsteps more so than any of the other conciliar popes.
For instance, Paul VI writes:
Before the close of the Second Vatican Council, providential circumstances allowed Us to address the United Nations and to plead the case of the impoverished nations before that distinguished assembly. (Populorum Progressio 4)
Francis' own esteem for the UN is well known, and Paul is the first pope ever to address that "distinguished assembly." (Note, however, that Benedict XVI also saw fit to pay homage to the United Nations in Caritas in Veritate.)
Later in the text, Paul VI quotes Fr. Louis-Joseph Lebret, O.P., whom he recruited to help draft Gaudium et Spes.
In so doing, Paul provides what one cannot but recognize as the mission statement by which the Bergoglian regime labors to promote integral human development in our day:
We cannot allow economics to be separated from human realities, nor development from the civilization in which it takes place. What counts for us is man—each individual man, each human group, and humanity as a whole. (ibid., article 14)
"What counts for us is man."
Truly, the mindset and mission of modernist Rome, as epitomized by the words and deeds of Jorge Bergoglio, can be no better stated.
It is for this reason that the Church in the eyes of such men is no more glorious than that of a social sciences think tank as described so eloquently by Paul VI:
She [the Church] offers man her distinctive contribution: a global perspective on man and human realities.  (ibid., article 13)
And here you thought that the Church's distinctive contribution to mankind is salvation!
As has been written many times in this space, Francis is most certainly a problem, and a major one at that. He isn't, however, the problem. Rather, he is simply carrying on the task of those who came before him; namely, that of implementing the Second Vatican Council.
If anyone has any doubt about this, a review of Popolorum Progressio alone should suffice to remove it.