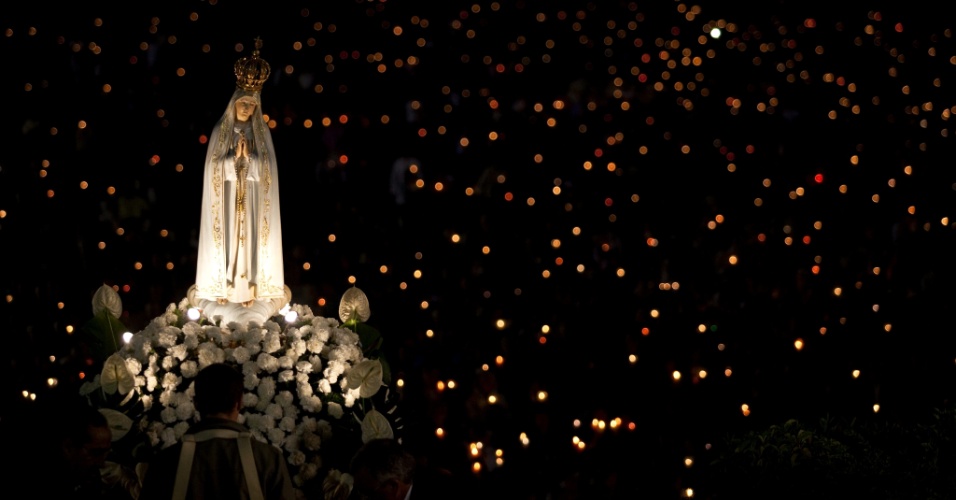 Over at the Novus Ordo Watch blog, in the comment section of an article on Fatima, the site's moderator declared the following:
"I have a big problem with those who make Fatima into a dogma, and we see them mostly in the semi-trad recognize-and-resist camp. Sadly, many of those people seem to believe in Fatima first, and in Catholicism only second. That's why they evaluate everything, incl. sedevacantism, in light of Fatima. That blame has to be placed in large part, in my opinion, on the hyper-Fatimism of the Nicholas Gruner crowd."
This statement, of course, was made in defense of sedevacantism; a position that I don't hold regardless who might say otherwise.
So why even draw attention to it?
A couple of reasons…
One, the criticism of the "Nicholas Gruner crowd" is entirely unwarranted. In a more general sense, it occurs to me that this good and holy priest and his legacy are lacking in defenders just about now. As such, I'm not going to let this pass without comment.
(And yes, Cardinal Burke still owes Fr. Gruner an apology!)
Having had the privilege of speaking at a number of Fr. Gruner's conferences, I know for a fact that he and others active in the Fatima Center's efforts have a long track record of appropriately placing the apparitions squarely within the context of the Catholic faith.
At every conference I've attended, as well as in many of the articles and other pieces of literature published by the Center over the years, attention is frequently drawn to the purpose of Our Lady's appearance and her warnings relative to the apostasy in the Church that "will begin at the top."
In other words, the idea that Fr. Gruner pushed a "Fatima first, Catholicism second" agenda is patently absurd.
Beyond this, I've chosen to comment on the statement above because it has a thread of truth in it; a tangential one, mind you, but one that merits consideration.
The fact is there really are certain persons and groups that are pleased to treat (more appropriately, leverage) the Fatima message as if it can somehow be separated from the Catholic faith whole and entire.
The first such group that comes to mind are certain "pro-lifers" who are especially pleased to link their cause with Our Lady of Fatima in this centenary year of her appearance, but who are careful not to be "too Catholic" for fear of offending certain supporters.
The fact of the matter is Our Lady didn't miraculously appear at Fatima to preempt the scourge of abortion; she came to deliver a message "about the dangers which menace the Church" and to issue "a divine warning against the suicide of altering the Faith, in Her liturgy, Her theology and Her soul." (See Cardinal Pacelli's commentary)
Good luck finding anything coming from Priests for Life or LifeSiteNews promoting that message; i.e., rejecting the Council's treatment of religious liberty, insisting upon the Social Kingship of Christ, the Traditional Latin Mass, the Church's prohibition against participation in ecumenical gatherings, etc.
As I've written in the past, the pro-life movement even among many self-identified Catholics is a religion all its own ("pro-lifeism"). As such, that its adherents are willing to twist the message of Fatima to their own ends only makes sense.
What does come as a surprise is the degree to which even some otherwise staunch defenders of traditional Catholicism (if you'll forgive the redundancy) now appear willing to relegate the Faith to second place behind what they consider to be the most important portions of Our Lady's message.
We saw this, for example, in the way in which the presentations given by Cardinal Burke and Fr. Linus Clovis at the recent Roman Life Forum were treated; specifically, with some in traditional Catholic media seeing fit to ignore entirely the deadly "leaven" clearly present in their respective "lumps."
Without betraying confidences, I can tell you with absolute certainty that the decision to overlook these clerics' praise for Vatican II, "Saint" John Paul II, and the "New Evangelization" (as if any of these things are compatible with the Fatima message), in favor of positively "spinning" (not my word) certain isolated statements about the consecration of Russia, was made deliberately.
In other words, it was the fruit of a well-calculated strategy devised on the part of a handful of influential persons (some well-known, others not so much) who determine the editorial content of much of well-established "traditional" Catholic media.
Does this relate in any way to the "softer" tone emanating from the SSPX; e.g., the regrettable slide from "We have in front of us a genuine Modernist" in 2013, to acquitting Francis of even contradicting revealed truth just four years later?
I am not entirely certain, but what I do know is that there is a relatively new and deeply disturbing phenomenon unfolding; a discernible "softening" in traditional circles that one can only hope reverses course before it becomes a bona fide trend.
Stay alert and stay tuned.
Cornelia Ferreira's inaugural article, which will be ready soon, will provide more insight; some of which many will find jarring.
Believe me when I say that I do not fancy myself or my efforts anything terribly special; rather, I'm about as simple as they come: If something is true and important, I'll say it. If it's an error and dangerous, I'll condemn it; plainly and publicly.
No spin. No strategy. No tactics.
Special? No. Rare? Unfortunately so.
You have my word that this blog will disappear before that ever changes.
At this, I wish to thank those of you who responded to my plea for financial support, and also those who have been providing it for some time. Each of you is in my prayers.
Please know, however, that as I write the need remains genuinely urgent.
Pater noster, fiat voluntas tua…