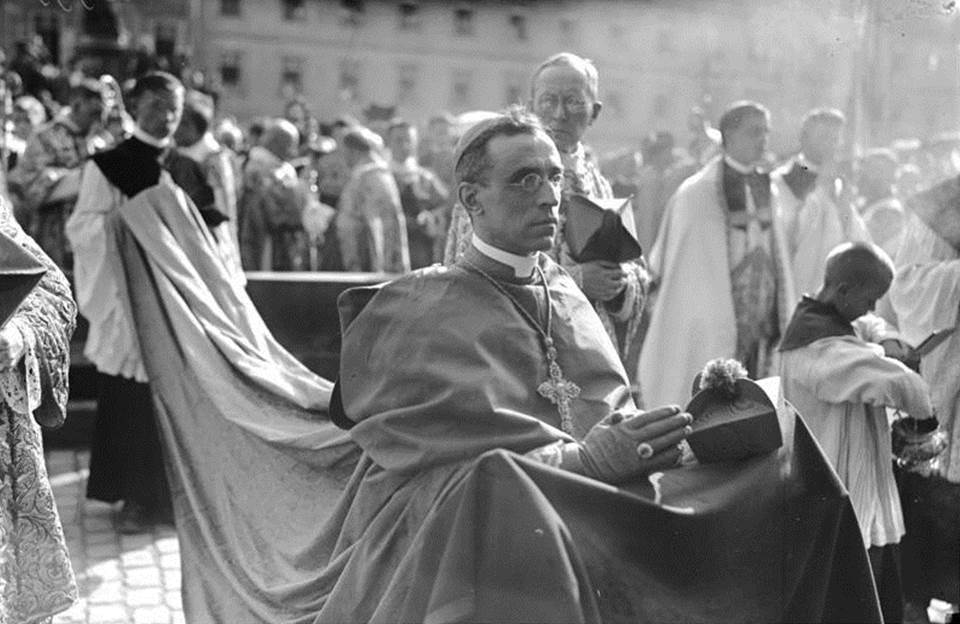 In spite of all the subterfuge and deception that surrounds the Third Secret of Fatima, we know very well based upon the testimony of numerous honorable men that Our Lady's most dire warnings concern a crisis of faith within the Catholic Church.
Prior to his elevation to the papacy, for instance, the future Pope Pius XII, Cardinal Eugenio Pacelli, shed light on the Blessed Mother's warning, writing in part:
I am worried by the Blessed Virgin's messages to Lucy of Fatima. This persistence of Mary about the dangers which menace the Church is a divine warning against the suicide of altering the Faith, in Her liturgy, Her theology and Her soul … A day will come when the civilized world will deny its God, when the Church will doubt as Peter doubted. She will be tempted to believe that man has become God.
If we pay close attention to what Cardinal Pacelli is saying, we cannot help but recognize that he is speaking of an internal crisis of faith that necessarily includes the pope.
Think about it: Suicide is death self-imposed at the hands of the very one who rules over the body. If the head is not willing, the hand cannot act.
In the case of the Church, it refers to a threat that comes from within; one that involves the very head itself, and that is, of course, the occupant of the Office of Peter.
With this in mind, let's examine Cardinal Pacelli's warning a bit more closely with the very important question in mind:
Does it concern future events alone, or are we living through those events right now?
In the interest of space, I'd like to focus primarily on two lines in particular:
A day will come when the Church will doubt as Peter doubted. She will be tempted to believe that man has become God.
To begin, we might ask, how did Peter, he who made that magnificent proclamation of faith at Caesarea Philippi, "You are the Christ, the Son of the living God," doubt?
We might immediately think of what happened just after that profession of faith.
St. Matthew tells us:
From that time Jesus began to show to his disciples, that he must go to Jerusalem, and suffer many things … be put to death, and the third day rise again.
Peter replied, "Far be it for you, Lord!"
To which Our Blessed Lord responded, "Get behind me, Satan!"
There's quite a bit to discover in this scene about the nature of Peter's doubt; for one, his doubt is two-fold, in a sense.
On the one hand, he doubts that Jesus is to suffer and die. This much is obvious, but it's important to note that in doing so, he is precluding the very possibility of, or we might say doubting, the resurrection.
Is this the kind of doubt that plagues the Church, and specifically the Office of Peter, in our day?
Pope Francis, while apparently not doubting the historical fact of the resurrection, most certainly does entertain a very doubt-filled sense for its meaning. We'll return to that point momentarily.
For now, let's take a look at another scene that sheds even more light on the nature of Peter's doubt as described two chapters earlier in Matthew's Gospel.
There, we read about how the Apostles were in a boat when a storm hits and begins to toss the boat about. Off in the distance they see Our Lord walking on the water, and they're afraid.
St. Matthew tells us:
And immediately Jesus spoke to them, saying: Be of good heart: it is I, fear not. And Peter making answer, said: Lord, if it be thou, bid me come to thee upon the waters.

And he said: Come. And Peter going down out of the boat walked upon the water to come to Jesus.

But seeing the wind strong, he was afraid: and when he began to sink, he cried out, saying: Lord, save me. And immediately Jesus stretching forth his hand took hold of him, and said to him: O thou of little faith, why did thou doubt?
Here, the nature of Peter's doubting is coming into sharper focus.
It's not that he doubts that Jesus is truly in his midst. He knows that it's Him. Jesus identified Himself, once by name, and a second time when He beckoned Peter to come.
Peter for his part, confirms that he knows that it's Jesus when he calls out in fear, Lord, save me!
So what exactly is the nature of Peter's doubt?
The answer is very important for us to recognize as we consider the prophetic warnings issued by Our Lady at Fatima and commented upon by Cardinal Pacelli:
Even though Peter addressed Jesus as "Lord" twice, he doubts that He is God.
In other words, Peter knows very well that it is Jesus the man toward whom he is walking, but he doubts that Jesus Christ is Lord indeed, even as his lips profess it.
This is the case even though Peter had already witnessed Our Lord's power over creation when He calmed the angry seas. I'm sure you recall the scene…
The disciples are in a boat once again, but this time they're together with Jesus when a wicked storm kicks up and tosses the boat about.
As the disciples are fearing for their lives, Our Lord, apparently unaware, is sleeping.
When at last they awaken Him, Jesus says, "O' ye of little faith!"
At this, He raised His hands and commanded the winds and the seas and all became calm.
In the aftermath of this great miracle – a miracle performed with the intention of verifying who Our Lord truly is – the disciples, Peter included, questioned among themselves, "What sort of man is this that even the seas obey His commands?"
Peter knew that Jesus was a man, but he harbored doubts as to His divinity; i.e., he doubted that He is God.
A day will come when the Church will doubt as Peter doubted. She will be tempted to believe that man has become God.
These two warnings go together, because you see, the corollary to being tempted to believe that man has become God, is the temptation to treat Jesus Christ as if He is but a man. It is doubting as Peter doubted.
With the nature of Peter's doubt now made clear, we return to the difficult but very important question that we asked at the outset:
Has Peter's doubt as to the divinity of Christ in some way managed to infiltrate and infect those who speak in the name of the Church, up to and including Peter's successor?
It's a terrible question even to ponder, but Pope Francis has been answering this question for us from the moment he assumed the papacy; never more clearly than during the sermon given on the Feast of the Lord's Resurrection – Easter Sunday – when he said:
Out of love for us, Jesus Christ stripped Himself of His divine glory, emptied himself, took on the form of a slave and humbled Himself even to death, death on a cross. For this reason God exalted Him and made Him Lord of the universe. Jesus is Lord!
So, what do we see here?
Like Peter when he stepped out of the boat, Pope Francis calls Jesus "Lord," twice no less, but also like Peter, he doubts that He is Lord indeed.
This much is obvious when he says, "Jesus Christ stripped Himself of His divine glory…"
Let's be very clear; Our Blessed Lord did not strip Himself of His divine glory; indeed, such a thing is utterly impossible!
If He were to be stripped of divine glory, however, this would render Jesus what?
Little more than a man.
The Church will doubt as Peter doubted…
Now, as you're going discover, Pope Francis' Easter message was far more than just a moment of sloppiness on his part; rather, it's reflective of what he truly believes.
It's bad enough that he imagines a Christ who "stripped Himself of His Divine glory unto death," but his view of the Risen Christ isn't much better.
Consider, for example, one of his many homilies lashing out at tradition-minded Catholics. Pope Francis said:
This group of Christians in their hearts do not believe in the Risen Lord and want to make theirs a more majestic resurrection than that of the real one. These are the triumphalist Christians.
This raises some questions, most importantly, what precisely is this "real" Resurrection that some Catholics supposedly tend to exaggerate?
According to Pope Pius XI, writing in Quas Primas, it was the Resurrection from whence Our Lord:
Took the opportunity to call himself King, confirming the title publicly … solemnly proclaiming that all power was given Him in heaven and on earth … words that can only be taken to indicate the greatness of His power and the infinite extent of His kingdom.
That's the real Resurrection, and I'd say it's pretty majestic, wouldn't you?
In fact, we might well wonder how it is that Pope Francis can believe that it's even possible for the human mind to imagine something that's more majestic still.
The answer is at once simple and tragic; it is because his view of the resurrection, and likewise his view of the Risen Christ, is one that pales in comparison to the "real one."
He doubts as Peter doubted, but let it be known that Francis' doubt is infinitely more tragic.
Remember, Peter's doubt was strictly momentary. Our Blessed Lord had yet to undergo His passion, death, and most importantly, His glorious Resurrection. Pentecost had yet to take place. Peter wasn't even a priest during his moments of doubt, much less was he the pope!
So, as we consider the prophetic words of Our Lady as commented upon by Cardinal Pacelli, let's be sure to keep Peter's moment of doubt in perspective relative to the doubt of his current successor, and likewise the impact that the latter has on the Church, the world, and the eternal state of so many souls.
When the reigning pope himself imagines, as Pope Francis does, a Christ that is stripped of His Divine glory, and a Christ whose Resurrection is in some way lacking in majesty; i.e., when the temptation to overlook the divinity of Christ takes hold even in the slightest in the mind of His Vicar, and this temptation creeps its way into his words and deeds, this is what it means for the Church flirt with suicide.
How so?
The divinity of Jesus Christ is the very Life of the Catholic Church!
Apart from a solid embrace of the Divine Life of Jesus Christ, the Church is imagined to be, and is treated in practice, as but a human organism; an organization with a mission that is earthbound, focusing on man's temporal needs and his natural ends, to the near exclusion his spiritual needs and his supernatural ends.
It is then that the disciplines of our Holy Catholic faith, in the eyes of the doubters, begin to take on the appearance of mere rules and regulations; internal ordinances that need to be molded by experts, like Synods of Bishops, to meet the exigencies of modern men.
When this happens, the immutable doctrines of our Holy Catholic Faith are rarely presented to the world for what they truly are; namely, the timeless decrees that invite man into communion with Jesus Christ who is true God.
My friends, this is precisely the crisis that is plaguing the Church at this very moment:
A considerable number of those men who speak in the name of the Church, up to and including the pope, doubt as Peter doubted; they've lost sight of the divinity of Christ to the point where they are tempted to believe that man has become God, and thanks to their stunning lack of faith, the Church gives forth every appearance of flirting with suicide.
The evidence is all around us.
Our Lady of Fatima, ora pro nobis!