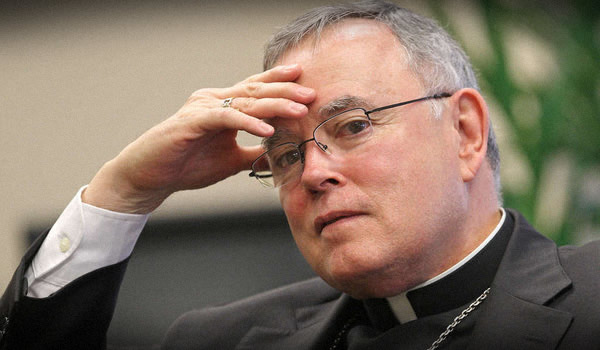 On May 27, 2015, Archbishop Charles J. Chaput, who is widely considered to be among the cream of the crop of so-called "conservative bishops" in the United States (and likely a future cardinal), delivered an address at the annual convocation of priests in the Archdiocese of Philadelphia.
Even though it was intended for an audience of American clerics, the content of that address is noteworthy for the degree to which it reflects the prevailing mindset of modern day churchmen in Rome; so much so, in fact, that a condensed version of its text was published by the Pontifical Council for the Laity.
Below are some excerpts that aptly reveal the nature of the crisis that currently plagues the Church; a case of ecclesial amnesia wherein our leaders have largely forgotten, not only who they are, but also the identity of Holy Mother Church herself.
Pope Francis stirs the hearts of a great many Catholics, and his visit will create an opportunity to renew the local Church … But material health means nothing for a Church, unless it sets the stage for something more important: renewing the heart and spirit.

That is the issue before us in the months and years ahead: How can we help that deeper renewal to happen?
Setting aside for the present discussion the conveniently overlooked fact that Pope Francis, more than anything else, stirs division and confusion, one finds in Archbishop Chaput's words the impoverished post-conciliar mindset wherein the Church is viewed almost exclusively as a human institution; one that is ever in need of some ill-defined "renewal."
Gone are the days when our bishops, much less our popes, plainly speak of the Holy Catholic Church as being, first and foremost, that "perfect society, founded by Christ, with the task committed to her by God of teaching, ruling, and guiding mankind to eternal bliss" (cf Pope Pius XI, Quas Primas).
Likewise, these men no longer seem to believe, much less are they willing to preach, that this "perfect society, far excelling every other, is enjoined by her Founder that for the salvation of mankind she is to contend 'as an army drawn up in battle array'" (cf Pope Leo XIII, Sapientiae Christianae).
This ecclesial awareness either altogether gone or duly ignored, all that remains to be preached is an organization made up of imperfect human beings not unlike those who have yet to enter her.
That is why men like Archbishop Chaput falsely imagine that the Church's material resources have meaning only insofar as they serve the ambiguous cause of perpetual internal "renewal."
In the process, the primary duties of the bishop (and by extension his priests); namely, that of teaching, sanctifying and governing God's people unto salvation – activities ordered toward accomplishing the mission of the Church such as it was given to her by Christ the King – take a back seat to far more earthbound endeavors.
Archbishop Chaput, for example, attempted to explain how this elusive "deeper renewal" can be accomplished by sharing the preliminary results of research conducted on behalf of the Archdiocese of Philadelphia.
Not surprisingly based upon what has been said thus far, the research project he described sounds more like a "customer satisfaction" survey proper to a secular organization interested in recruiting and retaining members than the self-evaluation of a Church divinely instituted to convert the world to Christ.
Over the past year, the national Barna Research Group did a demographic and attitude study of Catholics across the five Pennsylvania counties of the Archdiocese of Philadelphia. They interviewed — in depth — more than 400 parishioners. Barna also talked with 30 key archdiocesan stakeholders; in other words, major contributors, senior pastors and key pastoral staff.
According to Archbishop Chaput, a person need only attend Mass at least once a month and go to confession just once a year in order to qualify for the survey.
As for self-described Catholics who did not meet that threshold:
Barna tried to get as much information as possible about why they left or were alienated from the Church.
Notice the shift in mindset…
In healthier times, our shepherds and their priests understood well that they share "in Christ's power to deliver souls from the bondage of sin" and their "one aim and most ardent desire is to win or to secure souls for Christ (Pope St. Pius X, Haerent Animo).
They also understood that those lost sheep who rejected the call to enter and to remain in the solitary Ark of Salvation, the Holy Catholic Church, were guilty of rejecting Jesus Christ Himself. As such, they understood that the need exists to continually call the lost to conversion, while condemning whatever errors they may have embraced along the way.
Today, our shepherds give every indication of being consumed with concern for how they may have "alienated" those who chose to depart from the fold, as if the need for conversion is entirely their own.
Now, don't get me wrong; the majority of shepherds of today are most certainly in need of conversion given that so many rarely if ever preach the fullness of Christian truth with conviction and clarity.
What they apparently fail to realize, however, is that it is precisely because they have been adapting the message of salvation to the sensibilities of the world for the last fifty-plus years that the visible structures of the Catholic Church have been crumbling right before their very eyes; searching for ways to fine tune it further by surveying the opinions of the lost sheep promises only more of the same.
Our Blessed Lord didn't solicit the feelings of those who walked away from Him (see, for example, the Bread of Life discourse in John 6); rather, He always and everywhere preached the unadulterated truth in love, and so it was always perfectly clear that the need for change rested in the hearts of the people, not in the methods of the Preacher.
At any rate, the research data shared by Archbishop Chaput is rather telling just the same.
Nearly 80 percent feel their pastor is hard-working; 74 percent see their pastor as a genuine spiritual leader; 73 percent see him as caring and generous; 69 percent see the pastor as widely available to his people; and 63 percent rate him as "excellent" in his priestly service. Along with Catholic education and the social services of the Church, our priests are admired and genuinely loved by our laypeople.
In all of this, Archbishop Chaput sees reason for encouragement; I, on the other hand, see irrefutable evidence of a Church that has lost its way.
By sidling up to the world and coddling to the sensibilities of the worldly in the post-conciliar years, the Catholic Church has been reduced in large part to a cult of personality; both globally thanks to the pope-as-rock-star phenomenon ushered in by John Paul the Great Ecumenist, as well as in the local parishes for any number of reasons, not the least of which concerns the protestantization of the Mass.
In truth, it matters not one whit whether or not the faithful think that Father works hard, as if there is any value in him working harder to appear to be working hard.
As for the laity's perception of their pastor's credibility as a "spiritual leader," the focus should be precisely where Pope St. Pius X put it; namely, on the sanctity of the priest. In other words, to the degree that the priest is conformed in all things to Christ to Whom he is ontologically configured, the less he has to worry about appearances and opinions.
In the misguided Church of today, by contrast, "the customer is always right" mentality has taken hold.
Instead of asking "How can we be more like Christ in our preaching, teaching, condemnations, and rulings," the leaders of today are more apt to ask, "How can we better satisfy our consumers?"
And what are these consumers looking to obtain?
For one thing, according to Archbishop Chaput, "Catholic education and the social services of the Church."
That, apparently, is just the beginning of what the Christo-consumer of today desires most.
On the other hand, a much lower number of parishioners see their parish as a welcoming place; or as spiritually healthy; or as offering strong homilies; or as having good financial management and transparency.
At this, the path to "renewal" is becoming clearer:
We need more "welcoming" parishes that cater to the feelings of their parishioners (and one shudders to think what that might mean in this age of depravity), better homilies (which makes sense given that the New Mass was deliberately molded in the image and likeness of a protestant service) and, of course, we need to open the books to the "stockholders."
Based upon the findings discussed thus far (and some others I will not cite here), Archbishop Chaput contends that "the lesson is clear."
The Church of most U.S. priests' childhood — the parish life we all once fell in love with — is ending. And it is not coming back, at least not in our lifetimes. American culture has changed drastically in the years since many of my brother clergy were ordained. But the thinking of those of us who are pastors, both bishops and priests, often has not.

It is an odd moment for U.S. Catholics. Compared to the past, we still have ample material resources; more people and more infrastructure than St. John Neumann, the fourth bishop of Philadelphia who created the American parish school system, could ever have imagined. But the moral riptide in today's daily life – the secularized culture that shapes all of us – is also something that Neumann could never foresee.
How far we have fallen from the Church Militant described by Pope Leo XIII as "enjoined by her Founder that for the salvation of mankind she is to contend as an army drawn up in battle array!"
Keep in mind, the days-gone-by lamented by Archbishop Chaput were ever but a shadow of those that were illumined by the Church in the centuries before the Council opened her windows to the world; that is why men like Archbishop Chaput are better known as a "neo-conservative."
You see, what men such as these ultimately seek to conserve is but a fifty-some-year old novelty wherein, far from being she who shapes secular culture as she rightly passes judgment on the affairs of individuals, societies and States relative to their duty to Almighty God, even at the risk of her leaders' martyrdom, the Barque of St. Peter is imagined to be shaped by the secularized culture.
"So, what is to be done," Archbishop Chaput asks rhetorically?
We can start by understanding that the Church 20 years from now — even here in Philadelphia, which values tradition so highly — will be smaller, less wealthy, less influential and probably less free to do her work than at any time in the last century. For believers, our job, starting now, is to make sure she is also more zealous, more faithful and better led.
Don't be fooled by the call for leadership that is more zealous and faithful.
Little evidence exists that the content of the more zealous faith that Archbishop Chaput has in mind is synonymous with that which comes to us from the Apostles; the same that animated the justifiably triumphalistic conviction among ordinary Catholics concerning the Holy Catholic Church's exalted identity, her Divine endowment with all that is necessary to carry out her salvific mission, and the unique role of the sacred hierarchy in securing souls for Christ.
As it is, Archbishop Caput seems resigned to bleaker days ahead.
The Church will be very vulnerable to government interference in those of her ministries which fall outside of her core worship functions, such as her social service agencies and educational institutions.

These are sobering facts. But if we priests are who we claim to be – men ordained to serve our people in the person of Jesus Christ – they really should not distress us. This is what priests were called by God to do: to lead, to serve and to strengthen God's people.
Uh, no, Excellency, let's not beat around the bush here; men are ordained to the priesthood, and others consecrated as bishops, to win souls for Christ.
Apparently lost on Archbishop Chaput is the post-conciliar hierarchy's complicity in the matter of government interference; namely, by practically inviting the State to neglect its duty to acknowledge and serve Christ the King by their failure to clearly preach His Sovereign rights, as well as those of His Church.
With all of this having been said, at last we arrive at the all-too-predictable words of wisdom imparted to the priests of Philadelphia from the lips of their spiritual father:
A good priest loves his parishioners. He listens to their counsel, respects their abilities and adjusts his life to the needs of those he serves. He treats them as equals. He keeps them fully and honestly informed. And he also learns to live with their criticism, and to genuinely share his leadership without giving up his authority as a pastor. It can be done. Many priests already do it.
To bolster his point, Archbishop Chaput quoted Benedict the Abdicator:
He said that "[The Church needs] a change of mindset, particularly concerning laypeople. They must no longer be viewed as 'collaborators' of the clergy, but truly recognized as 'co-responsible' for the Church's being and action — thereby fostering the consolidation of a mature and committed laity."
Imagine a husband and father taking the same pathetic approach:
Children must be truly recognized as 'co-responsible' for the family's being and action… A good father loves his children. He listens to their counsel … He treats them as equals. He keeps them fully and honestly informed. And he also learns to live with their criticism, and to genuinely share his leadership without giving up his authority as a father.
Can there be any doubt that a household such as this is a household in disarray; its children destined to be devoured by the forces of evil at the hands of he who prowls about the world seeking the ruin of souls?
And so it is in the Church today.