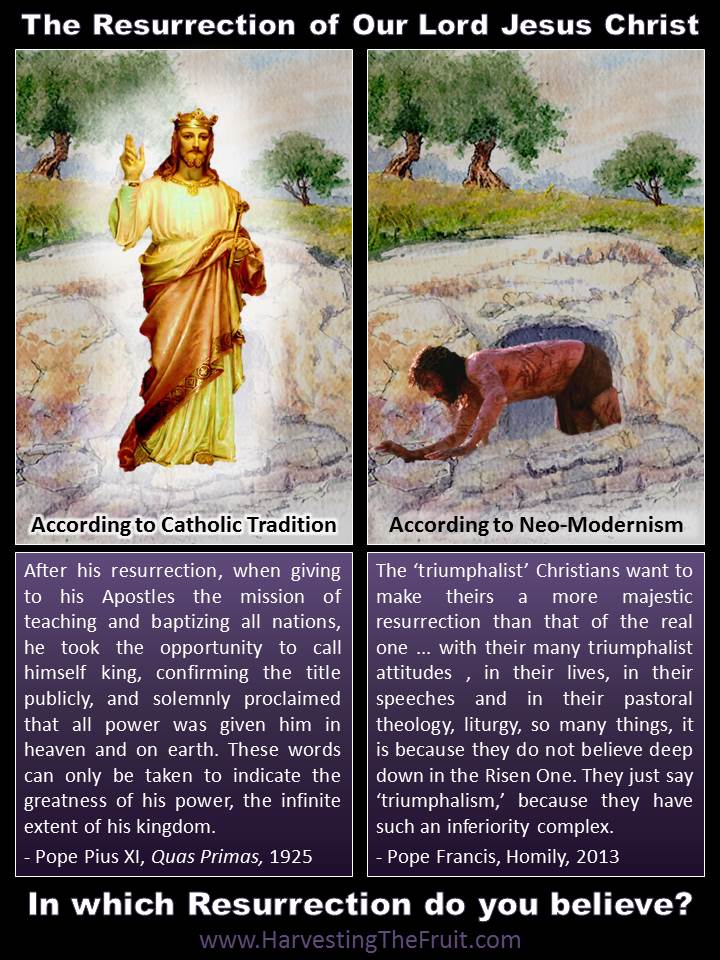 I recently re-posted the image above (created last year) on my Facebook page and it caused a little stir among some well-meaning persons who do not dare ponder exactly how it is that our pope can imagine a resurrection that is more majestic than the real one.
I understand…
It's very painful to acknowledge the fact – knowable simply by taking the Holy Father at his own word and by observing his deeds – that Pope Francis preaches a "diminished and distorted Christ."
Take for instance the pope's Urbi et Orbi message for Easter 2015.
Pope Francis begins:
Jesus Christ is risen!

Love has triumphed over hatred, life has conquered death, light has dispelled the darkness!

Out of love for us, Jesus Christ stripped himself of his divine glory, emptied himself, took on the form of a slave and humbled himself even to death, death on a cross. For this reason God exalted him and made him Lord of the universe. Jesus is Lord!
It is a fearful thing to recognize just how deficient the Christology of Pope Francis truly is, and perhaps more fearful still is considering how it informs his pontificate.
Let's be very clear; Our Blessed Lord did not "strip Himself of divine glory." Indeed, such a thing is utterly impossible!
Pope Francis is here referring to St. Paul's Epistle to the Philippians:
For let this mind be in you, which was also in Christ Jesus: Who being in the form of God, thought it not robbery to be equal with God: But emptied himself, taking the form of a servant, being made in the likeness of men, and in habit found as a man. He humbled himself, becoming obedient unto death, even to the death of the cross. (Phil 2:5-8)
This "emptying of self" is known in Catholic theology as "kenosis" (the Greek word used in Philippians) and it has been much written about and debated by the Church Fathers; particularly in combating Christological heresies like Arianism that undermine our faith in Our Lord's sacred divinity.
Far from "stripping Himself" of the divine glory that has ever belonged to the one person Jesus Christ, the glory of God was in a sense hidden in Him by the frailties He willingly assumed in taking to Himself our human nature.
The Catholic Encyclopedia states it as such:
According to Catholic theology, the abasement of the Word consists in the assumption of humanity and the simultaneous occultation of the Divinity.
Note: "Occultation" simply refers to something being obscured, hidden or blocked from view by something else.
Pope Francis, no doubt thanks in part to his mistaken image of a stripped down Christ, went on to preach an Easter message that, not surprisingly, is decidedly earthbound:
By his death and resurrection, Jesus shows everyone the way to life and happiness: this way is humility, which involves humiliation. This is the path which leads to glory. Only those who humble themselves can go towards the "things that are above", towards God (cf. Col 3:1-4). The proud look "down from above"; the humble look "up from below"…

The world proposes that we put ourselves forward at all costs, that we compete, that we prevail… But Christians, by the grace of Christ, dead and risen, are the seeds of another humanity, in which we seek to live in service to one another, not to be arrogant, but rather respectful and ready to help.
Is it true that the death and resurrection of Christ is about showing us the way to happiness; His grace ordered toward making us good little helper bees for other people?
Of course not, but this is precisely the sort of "Gospel" that emerges when one imagines that the Lord is stripped of divine glory and His resurrection somehow lacks in majesty.
Pope Francis preaches as if Our Lord provides little more than the good-deed-doer's best example of what random acts of kindness should look like. (Funny how the example Jesus provides in condemning religious falsehoods and those who hold them never seem to get cited.)
But… the pope did say that "Jesus is Lord of the universe!"
Yes he did, but missing – not just in his Easter message, but in his preaching in general – is any sense that the Lordship of Christ concerns sovereignty, power and glory.
Likewise missing is any suggestion that Our Lord's Kingdom on earth is the Holy Catholic Church, to say nothing of any clear and unambiguous call to enter her unto salvation.
In his Apostolic Exhortation, Evangelii Gaudium, for instance, the pope tells us:
Only the person who feels happiness in seeking the good of others, in desiring their happiness, can be a missionary.
Here we find Pope Francis speaking as if the mission of the Church is to make people happy, when indeed it is the salvation of souls.
This being the case, that his Easter message suggests that the Lord's death and resurrection is ordered toward showing us the way to happiness comes as little surprise; indeed, it is entirely consistent with all that preceded it, and barring divine intervention, all that is likely to follow.
In any case, at the conclusion to his Urbi et Orbi message, Pope Francis moved though a series of calls for peace; you can read them for yourself on the Vatican website linked above.
If you do, what you will find is more earthbound talk about "the international community" and building "a fraternal society respectful of the dignity of the person … the marginalized, the imprisoned, the poor and the migrants…"
What you won't find, even as the pope decried the persecution of Christians throughout the world, is encouragement unto the only thing truly capable of promoting the cause of peace; namely, conversion to Jesus Christ – not the false one who supposedly "stripped himself of his divine glory," but conversion to Him who is risen from the dead unto majesty, Christ the King.