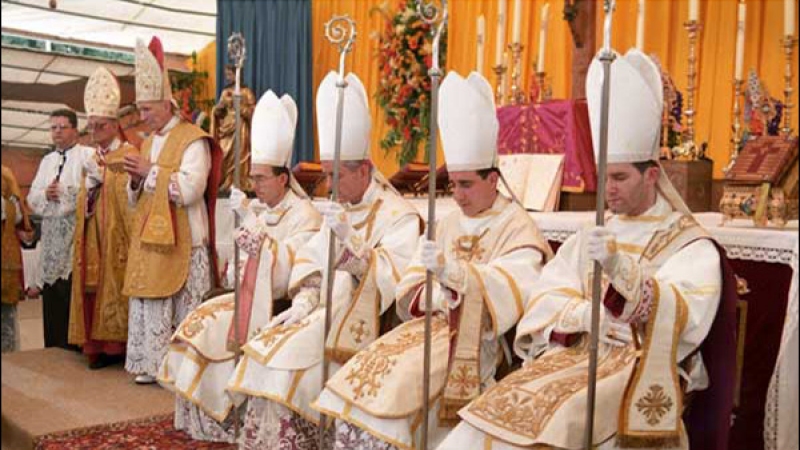 In recent weeks, the canonical status of the Society of St. Pius X once again became a common topic of discussion (and contention) in traditional Catholic media circles, or more properly stated, allegedly traditional circles.
For those unaware of what caused this latest round of debate, the details are unimportant. Suffice it to say that it has nothing to do with allegations of a sexual nature, but rather claims by some that the Society is schismatic and therefore should be treated as a pariah.
This, of course, is nothing new. In 2017, Cardinal Raymond Burke publicly stated that the SSPX is in schism. Given that he once served as the conciliar church's chief canonist and is one of neo-conservatism's most influential personalities, a firestorm naturally ensued.
After obtaining an audio recording of Burke's comments, the story was broken HERE. Following are some highlights taken from the transcript:
Burke: The fact of the matter is that the Priestly Society of St. Pius X is in schism since the late Archbishop Marcel Lefebvre ordained four bishops without the mandate of the Roman Pontiff. And so, it is not legitimate to attend Mass or to receive the sacraments in a church that's under the direction of the Priestly Society of St. Pius X.
About the four bishops that were consecrated by the archbishop, Burke said:
The requirement for having an excommunication lifted is that a person has withdrawn from his contumacy and now desires to be fully reconciled with the Church, but in fact that hasn't happened.
Burke went on to suggest that the SSPX should be encouraged to do what it must in order to be "reconciled with the Church."
The SSPX is schismatic. Its bishops are contumacious. Stay away from their liturgies. Refuse their sacraments. They need to be reconciled with the Catholic Church.
These are gravely serious charges, and they were no doubt taken to heart by many sincere, truth-seeking Catholics who know no better.
So, how did "traditional" Catholic media respond?
Answer: Its members responded as they have always responded to such ludicrous allegations; they defended Catholic tradition. They pointed out that to be separated from the error-ridden cesspool otherwise known as conciliar Rome is not only the opposite of schism, it is required of anyone who desires to hold fast to the one true faith.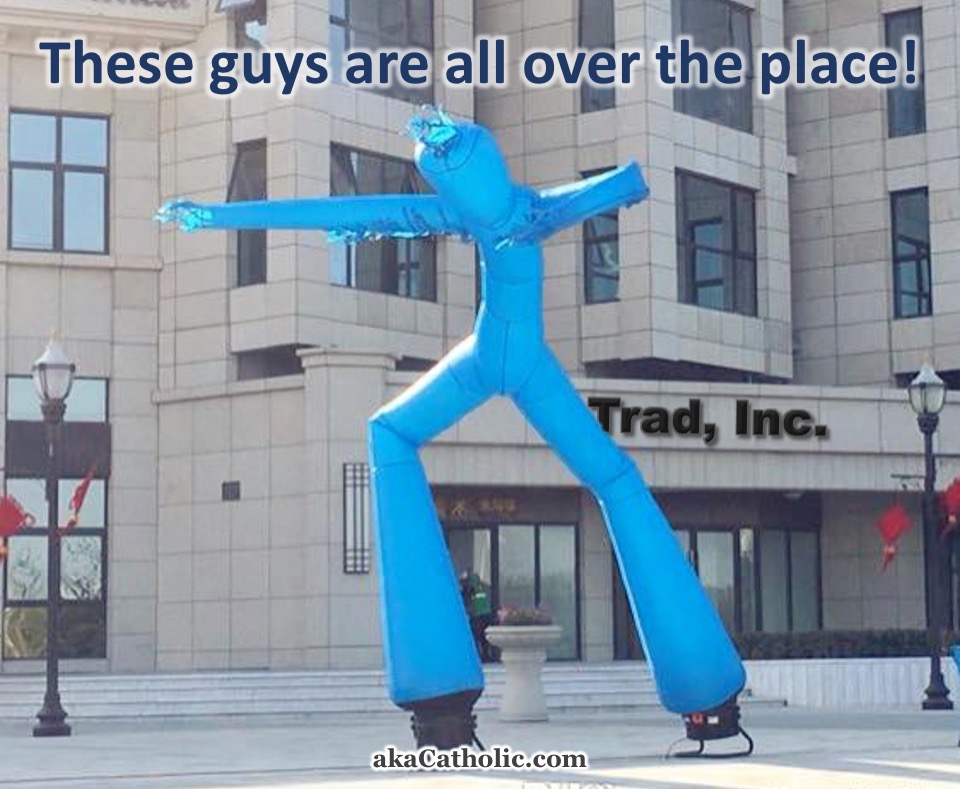 As for Trad, Inc., their media personalities responded by straddling the fence, as men with neither testicles nor convictions are evidently rather comfortable doing. Among them, two in particular stand out – Steve Skojec of 1Peter5 and Michael Matt of the Remnant.
Skojec, at least as far as I can tell, didn't directly address Burke's comments. He had, however, already gone on record declaring his agreement with Cardinal Muller who said that "the SSPX [is] still in de facto schism," as if such a canonical status actually exists.
In fact, Skojec even called it "an interesting new category." So much for tradition. You can't make this stuff up!
He went on to justify his non-position – one that allows him to claim at one and the same time, "I didn't say the SSPX is in schism! I didn't say they're not in schism!" – writing:
After all, with whatever justification, the SSPX does not have any recognition in Rome or throughout the world-wide churches which are in unflawed communion with the Holy Father.
Ah, yes, the "recognition" of Modernist Rome, the same that gave us the Second Vatican Council, the Novus Ordo and Jorge Bergoglio. That would settle the matter! Is there even a shred of cogent traditional thinking in that weak-kneed proposition?
More recently, on April 27, Skojec weighed in on "the status and theological positions of the Society of St. Pius X" with an equally pathetic non-response.
We'll come back to that momentarily, but before we do, let's consider the other notorious fence-straddler: Michael #UNITEtheNEOCONS Matt.
As far as I can tell, Mike has refrained from weighing in on the latest "SSPX is schismatic" dust-up. He had plenty to say about it, however, when Burke unjustly and publicly maligned the Society. In fact, he leaped into the fray in order to offer a passionate defense, not of Catholic tradition, but of the roaring lion of conciliar neo-conservatism:
There's a little bit of an attack going on our buddy Cardinal Burke. I just think it's really unfortunate … Burke is under a lot of, taking a lot of heat from some of our brother traditionalists for saying that the Society Saint Pius X is in schism still, which of course I don't accept.
Great, but that's just one side of the Remnant fence. 
Cardinal Burke is a Pope Benedict guy, if you will, he believes in the Second Vatican Council, he believes the Second Vatican Council can be interpreted in light of tradition. 
Indeed! Burke is a man-of-the-Council through and through. He uses his considerable influence to lead souls away from Catholic tradition, as evidenced by his attack against Archbishop Lefebvre and the Society that he established. And yet, in spite of this, here's how Michael Matt chooses to use his own influence:
Certainly, my friends, when it comes to Cardinal Raymond Burke, we have a fellow traveler there. 
A fellow traveler on the road to where, the conciliar church-of-man? No thanks, Mike. He goes on:
He's chiefly concerned about schism, but in any case, it is Cardinal Burke's job to be concerned about schism; that's what he does. And now, again, I disagree with him with respect to the Society of Saint Pius X's schism, but I don't disagree with the sentiment. 
If you've never before heard of a canonical judgment called the sentiment of schism, there's a reason; it no more exits than de facto schism, each of which is a linguistic copout worthy of a slippery politician focused on widening his base, or, as the case may be, a FAKE traditionalist focused on filling his Big Tent (and his bank account).
Matt concluded his sentimental journey saying:
Let's let Cardinal Burke concentrate on the formal correction that we're all still hoping and praying is coming … So much depends on what he does next.
How'd that one work out for ya, Mike? Clearly, depending on Burke for anything in the cause of Catholic tradition is like counting on Bill Gates in the fight against coronavirus.
Now, back to Skojec: His position on the SSPX having matured over the last five years like a bottle of Boone's Farm Pink, this past Monday, he revealed "the best conclusion I can come to…" regarding the status of the SSPX, and it's just as one might expect:
All arguments aside, only Rome can settle the matter, and Rome has obstinately refused to do so. My own suspicion is that Rome is caught in a paradox of its own making: condemn the Society, and it condemns its own patrimony and perennial teaching; regularize the Society, as it is, and Rome is tacitly admitting that there is much wrong with the Second Vatican Council and the failed experiment that is the post-conciliar Church.
The "patrimony and perennial teaching" of Modernist Rome is perfectly clear to all but the FAKEST of traditional Catholics. And yet, once again, Skojec is happy to ride the fence like Gene Autry on Champion the Wonder Horse while deferring to their august judgment.
In other words, he's claiming, It's above my bloated pay grade! Once again, it's all about having it both ways: See, neo-cons, I deferred to the authorities in Rome! See, trads, I was critical of the authorities in Rome, and I even took a shot at the Council!
The reason Skojec so often travels this duplicitous road (e.g., as in the case of Bishop Sheen) should be obvious enough: Playing both sides an issue, or tapping out altogether, comes without cost, dignity aside.
Speaking up like a man with Catholic conviction, by contrast, is all but certain to upset at least some of the donors that allow Steve to compensate his fine stable of highly educated and talented writers, each of whom has bills to pay and families to feed of their own. (At least one assumes that he compensates them for their invaluable work, apart from which the 1P5 cash cow will cease to produce milk, right?)
Long story short, folks, the SSPX is far from perfect – theologically, morally or otherwise. One need not look very hard on this blog to find my criticism of them on any number of issues. They're also quite obviously not in schism, and when claims that they are get tossed about, very often the FAKES of traditional Catholic media end up showing their hands.
Debate about the status of the SSPX is far from being the only litmus test for fakery in this field, but it's a damned good one. The results are in. Do with them what you will.