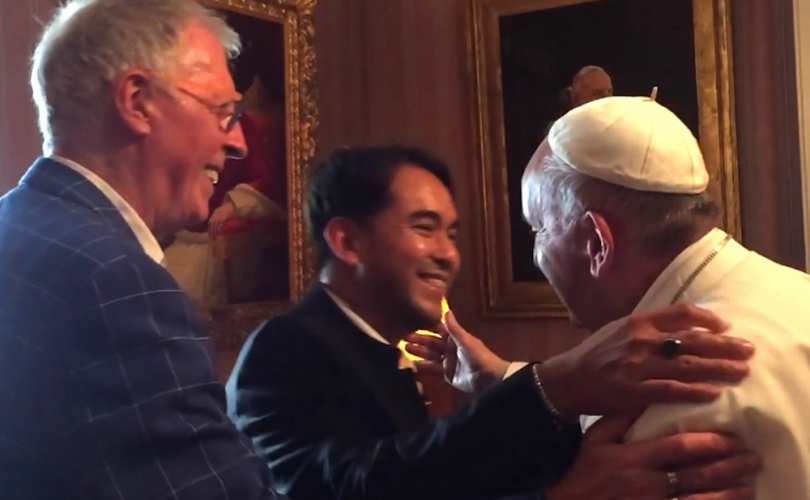 In the most recent edition of that dreadful "Pope Video" series, wherein Jorge Bergoglio plays himself (a non-Catholic humanist), the star of the show (stage name, "Francis") encourages the following:
A lengthening of horizons, a widening, for so many people…
Immense possibilities for encounter and solidarity…
A place not of alienation … a concrete place, a place rich in humanity…
Inclusiveness which respects others for their differences…
Is it merely coincidental that the so-called "Pope Video" installment for June – or what gay activists call "Pride Month," a worldwide 30 day public celebration of homo-debauchery – employs a host of LGBT buzzwords?
Maybe. Then again, maybe not.
From the earliest days of the Bergoglian reign of terror, Vatican homo-scandals haven't exactly been rare: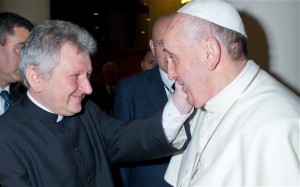 The appointment of Msgr. Battista Ricca (right) as prelate of the Vatican Bank, the "who am I to judge" firestorm, the pro-homo interim Extraordinary Synod report, Francis welcoming a gay couple at the Vatican embassy in Washington (see photo at top of page), the quickly hushed cocaine fueled gay sex orgy story, Francis' recent comments (alleged, never denied) telling a clergy sex abuse victim he was born gay, etc.
Oh, yeah, and then there's the disappearance of that 300 page dossier reportedly detailing a Vatican gay lobby that Benedict forwarded to Bergoglio upon his departure.
Sure, it may be coincidence that Francis offers soundbites – during "Prude Month" no less – that could easily be attributed to an LGBT activist rallying the troops at a gay pride parade.
This is probably merely coincidental as well:
Be purposefully inclusive as you share diverse stories and voices that can connect people to the common ground we share. Showing respect for another person's journey encourages them to continue further down that road. Focus on common values, not differences in religious beliefs.
No, that's not Francis speaking, those are excerpts taken from Overall Approaches for LGBT Equality – a publication of Gay & Lesbian Alliance Against Defamation (GLAAD).
Funny, isn't it? Apart from attribution, it's almost impossible to distinguish the prayer intentions of the "pope" (if you will allow) from a statement issued by an LGBT activist group.
Has to be coincidence. Right?