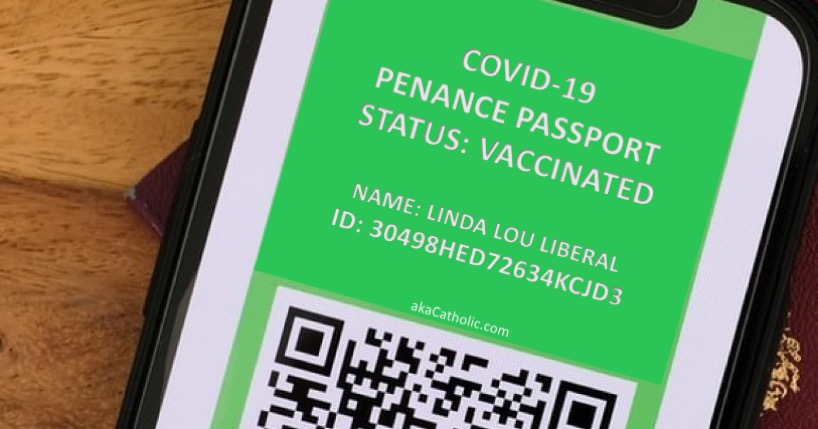 Catholic social media has been all abuzz in recent days over a NJ parish, Church of the Precious Blood in Monmouth Beach, that had issued the following announcement on its website over the weekend:
Confessions Are Now Available for Those Who Are Vaccinated
Only those vaccinated may come to the Sacrament of Penance in order to protect yourself, and more importantly, to protect others in case you are asymptomatic and contagious.
Penance Passports. What a concept! Following the uproar that predictably ensued, the policy was swiftly changed, with the Diocese of Trenton announcing via Twitter on Monday afternoon:
The Diocese has contacted the pastor in question and the parish website has been updated to allow for all those seeking Confession, regardless of vaccination status.
Certain stipulations, however, remain. According to the parish's new policy:
Now that Fr. Mike has been vaccinated, the Sacrament of Penance will be available in two ways: 1. For those who have not been vaccinated, in the sanctuary of the church, face to face. 2. For those who have been vaccinated, in the confessional where confession can take place anonymously.
If I was still in my neo-conservative, Novus Ordo adolescence, I would be very tempted to occupy the confessional at this church, only to conclude by confessing that not only have I not been vaccinated, I'm not feeling especially well at the moment… cough, cough.
Something tells me that if I did, "Fr. Mike," the pastor, would break that confessional seal before you could shout Gay is OK!   
Yup – surprise, surprise – Church of the Precious Blood has itself a thriving LGBT ministry that, according to its website, "supports lesbian, gay, bisexual and transgender (LGBT) Catholic persons." And if you think that "support" includes encouraging abstinence, chastity and penance, think again; they've also earned a place on New Ways Ministry's list of "LGBT-Friendly Parishes."
This being so, no one will be shocked to learn that they've also been actively participating in local gay pride events for some years now. Nor would anyone be floored to discover that, in May of 2017, Church of the Precious Blood organized an "LGBT Pilgrimage" to the cathedral in neighboring Newark where participants were warmly greeted by Cardinal Joseph "Nighty-Night" Tobin.
So, what does homo-activism and COVID hysteria have in common?
Both are fruits the same evil tree; each is diabolical.
That the former is of the Devil is obvious enough, but so too is the latter, driven as it is by irrational fear, which is among the Evil One's weapons of choice. As Aquinas teaches:
Hope differs from fear, which is of evil. (ST II, q. 40, a. I) … If fear increases so much as to perturb the reason, it hinders work even on the part of the soul.(ST II, q. 44, a. 4)
As such, it only makes sense that Sacred Scripture is so full of exhortations to fear not, be not afraid, let not your heart be troubled, be not anxious, etc. As fear can rob one of reason, likewise can it serve to darken the intellect, one of the wages of sin.
So, to the question Can COVID hysteria endanger one's soul? we cannot but conclude that the answer is yes, it most certainly can.
It is for this reason that I find it all the more disturbing when I encounter an otherwise serious Catholic who has succumbed to this irrational fear – avoiding personal contact even among loved ones, compulsively masking and insisting others do the same, neurotically sanitizing surfaces, etc., often while looking with anger and resentment upon those who fail to do likewise.
Take stock and be honest with yourself, dear reader. If this describes you, even in part, beware; you are treading upon a very slippery slope.