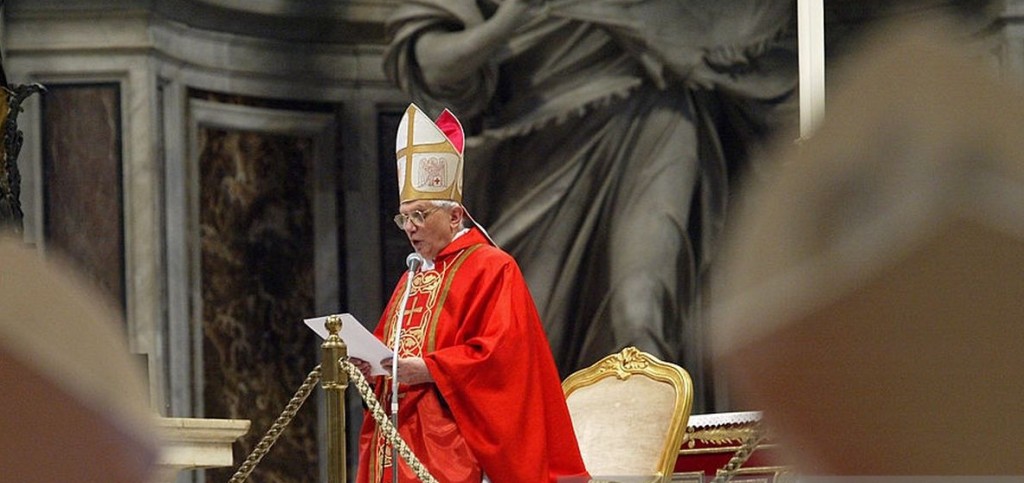 The message sent by Benedict to be read aloud at the funeral of Cardinal Meisner is generating a great deal of buzz in Catholic circles, and for good reason.
Even so, some very important aspects of the text don't seem to be getting nearly enough attention. Before we get to that, however, let's take a moment to consider just how extraordinary this situation truly is.
We have good reason to believe that Benedict is a man "under wraps," if you will. One might even suggest that he is being held captive to some extent.
Yes, I know… It sounds like a Dan Brown novel, but let's not forget yet another bombshell that Benedict managed to lob into the public record; this one dated October 2014.
Recall that Benedict had responded by letter to an invitation that he received to participate in a Pontifical High Mass as part of a Summorum Pontificum pilgrimage in Rome.
"My state as a 'cloistered monk' does not allow me a presence that is also exterior. I leave my cloister only in particular cases, [when] personally invited by the Pope."
Get that?
Benedict plainly, albeit cleverly, informed the world that he is not "allowed an exterior presence" unless personally invited by Francis. Not allowed!
This is a far cry from what Benedict said just 20 months earlier when he announced his resignation:
"With regard to myself, I wish to also devotedly serve the Holy Church of God in the future through a life dedicated to prayer." (Benedict XVI, February 11, 2013)
How did we get from choosing "a life dedicated to prayer" to becoming a "cloistered monk" who can only leave his cloister when personally invited by the Pope?
The solitary conclusion that can be drawn from this is that the veritable imprisonment of which Benedict spoke isn't his own idea; it had to have come from his "superior," that is, Francis himself.
Let's be clear:
Benedict is not one to shoot from the hip. He chooses his words carefully. Of this we can be especially certain when it comes to a written text, and this applies to both the letter of 2014 and the one that we're about to discuss.
With this in mind, let's now take a closer look at the message that was read aloud at Cardinal Meisner's funeral.
First, it seems obvious that the two men had a close relationship and spoke rather regularly. We are told, in fact, that they had spoken just the day before the cardinal died.
Benedict further relates:
"What particularly impressed me from my last conversations [NOTE: plural] with the now passed Cardinal was the relaxed cheerfulness, the inner joy and the confidence at which he had arrived."
From the content of the message, one gets the impression that the two men had a "fraternal" relationship.
Benedict went on to relate concerning their final conversation that Cardinal Meisner was pleased to be on vacation. This is just the kind of thing one might expect to come up when good buddies shoot the breeze, right?
Sure, but don't be fooled.
In spite of however many years their friendship went back, Cardinal Meisner was "old school" enough that there is little doubt that he saw his relationship with Benedict primarily as one of Holy Father and son.
In other words, Benedict was someone from whom the cardinal could seek guidance, and we can be certain that it was always carefully considered when given.
Note that Benedict wrote of the cheerfulness, joy and confidence at which Cardinal Meisner had arrived.
Evidently, he was Meisner's confident even prior to this point; presumably in the lead up to the dubia.
One wonders what kind of advice, if any, Benedict may have given to Cardinal Meisner in those days…
We can only speculate, of course, but two things seem very unlikely:
Firstly, that Meisner would have failed to seek Benedict's counsel before participating in the dubia, and secondly, that he would have added his name to the text had Benedict counseled against it.
At this, we come to the money quote:
"What moved me all the more was that, in this last period of his life, he learned to let go and to live out of a deep conviction that the Lord does not abandon His Church, even if the boat has taken on so much water as to be on the verge of capsizing."
I get the sense that Benedict may have been speaking of himself to some extent – learning to let go in this last period of life; arriving at a place of relaxed cheerfulness, inner joy and confidence in spite of the unprecedented turmoil in the Church (to say nothing of one's own contribution to it).
Either way, I think it's safe to say that Benedict had a hand in leading his son, Cardinal Meisner, to this point of resignation (no pun intended).
Before we discuss the capsizing Church and the extent to which it represents a cleverly delivered critique of Captain Bergoglio, I'd like to focus on that portion of the text that was read just prior as it is critically important:
"The Church stands in particularly pressing need of convincing shepherds who can resist the dictatorship of the spirit of the age and who live and think the faith with determination."
Dictatorship…
Again, let us be certain that Benedict has chosen his words very carefully.
With this in mind, it would seem rather obvious, to me at any rate, that Benedict is calling our attention back to the now-famous words that he had spoken in his homily for the Pro Eligendo Romano Pontifice, the Mass for the Election of the Roman Pontiff, offered just prior to the conclave of 2005 that elected him pope.
"Relativism, that is, letting oneself be 'tossed here and there, carried about by every wind of doctrine,' seems the only attitude that can cope with modern times. We are building a dictatorship of relativism that does not recognize anything as definitive and whose ultimate goal consists solely of one's own ego and desires."  

In this, Benedict – a veritable "cloistered monk" beholden to the whims of his "superior" – is providing a masterclass in Romanitas. He is telling all with ears to hear what he really thinks of the Bergoglian enterprise!
It seems clear to me that this text was not, as one might expect, properly vetted by Bergoglio's operatives prior to being read. Might someone's head roll as a result; perhaps even that of Georg Ganswein? We shall see…
In any case, it is no coincidence that we were invited to reconsider, in light of current events, that portion of Cardinal Ratzinger's 2005 homily wherein he spoke of being "tossed about," and this just prior to his comment concerning the Church of today being like a boat on the verge of capsizing.
(See, continuity can be useful!)
It is helpful to know that this imagery is Scriptural in a twofold sense.
In 2005, then Cardinal Ratzinger was referring to St. Paul's Epistle to the Ephesians:
That henceforth we be no more children tossed to and fro and carried about with every wind of doctrine, by the wickedness of men, by cunning craftiness by which they lie in wait to deceive. (Eph. 4:14)
At that time, the soon-to-be Pope Benedict XVI was speaking of "dictatorship" as that worldly point of view opposed by the Church. He immediately went on to describe this opposition thus:
"We, however, have a different goal: the Son of God, the true man … a mature adult faith is deeply rooted in friendship with Christ. It is this friendship that opens us up to all that is good and gives us a criterion by which to distinguish the true from the false, and deceit from truth."
In 2017, by contrast, Benedict is calling our attention back to his words of 2005 while speaking of the present state of affairs inside the Church. He is telling us that the "dictatorship" has entered her very bosom.
Yes, I understand, it entered primarily via the Almighty Council; a point lost on men like Benedict, but be that as it most certainly is, his indictment of Dictator Bergoglio stands.
Wicked, crafty, cunning, lying in wait to deceive… A man who does not recognize anything as definitive and whose ultimate goal consists solely of one's own ego and desires.  
Is this not a fitting description of he who masterminded the Synods in order to pave the way for Amoris Laetitia?
As I stated, the seafaring imagery under discussion is Scriptural in a twofold sense. The second concerns the Church as a boat that has taken on so much water as to be on the verge of capsizing.
And behold a great tempest arose in the sea, so that the boat was covered with waves, but he was asleep. And they came to him, and awaked him, saying: Lord, save us, we perish. And Jesus saith to them: Why are you fearful, O ye of little faith? Then rising up, he commanded the winds, and the sea, and there came a great calm. But the men wondered, saying: What manner of man is this, for the winds and the sea obey him? (Matthew 8:24-27)
From this, we can glean a couple of things.
One, in the eyes of the world, the Church is fast crumbling to the point of irrelevancy; so much so that her detractors are moved to taunt the faithful in the manner of the Pharisees:
Your Church is beaten and bloodied. Where is your Lord now; sleeping?
Through the eyes of faith, however, while we recognize the severity of the ecclesial crisis as much or more than anyone, we know that it only appears as if Our Lord has left us to perish. We know that He is ever the true Head of His Church, and He will not let her fail.
More specifically as it concerns Dictator Bergoglio, this scene from the Gospels is highly relevant.
In the interest of space, I invite you to read (or reread as the case may be) the following post from June 2015: The Church will doubt as Peter doubted…
There you will find a treatment of Our Lady's warning as given at Fatima and the commentary of Cardinal Eugenio Pacelli (the future Pope Pius XII) concerning it:
"This persistence of Mary about the dangers which menace the Church is a divine warning against the suicide of altering the Faith, in Her liturgy, Her theology and Her soul … A day will come when the civilized world will deny its God, when the Church will doubt as Peter doubted. She will be tempted to believe that man has become God."
In the above-mentioned scene described in Matthew's Gospel, Bergoglio is represented (if you will allow) by Peter who is among those who ask of Jesus, What manner of man is this?
Long story short, he knows that Jesus is a man, but he doubts that He is God.
As I argue in the post linked above, the entire Bergoglian menace rests upon just such a Christological heresy; namely, doubt concerning the divinity of Jesus Christ.
In conclusion, it seems as if the most profound aspect of Benedict's message as read at the funeral of Cardinal Meisner has been overlooked by many:
Having painted this dreadful and stunningly accurate portrait of the Dictator Bergoglio, Benedict issued a call directed at the entire episcopate:
"The Church stands in particularly pressing need of convincing shepherds who can resist the dictatorship…"
Bishops of the world, are you listening?