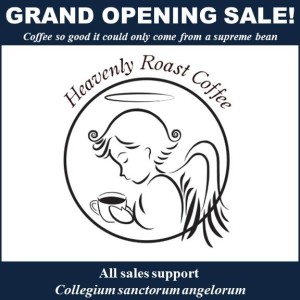 Last month I posted an interview with Deacon Ed Schaefer – Where are the traditional Catholic colleges? – wherein we learned about his plans to open a traditional Catholic college, Collegium sanctorum angelorum, that is fully committed to offering higher education; with the primary mission being to prepare students for heaven.
Some of the questioning concerned finances and how this laudable venture might be made affordable for ordinary people. Part of the answer, as Deacon Schaefer told us, will be income derived from a retail venture called, Holy Angels Ministries.
"It will be a thrift store, an ebay outlet, a salvage operation, a specialty religious goods store, and an outlet for Heavenly Roast Coffee, the most amazing imported coffee you have ever tasted," he said.
Well, Heavenly Roast Coffee is up and running and today is their Grand Opening.  I encourage you to visit their site (by clicking on the image above / left or on the right sidebar) to do a little Christmas shopping (or shopping for your own pantry). All of the sales benefit the college!
Please pass this info along to your family and friends as well – even those that are not so-called "traditionalist" – aka Catholic. (Forgive me. I can't help myself!)
Collegium sanctorum angelorum will meet a real and pressing need. I think all of us recognize that. Now let's see if we can help bring it to fruition.