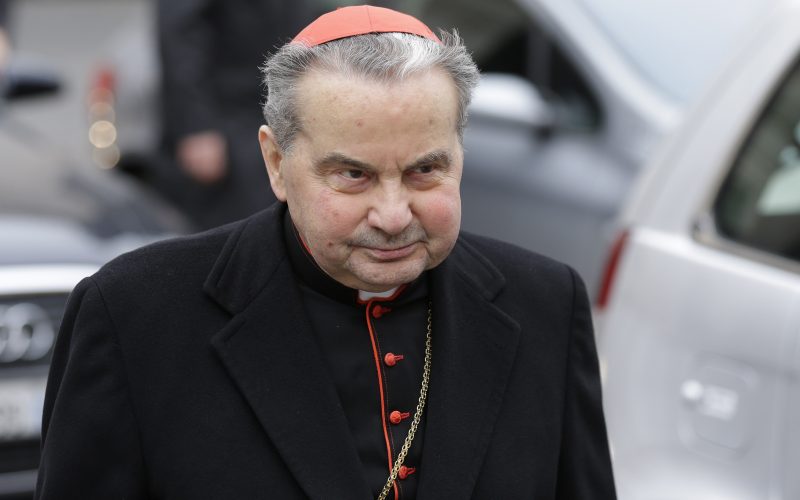 To those who are still hoping against hope that Francis will answer the now-famous dubia, I am able to state with complete confidence:
Look for a response from Francis in June.
No, not six months from now, but rather six months ago – in June of 2016.
You see, on May 25, 2016, the Italian Catholic media outlet, La Nuova Bussola Quotidiana, published a bombshell interview with Cardinal Carlo Caffara wherein he launched what was by far the most noteworthy warning shot ever fired in the direction of Francis and Amoris Laetitia to that date.
In the interview, Cardinal Caffara, one of the four cardinal-authors of the now-infamous dubia, flatly rejected the idea that "there is room for access to the sacraments for the remarried divorced," stating rather bluntly:
He who lives a state of life which objectively contradicts the sacrament of the Eucharist, cannot receive the sacrament.
What's more, he went directly after the text of Amoris Laetitia (and to no small extent, its author as well), saying, "Marital fidelity is not an 'ideal' to be achieved" – a concept put forth in the exhortation more than a dozen times.
Cardinal Caffara continued, stating in no uncertain terms, "Chapter 8 [of Amoris Laetitia] is, objectively, unclear."
He then went on to offer what can only be understood as a public rebuke of Francis, albeit in the manner of one proficient in Romanitas:
Chapter 8 is, objectively, unclear. How else to explain the 'conflict of interpretations' ignited even among bishops? When that happens, you should check whether there are other Magisterial texts that are more clear, keeping in mind this principle: in matters of doctrine, of faith and morals, the Magisterium cannot contradict itself. One must not confuse contradiction with development.
This criticism is far more pointed and personal than it may initially appear.
On April 16, 2016, roughly one week after Amoris Laetitia was officially released, a journalist on the return flight to Rome from Lesbos asked Francis whether or not there has been any change in the discipline concerning reception of the sacraments by the divorced and remarried.
He responded:
I could say yes, period. But that would be too brief a response. I recommend that all of you read the presentation made by Cardinal Schönborn, a great theologian … Your question will find its answer in that presentation.
On May 19, just days prior to the Cardinal Caffara interview, it was reported on the website of the Latin American Bishop's Conference (CELAM) that Francis had similarly informed a delegation of their cardinals and bishops that Cardinal Schönborn's presentation is "the best guide for understanding" Amoris Laetitia – Chapter 8.
So, what exactly transpired during this presentation?
A reporter asked Cardinal Schönborn whether or not Familiaris Consortio – paragraph 84 is still valid in light of Amoris Laetitia.
For clarity, recall that Familiaris Consortio 84 states in part:
The Church reaffirms her practice, which is based upon Sacred Scripture, of not admitting to Eucharistic Communion divorced persons who have remarried. They are unable to be admitted thereto from the fact that their state and condition of life objectively contradict that union of love between Christ and the Church which is signified and effected by the Eucharist. (FC 84)
As for the on-going validity of this practice which is based upon Sacred Scripture in light of Amoris Laetitia, Cardinal Schönborn said (as reported in the Jesuit publication, America Magazine):
The Austrian cardinal describes Francis' opening as "a classic case" of "the organic development of doctrine." He explained that here "there is not a change [of doctrine]," but there is "the organic development of doctrine," along the lines that John Henry Newman had envisaged. He recalled that just as John Paul II had "developed doctrine" in "Familiaris Consortio," so, too, Francis has done the same in "Amoris Laetitia."
With this in mind, the explosiveness of Cardinal Caffara's take down is far more obvious:
"…you should check whether there are other Magisterial texts that are more clear, [an obvious reference to Familiaris Consortio] keeping in mind this principle: in matters of doctrine, of faith and morals, the Magisterium cannot contradict itself. One must not confuse contradiction with development."

There can be no doubt whatsoever that this bombshell, wherein Cardinal Caffara leveled a clearly discernible charge against both Schönborn and Francis (that of contradicting doctrine) shook the very walls of the Vatican.
So, how did Francis respond?
He employed one of his go-to weapons; insults carefully woven into a Santa Marta homily.
Before we get to that, however, let us recall that the question posed to Cardinal Schönborn (as noted above) is essentially the first one posed in the dubia:
Dubium #1: It is asked whether, following the affirmations of Amoris Laetitia (300-305), it has now become possible to grant absolution in the sacrament of penance and thus to admit to holy Communion a person who, while bound by a valid marital bond, lives together with a different person more uxorio without fulfilling the conditions provided for by Familiaris Consortio, 84, and subsequently reaffirmed by Reconciliatio et Paenitentia, 34, and Sacramentum Caritatis, 29. Can the expression "in certain cases" found in Note 351 (305) of the exhortation Amoris Laetitia be applied to divorced persons who are in a new union and who continue to live more uxorio?  
And now for the answer:
On June 9, 2016, less than two weeks after the Caffara interview was detonated, Francis gave what by now is an all-too-familiar response (as reported by Vatican Radio):
Pope Francis warned on Thursday against an excessive rigidity, saying those within the Church who tell us "it's this or nothing" are heretics and not Catholics.

In his homily the Pope reflected on the harm caused by Churchmen who do the opposite of what they preach and urged them to free themselves from a rigid idealism that prevents reconciliation between each other.
For those with ears to hear, this is an insult leveled directly at the "Caffaras" in the Church, and a call for them to embrace the brilliance of the "Schönborns," who, after all, are "great theologians."
Francis continued:
This (is the) healthy realism of the Catholic Church: the Church never teaches us 'or this or that.' That is not Catholic. The Church says to us: 'this and that' … It is not Catholic (to say) 'or this or nothing:' This is not Catholic, this is heretical.
Not content to berate those who, like Cardinal Caffara, recognize the "yes/no" nature of certain moral precepts, Francis then took aim at Jesus Christ Himself by distorting His teaching:
Jesus always knows how to accompany us, he gives us the ideal, he accompanies us towards the ideal, He frees us from the chains of the laws' rigidity and tells us: 'But do that up to the point that you are capable.' And he understands us very well.  He is our Lord and this is what he teaches us."
Recalling Cardinal Caffara's  unequivocal denunciation of claims made in Amoris Laetitia, (e.g., "Marital fidelity is not an 'ideal' to be achieved"), this reference to an "ideal" that Jesus supposedly gives us is quite obviously deliberate.
Francis concluded his rant-disguised-as-a-sermon:
And allow me to use this word that seems a bit strange: it's the tiny sanctity of negotiations. 'So, I can't do everything but I want to do everything, therefore I reach an agreement with you, at least we don't trade insults, we don't wage a war and we can all live in peace.' Jesus is a great person! He frees us from all our miseries and also from that idealism which is not Catholic.
So there you have it folks…
While this is far from Francis' only answer to the dubia, it is perhaps rightly considered among his first, and it may be summed up as follows:
The idea that "he who is not with me is against me" is far too rigid. So too is the notion of letting one's "speech be yea, yea: no, no: and that which is over and above these, is of evil." Likewise is it merely idealism to believe that "Whosoever shall put away his wife and marry another committeth adultery against her."
As such, no more are we to understand the Divine Law in such black-and-white terms as "this or that;" rather, we are invited to "negotiate" with the law giver, because, after all, he's such "a great person."
And here you thought He was Emmanuel, God with us, King of kings, and Lord of lords.