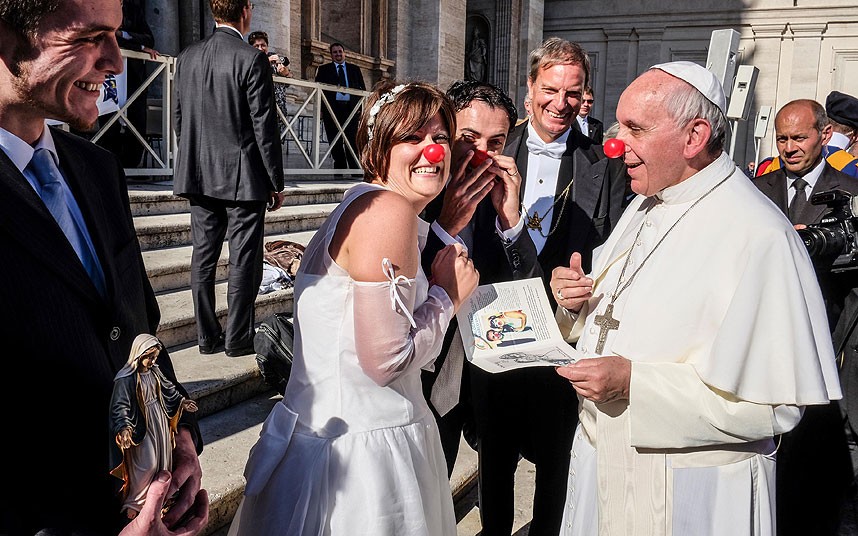 In September 2013, Pope Francis shocked the world by sending a letter to Eugenio Scalfari, publisher of the liberal Italian journal, La Repubblica, in response to questions the atheist journalist had raised in one of his editorials.
(Embarrassing for its lack of Catholic character, the Holy Father's letter is available in seven languages on the Holy See website.)
Is it too much to imagine that Pope Francis might somehow catch wind of the following list of questions and perhaps deign to offer some answers?
Sure, but given that we have a pope who, in addition to sending letters-to-the-editors of secular newspapers, has also been known to place surprise telephone calls to transsexuals and adulterers, one never knows…
Dear Pope Francis,
Why, immediately upon assuming the throne of St. Peter, did you eschew all manner of things papal?
Why, on the first full day of your pontificate, did you deliberately refrain from making the sign of the Cross before a large gathering assembled in Paul VI Hall?
Why do you struggle to refer to yourself as pope?
Why do you consistently denigrate those who love the traditional Mass?
Why did you place a beach ball on the High Altar at Santa Maria Maggiore?
Why do you belittle those who seek clarity of doctrine?
Why do you so often engage in behavior well beneath the dignity of your office, like wearing a clown nose and posing for selfies?
Why did you dismantle the Franciscan Friars of the Immaculate; a thriving religious order?
Why do you speak of the Qur'an as if it is comparable to Sacred Scripture?
Why do you encourage Muslims, Jews and heretics to remain in their error?
Why do you bow your head to receive the "blessing" of heretic laymen posing as clerics?
Why do you consider persuading those outside the Catholic Church to enter her "solemn nonsense?"
Why do you believe that making a mess in the Church is virtuous?
Why have you appointed so many dissenting clerics to important positions?
Why do you think that it's possible to imagine a Resurrection that is "more majestic than the real one?"
Why are you willing to join heretics in celebrating the protestant revolt?
Why do you speak of Christian unity as if it doesn't presently exist in the Catholic Church alone?
Why don't you consider it a grave offense against Christ to proclaim that man is "king of the universe?"

Why were you silent on Ireland's referendum on "same-sex marriage" prior to the vote?
Why are you convening a Synod of Bishops to discuss possible changes to immutable things?
Of course, many more questions of a similar sort could be asked of Pope Francis. Surely, you readers can come up with plenty of them right off the top of your head. In fact, it may be interesting to read those questions if you care to post them below.
In the end, however, all of them will be asking one and the same question; one directly related to the contents of yesterday's post:
Why do you hate the Catholic faith so much?