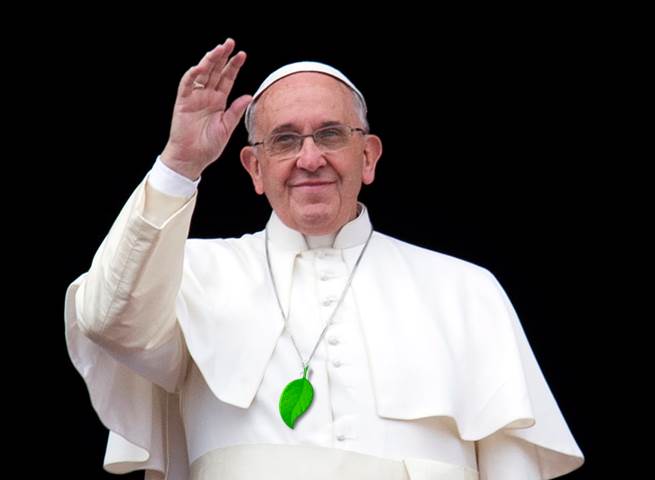 The publication of Laudato Si, the Encyclical of Pope Francis on the Environment, is less than a week away (June 18th) and both dread and speculation are reaching a near fever pitch.
As to the former, I think everyone might do well to imagine just how much worse it could be.
How so?
Think about it; we could be awaiting an encyclical on the mission of the Catholic Church, or the Person of Christ, or the nature of the priesthood, or the sacred liturgy, or Christian unity, etc.
Given that silence is clearly not an option for this pope, what would you rather have him address in the form of an encyclical; a matter directly related to some fundamental aspect of the Catholic Faith, or the pseudo-science of man made global warming?
Either way, faithful Catholics are destined to be embarrassed. That much, we know.
In the long run, however, I can't help but think that it does less damage for Francis to ramble on matters environmental than to wax on anything theological.
Don't get me wrong; this encyclical is cause for serious concern. It doesn't take a visionary to predict that it's going to do real damage; encouraging the enemies of the Church while also making it all the more difficult for those sincerely seeking the truth to discover the one true Faith.
If we're honest about it though, we have to admit that other than garnering worldwide attention in a particular way, June 18th won't be an awful lot unlike any other day during the current pontificate in that regard.
Of course, none of us have read Laudato Si, and so we're largely left to speculate about its contents until next week.
On that note, it may be helpful (and perhaps even somewhat entertaining) to consider what we know, or at least what know to be highly likely about Laudato Si, versus what we suspect or that which is merely rumored.
For instance:
We know that…
Laudato Si in its contents will be earthbound; no pun intended.
I suspect that…
The so-called "Pope Emeritus," who earned the title "the Green Pope," will impart his blessing upon Laudato Si in a written statement given shortly after its release, and he may even make a surprise appearance at its official presentation.
We know that…
Pope Francis will dress-up his environmental treatise in Catholic language, sprinkling snippets of the true Faith here and there, like daisies in a thistle patch.
It is rumored that…
Pope Francis will cite the United Nations International Panel on Climate Change as an authority in his encyclical.
I suspect that…
Francis will come to be known as the Eco-Pope.
We know that…
Pope Francis isn't likely to cite much, if any, of the pre-conciliar magisterium of his predecessors.
I suspect that…
Laudato Si will serve the interests of the population control lobby with an exhortation on "responsible parenthood" encouraging "prudence" in determining the number of children to welcome into the world.
We know that…
Laudato Si will be officially presented on June 18th at the New Synod Hall, and joining Pope Francis will be a schismatic cleric who rejects papal authority and a population-control advocate who rejects the Lord's command to "be fruitful and multiply."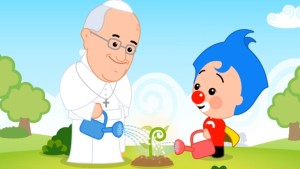 It is rumored that…
Plim Plim the Argentinian cartoon environmentalist clown will also be present.
We know that…
Among the enemies of the Church who are looking forward to Laudato Si with great anticipation is Al Gore, just one of the many whacko Earth worshippers who are giddy about the "clarity of the moral force Pope Francis embodies."
I suspect that…
A considerable portion of Laudato Si will be devoted to a broad-brush indictment of industrialism, a plea on behalf of the poor (who ironically cannot find work thanks in part to the environmentalists who prevent the expansion of industry), and will include some sort of call to treat our common concern for the environment as a point of dialogue with the false religions in service to the cause of fake "unity."
We know that…
Renault gave Pope Benedict XVI an electric, zero-emissions Popemobile in 2012 that he used at Castel Gandolfo.
It suspect that…
Francis loves the idea of an electric, zero-emissions Popemobile as his fulltime ride, but is concerned that the Renault isn't quite humble enough.
We know that…
If Evangelii Gaudium (which weighed it at some 53,000 words) is any indication, Laudato Si is likely to be so hefty in its own right that a plenary indulgence should be attached to its reading.
I suspect that…
Jimmy Akin has already penned at a dozen or more things to know and share about Laudato Si highlighting its continuity with tradition.
We know that…
Laudato Si is, for all intents and purposes, Pope Francis' first and only encyclical since the majority of Lumen Fidei was written prior to the flight of Benedict XVI for fear of the wolves.
It is rumored that…
Laudato Si will make Pope Francis a shoe-in for the 2015 Nobel Peace Prize, the recipient of which will be announced on October 9th, five days into the Synod on Marriage and Family.
I suspect that…
Pope Francis will indeed be given the Nobel Peace Prize, making the second week of October 2015 an unprecedented occasion of Francismania for the secular media and various other enemies of the Holy Catholic Church, and one of the darkest moments in recent history as understood by those who love the one true Faith.