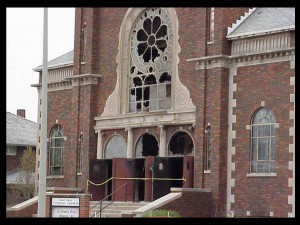 A video surfaced last week showing a large group of bishops at World Youth Day being led through a choreographed dance routine to a song called, "Francis," written in honor of the pope. It was a dry run rehearsal for the "flash mob" that took place just prior to the Papal Mass celebrated on Sunday, July 28th.
Clear thinking, level headed, Catholic commentators (like Fr. Z) pointed to the rank silliness of such undignified behavior on the part of the Successors to the Apostles.
As one might expect, the "Cotton Candy Catholic" crowd comprised of those poor delirious fools who stumble over the rubble that was once the Catholic Church while uttering mindless slogans about the "new evangelization" responded just as quickly to criticize those who found fault with the prancing prelates.
Subsequently, another video surfaced of Sunday's "big show" during which throngs of sweaty, whipped-up laity, as well as hundreds of clerics vested for the Holy Sacrifice of the Mass – bishops included – got their groove thing on as if determined to do their level best to make Joel Osteen's congregation look like a choir of contemplatives.
Anyone who has even a modicum of awareness as to the true nature of Holy Mass, not to mention a healthy appreciation for the profound liturgical example provided to the Church Universal in the celebration of a papal liturgy, recognizes this episode as nothing short of despicable. Not only is this an unthinkably irresponsible lesson in what it means to prepare oneself for an encounter with Christ at Holy Mass, it's a direct slap in His face.
As for the young people assembled at WYD, they are the victims of nothing less than spiritual child abuse, having been malformed in the Faith at the hands of negligent caregivers who have delighted in feeding them quasi-protestant pablum disguised as Catholic nourishment.
By every meaningful measure, the concrete structures of the Catholic Church are crumbling right before our very eyes as many, if not most, of our so-called "leaders" seem perfectly content to do little more than to emulate the example of Nero.