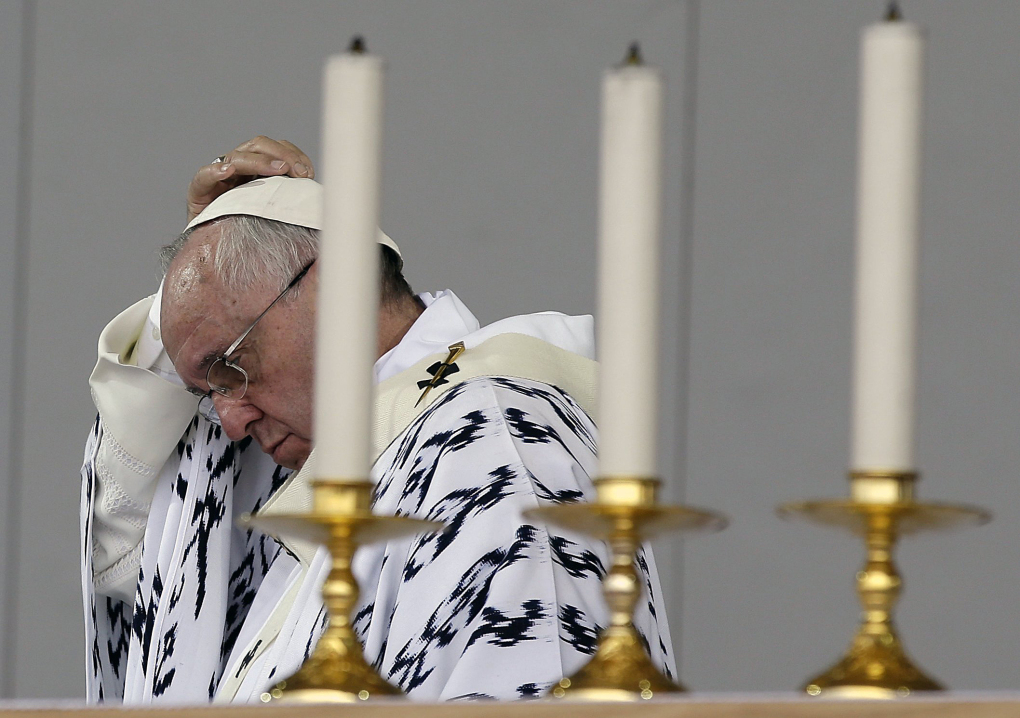 From the laughable notion that recreating the Petrine Office in one's own image and likeness is a mark of "humility," to the dog-and-pony press conference that presented the 40,000 word Eco-Marxist manifesto Laudato Si' to the world as a contribution to the social doctrine of the Church, the current pontificate is so lacking in genuine Catholic character that its official messaging often gives off the unmistakable stench of a spin job deliberately crafted to deceive.
The farcical tones that began emanating from Rome in the early evening hours of 13 March 2013, apparently detectable to but a relative few early on, have been growing louder and louder ever since.
Today, the alarm bells being sounded by the Franciscan pontificate are so deafening that even some among the slumbering class of the neo-conservatives can't help but be stirred.
Viewed through the eyes of faith (still possessed by far too few in our day), the entire charade comes off as a cheap imitation; a low-budget and supremely unconvincing production replete with bad supporting actors (like Walter Kasper and Oscar Rodriguez Maradiaga), crappy costumes (like papal vestments sporting patterns more appropriate for boxer shorts) and hastily constructed props held together with shoe strings and bubble gum (like the shipwreck "altar" and ambo used by the pope in Lampedusa).
From its very inception, the pontificate of Pope Francis has been, it seems, but one long series of offenses our Holy Catholic faith; so much so that those rare occasions when Pope Francis has managed to act in a manner consistent with his sacred obligation to teach the Faith with clarity, even if only marginally so, have been properly treated as headline news.
The Franciscan Follies is perhaps best described as a tragic comedy wherein the star-in-white titillates the world with dubious gestures and condemnable orations that are then packaged up in "Catholic" shrink wrap and peddled through various media channels, beginning with the Holy See Press Office, to adoring fans, some of whom have no blessed idea that their search for the one true faith has scarcely even begun.
With the promulgation of Laudato Si' faithful Catholics everywhere were moved to look skyward while pleading, "My Lord and my God, how much worse can it get?"
Well, last week, we found out.
Pope Francis' so-called "Apostolic Journey" (false advertising for an event more accurately described as a Bergoglian Junket) to Latin America seems to have provided him with a number of too-good-to-pass-up opportunities to outdo even himself in derogating the Office of Peter, which is no small feat for the man who will forever be remembered for ushering in the age of the papal selfie.
It's almost as if Francis made up his mind well before departing Rome for his Hometown Boy Done Good Tour that he was going to do his level best while in the continent of his birth to bear as little resemblance as possible to a Catholic; much less an Apostle.
In which case, mission accomplished.
If nothing else about his South American tour seems congruent with objective truth, we must admit that Francis' use of a Bolivian Burger King as a makeshift sacristy, while repugnant in its disregard for the dignity of the papal office, actually provided an uncharacteristically spin-free image of this otherwise highly propagandized pontificate, the motto of which might as well be "Have it Your Way." ™
Among the various affronts that were heaped upon Christ and His Church courtesy of Pope Francis over the last week, two things in particular stand out as especially worthy of mention; namely, his pathetic plea for forgiveness, and his presentation of a sacrilegious icon to the Blessed Mother.
On Thursday, speaking at a gathering in Santa Cruz, Pope Francis said:
I humbly ask forgiveness, not only for the offenses of the Church herself, but also for crimes committed against the native peoples during the so-called conquest of America.
The following day, he placed the "gift" that was given to him by Bolivian president Evo Morales (that hideously bastardized crucifix featuring the corpus of Our Blessed Lord affixed to the hammer and sickle) before a statue of Our Lady of Copacabana, Patroness of Bolivia, praying:
Receive as a gift from the heart of Bolivia and my filial affection the symbols of affection and closeness that – in the name of the Bolivian people – Mr. President Evo Morales Ayma has bestowed on me with cordial and generous affection, on the occasion of this Apostolic Journey, which I entrusted to your solicitous intercession.
It's enough to make one wonder if Pope Francis is deliberately trying to vex the faithful; in some ways, however, he's simply picking up where John Paul the Great Humanist left off.
In October 2013, I proposed that the pontificate of Pope Francis is not so much a break from Pope Benedict XVI as it is a rather aggressive return to his immediate predecessor's program promoting the eminently anthropocentric conciliar aggiornamento.
After more than two bitter years of life under Pope Francis, it is more obvious now than ever just how much he and John Paul II have in common.
In fact, I would argue that the aforementioned papal shenanigans in Bolivia provides solid evidence that Francis is simply carrying the failings of Pope John Paul II closer and closer to their logical conclusion; all out apostasy.
How so?
Where the Polish pope was pleased to personally venerate the blasphemous Qur'an as if it were sacred, his Argentinian successor went further still by offering a blasphemous image of Jesus Christ to His very own Mother as a "symbol of affection."
In the first instance, Wojtyła, as his defenders weakly argue, was simply showing respect on a strictly human level, albeit clumsily, for those who see the Qur'an as something sacred; i.e., he wasn't anointing it as such.
Francis, for his part, by contrast, has taken the next logical step by treating that which is blasphemous as if it were actually Catholic; i.e., as if it were objectively sacred.
While one might argue, and rightly so, that John Paul II was rather unlike Francis in his vehement rejection of Liberation Theology (as memorialized in that iconic image of the Holy Father wagging his finger at Fr. Ernesto Cardenal on the tarmac in Nicaragua), the foundation upon which both men's social convictions rests is the same; namely, the post-conciliar model wherein the Social Kingship of Christ has been supplanted by the so-called "primacy of the human person."
With this being the case, there was nowhere for the social doctrine of John Paul II to go but to where Francis is taking it – from the former's overtly earthbound commitment to the "preferential option for the poor" and his hyper-inflated focus on human dignity, to the latter's desire for "a poor Church for the poor" and his astounding declaration that man is "king of the Universe."
This trend wherein Francis is taking the Wojtyłan (and ultimately conciliar) humanism to its logical conclusion is also evident when one considers that while John Paul II was content to go about apologizing for the supposed misdeeds of Catholics throughout the ages, his current successor is now unabashedly begging forgiveness "for the offenses of the Church herself!"
So, back to the question that is posed in the title: What on earth is Pope Francis doing?
Well, I hate to say I told you so, but he's doing precisely what I expected him to do.
Forgive me for once more calling attention to my assessment of the present pontificate dating back to October 2013:
The unfortunate truth, far too unsavory a reality for many to admit, is that the current pope is the long awaited generalissimo of the humanist revolution that was unleashed in earnest in 1958.

The infantrymen of the revolt, the modernists who were in the previous century consigned to operating clandestinely, were set free to move about in the light of day the moment Angelo Roncalli assumed the throne of St. Peter.

After decades of war planning, the rebels were by far the more prepared of those who took to the battlefield known as Vatican Council II, masterfully outwitting the Miles Rex (the faithful Soldiers of Christ the King), sealing in the conciliar text the terms of their bloodless takeover.
With every passing day, Pope Francis – the generalissimo of the humanist revolution – is showing those with eyes to see all the more clearly what, God forbid, the once nascent post-conciliar church-of-man is inevitably going to look like when it's all grown up:
A Church without Christ, with an edifice scarcely recognizable as Catholic, in spite of the propagandizers' best efforts; in short, a rudderless ship traversing a world just begging for Divine chastisement.