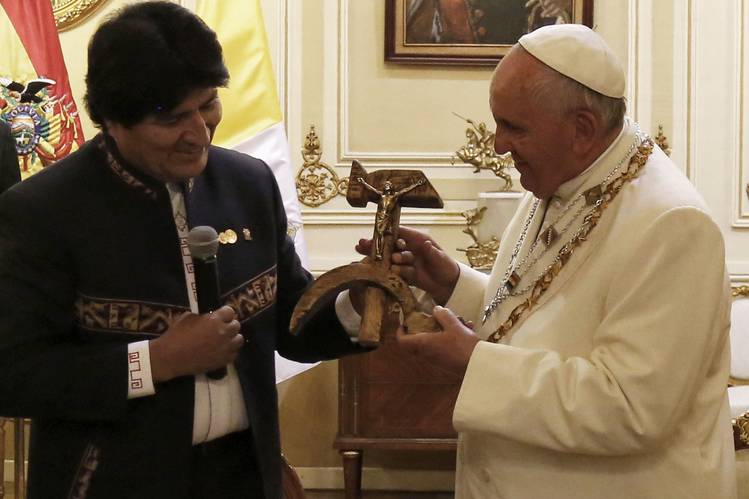 The latest scandal surrounding Pope Francis concerns the gifts he received from Bolivian President Evo Morales; a sacrilegious representation of the Crucifix fashioned out of a hammer and sickle and a medallion bearing the same communist symbol.
Now, there is considerable debate taking place in the Catholic blogosphere about whether or not Pope Francis said, upon receiving the bastardized Crucifix, "No esta bien" (This is not good). 
From a review of the video, it's not clear to me either way, but what should be clear to all concerned is that there is a major problem with this pontificate.
Even if Pope Francis did say "No esta bien," two entirely unacceptable and avoidable things took place:
Number one, Morales successfully executed a photo-op of himself standing next to a smiling Roman Pontiff, who happens to be holding in his hands an article that combines two mutually exclusive things – one pure evil, one the greatest gift mankind has received; namely, Communism and the Sacrifice of Jesus Christ.
I'd say that Morales hit himself a home run.
Secondly, a semi-private muttering of "No esta bien" isn't even close to good enough.
If, in fact, it actually was said, the manner in which it was spoken only confirms what we've long since known about this pope; he simply doesn't take his role as guardian of the Faith and Supreme Teacher seriously. 
One wonders how Popes Pius X, Benedict XV, Pius XI, and Pius XII would have reacted to such an affront.   
On the one hand, we might say that a firm and unmistakable rebuke would have taken place, followed by the Holy Father likely dropping to his knees in reparation for this terrible offense against Christ.
On the other, it's more realistic to believe that such a travesty would have never taken place.
There is no way that such "gifts" would have ever made their way into the same room as the Holy Father in those days; his entourage of assistants and security personal would have immediately eliminated that possibility, if for no other reason than knowing full well that their own heads would likely roll if they allowed such a thing.
Which brings me to another aspect of this scandal; namely, the kinds of men with whom Pope Francis chooses to surround himself.
Every pope surrounds himself with men who think as he thinks, or at the very least learn to conform their thinking to his own in order to serve him.
There can be no doubt whatsoever that, especially given that we now live in an age of terrorism, that any number of persons in the papal entourage had screened and approved of these magnificently offensive "gifts" well before they were given.
They even allowed Morales to drape Communist symbols around the Holy Father's neck; like it is acceptable to use the pope as if he is little more than a mannequin!
In the best case scenario, the pope's staff failed him, and then he in turn failed the world.
That said, it's not as if his staff had no reason to believe that their boss would be open to posing for a politically charged photo-op.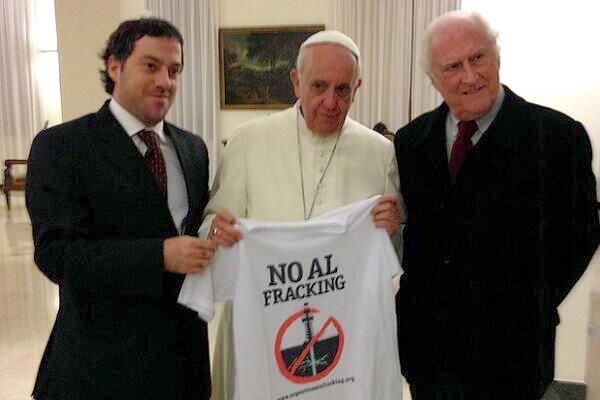 What kind of pope allows himself to be treated as a billboard for various causes even by those who are enemies of the Church; enabling them to steal what looks to many like her approval?
The kind of pope who belongs to the world more so than to the Holy Catholic Church.