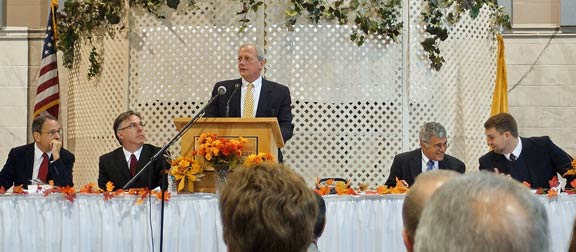 Wow, what a weekend! I'm just getting back into the swing of things after the Catholic Identity Conference. (Image above is from last year's event.) As those of you who were there can attest, it was spectacular – from the liturgies, to the interaction with likeminded individuals, and even the food – I personally enjoyed every minute.
As for my fellow speakers, I cannot say enough about the quality of the presentations. As I mentioned in my own talk, the lineup – the present writer being the least of them – included some of the strongest voices speaking out in the Church today in defense of Catholic tradition.
On this note, if you didn't make it to the conference (or even if you did) Audio CD's of each of the talks can be ordered online; they're very inexpensive and I can tell you that not a one of them will disappoint.
The name of my talk was The Mission of the Church vis–à–vis the Kingship of Christ as Illuminated by Pius XI in Quas Primas. (As such, I won the award for lengthiest title.)
My presentation (roughly 55 minutes in length) concerned the above topic as viewed through the lens of Matthew 28:16-20. Following is a two minute excerpt: